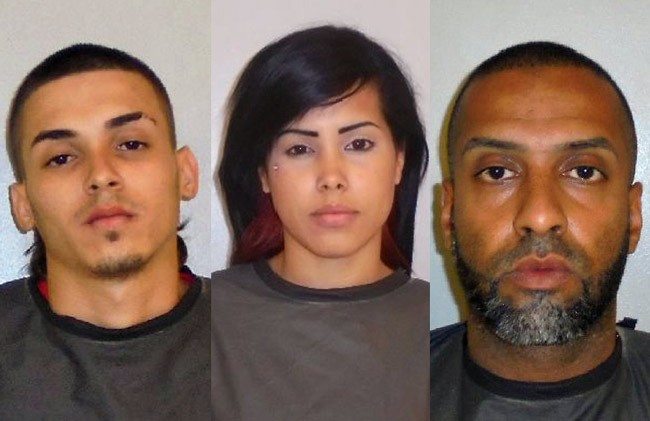 The traffic stop on I-95 just south of State Road 100 in Palm Coast Tuesday afternoon–conducted by the Florida Highway Patrol's drug-hunting Criminal Interdiction Unit–started when a cop thought the tinting on the vehicle's windows was suspiciously dark.
The driver's side front and rear windows' tinting read 10 percent when tested. The issue, however, was the three occupants of the vehicle, all Orlando residents, starting with Juan Torres-Rodriguez, 24. One of two passengers in the car, he was a fugitive from justice, with an active warrant out of Puerto Rico, where he is wanted for a homicide.
The troopers brought in a K-9. The K-9 sniffed around the vehicle, then scratched by the left rear door seam. A search of the car produced "a small amount of marijuana remnants" in a clothing store type bag. That was it for drugs, But the search also turned up credit cards stashed inside a motorcycle boot, in a box, positioned in a child seat. Then other credit cards were located–under the driver's seat, in the front-passenger's purse, in the rear passenger's wallet, in the ashtray, in the space just in front of the gear shift.
In all, troopers netted 72 credit cards. Every credit card was under the name of Figueroa-Rodriguez and fellow-passenger Liz Marie Figueroa-Rodriguez, 24, both of whom live at 3332 South Semoran Boulevard in Orlando. The credit cards were fake, or "falsely embossed or altered," as one of the official charges reads.
At the wheel of the car was Alberto Bourdier-Maldonado, 36, of 85-10 98th Street in Woodhaven, a section of Queens, N.Y. The suspects invoked their right to remain silent after hearing their Miranda warning.
All three were charged with 72 counts each of falsely making credit cards, altering credit cards and larceny (all third-degree felonies) in addition to possession of two or more counterfeit cards, also a third degree felony. Because of the numerous charges, the bond on each suspect added up to over $1 million, according to their arrest reports–and $10.15 million in the case of Bourdier-Maldonado, though on his arrest report the bond amounts listed for each of his charges were similar to those of the two other suspects.
All three suspects remain at the Flagler County jail.