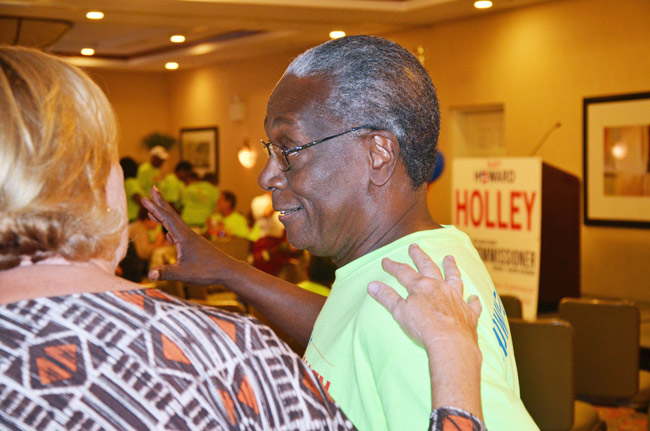 Howard Holley is definitely in. So is Paul Renner and two other unknowns in Flagler. Trevor Tucker is out. Dave Sullivan is almost out. Donald O'Brien, who teetered in, appears out after all. And there's no telling who else might be jumping in or out.
The special election to fill Travis Hutson's Florida House seat in District 24, made up mostly of Flagler County, is turning into a combination of musical chairs band feeding frenzy.
What's certain is that Holley is running again, this time as a Republican. Holley just came off a stinging loss against Frank Meeker in a race for Flagler County Commission (Meeker won with 59 percent of the vote despite Holley outspending by far all other local candidates). Holley ran as an independent.
On Tuesday, when he was still "thinking about it," Holley said his chief interest was that Flagler had a "consensus candidate" who has the chance to seize the seat and give the county representation it hasn't had in more than 40 years. "That's the only hope that we have,"  Holley said. "If that can be achieve, then I'll support whoever it is."
By Wednesday, Holley had decided to be in. "I've made the decision to run for the state House of Representatives for District 24," he said in a brief interview with WNZF, suggesting that his platform will mirror the one he put forth in his county commission run: economic growth, jobs, a positive business climate balanced with preserving quality of life.
"Clearly," Holley said, "the campaign has put my name out there, it's associated me around the things that I just talked about, and I think it's very appropriate now to take that to the state House and continue that type of dialogue and continue this type of value to the district."
---
The consensus: A Flagler candidate would have to have a large plurality of backing from Republicans and Democrats to win.
---
Holley on Tuesday had said he would not participate in a feeding frenzy, should the race turn into that. But it's not far from one. So far three other Republicans have declared for the seat: Sheamus MvcNeely and Ronald Sanchez of St. Augustine, and Paul Renner, one of Palm Coast's newest residents: he just took a place at Canopy Walk, moving down from Jacksonville, where earlier this year he lost a primary House race by two votes after spending $283,000. Renner, an attorney, is expected to spend heavily in this race again.
"The difficulties are going to be around the financial end of it," Holley said. Renner did not respond to a message left with his campaign treasurer, and his listed campaign phone did not take messages.
One Democrat has declared for the seat: Thomas Morley of St. Augustine.
The special elections for the two other seats in the domino effect that ex-Sen. John Thrasher's resignation triggered are a bit less frenzied, at least so far. Hutson is contesting the Senate seat against fellow-House member and Republican Ronald Renuart. The winner will face David Cox, a Democrat who lost in his first race against U.S. Rep. Ron DeSantis, who won with 63 percent of the vote (59 percent in Flagler). Since Renuart resigned his House 17 seat, that race has drawn two Republicans so far, but it's only in St. Johns County.
In Flagler, Dave Sullivan, the local Republican Executive Committee Chairman (for a few more weeks, anyway), had said he'd run for the House 24 seat, but as others have discussed running, or decided to run, he's pulled back. He favors an O'Brien candidacy, but he also favors a focused candidacy from one Flagler candidate, and said he would support Holley. Neither Holley nor Sullivan consider Renner a Flagler candidate as much as a candidate who's moved to Flagler. On Thursday, Sullivan was still under the impression that O'Brien would run. O'Brien, the chief financial officer at Hayward Brown Flagler Insurance, did not respond to calls to his office and cell phone. He had declared a run for the seat two years ago, only to abruptly pull out "due to family and business commitments." A source close to O'Brien today said O'Brien was deciding against running for similar reasons.
"My basic thought still stands," Sullivan said. "It is to our advantage in Flagler County in order to support the person from Flagler to win that race."
The consensus among local officials is that a Flagler candidate can win the race only by mustering the support not only of a solid plurality of Flagler Republicans, but of Democrats as well. Flagler represents 60 percent of the House district's population, with the rest split between St. Johns and Volusia counties. If more than one local resident runs for the seat, the vote will be split, likely favoring a non-Flagler candidate.
The primary is scheduled for Jan. 27. The general election is scheduled for April 7.