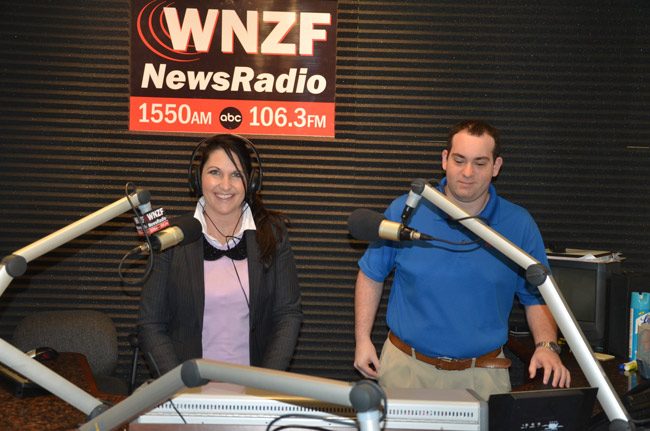 Palm Coast government worked out an agreement with WNZF Radio to air a weekly half-hour program, hosted by Mayor Milissa Holland. The city will pay the radio station $10,000 through October to buy the air time. The mayor and City Manager Jim Landon worked out the proposal with the radio station without discussions involving the rest of the council.
A $10,000 expense does not have to be approved by the council: it falls beneath the $30,000 threshold above which council approval is required. But two council members interviewed today say they should have been told about the initiative, and one of them, Steven Nobile, said he's opposed to the idea on other grounds as well.
"Milissa Holland, we'll hear you on your new radio show," WNZF General Manager David Ayres told the mayor this morning at the end of her appearance on Free For All Friday, alongside Rep. Paul Renner and Florida Hospital Flagler's John Subers. The first show is scheduled to air March 4 at 9:30 a.m.
"As far as I'm concerned, that's not going to happen," Nobile said early this afternoon. "We can't have a member of the council, whether it's the mayor or another member, have an unfair advantage of taking their opinion out to the people without any discussion and without the public having a chance to talk back. I don't know where they thought this was going to fly, not if I have anything to do with it."
Council members were unaware of the radio show until some of them heard about it when Ayers and Holland discussed it on Free For All. They were unaware of the expense to taxpayers. They were unaware of the format, or that there'd been discussions that would have made them potential hosts of the show at times, if they wished.
Shortly after noon, and following a lengthy phone interview about the radio show during which she was questioned about various aspects of the initiative, Holland texted that she had requested that the item be placed on the city council's workshop agenda for discussion Tuesday. By then, Landon had scrambled to call council members and inform them about the show and claim it was not a done deal, but that Ayers had only made it sound like it was, while a city spokesperson emailed that "we haven't actually made a decision on the radio show yet," and that it would be discussed at the workshop Tuesday.
Of course, there had been no plans to discuss the item at the workshop until Holland requested that it be added to the agenda, which, in early afternoon, still did not include the radio discussion item.
And in fact Ayers, in an interview, said all that was left to do was record the show ahead of its Saturday airing date. Holland herself said the show was set to go on. "I will write, produce and host the shows," the mayor said this morning, "and then I'll ask people to come on the show, where I'll interview them, have my questions outlined. It'll be more conversational."
Holland isn't new to radio: she hosted a show of her own on WNZF in 2012, "Milissa Holland Live," pairing her show with columns on FlaglerLive. She's always had a warm rapport with listeners and Ayers, who's invited her almost as often as David Letterman would invite Teri Garr. Holland's radio presence is engaged and sharp, displaying equal ease with banter and serious debate. She draws on a wealth of personal and political history in the county (she was a county commissioner for six years), Palm Coast and Tallahassee, where she worked for several years as a Southern Strategy lobbyist, enabling her to easily explain the labyrinth of state or local policy.
It was Ayers who'd brought the idea of essentially reviving the show to Holland, framed as a city-focused show called Discover Palm Coast. In a pair of meetings, Ayers, Holland and Landon worked out the details, suggesting that the half hour could be used to highlight city stories through city employees' own voices rather than have to rely on the occasional appearances of city staffers or elected officials on Free For All.
The radio station offers its Saturday time slots to various businesses or organizations for a fee–$250 a week—such as Chamber Chat, the show about the Flagler County Chamber of Commerce, Southern Sportsman with Chris Davy and The Doctor Is In with Scott Klioze. Ayers could not say how many people listen to Saturday morning shows, which don't get nearly the audience that weekday, news-peppered shows do. He estimated there'd be "a few thousand people coming and going during that time," as listeners typically won't sit through an entire show.
The city has an elaborate television and marketing operation of its own (its community relations budget is $415,000 this year). Its television productions have won awards, and it's been pushing its social media presence, where radio-like podcasts or a television show featuring the mayor could be disseminated—all without significant additional cost to the city.
Holland said the radio approach is justified because of its broader reach and "built-in following"—and the fact that the city will own the show, and will be able to transform it into podcasts it can then make available online.
"It's justified because we're communicating every single thing we do in the city," Holland said. "It's a way to further educate, inform our residents of what's going on, and what I liked about it when David first brought the idea was, often times it's difficult to –as he put it—there's not a human component to our government. We talk about our fire department, but often we don't have a conversation with those that work in our fire department." Same with utilities and other aspects of city government, Holland said. Human interest stories will also get great attention, as will harder-edged concerns, whether it's complaints about Holland Park or other unresolved issues.
The city's marketing department will help lining up guests and thinking up ideas, along with Landon, who will suggest topics, Holland said.
"This isn't something that's going to be excluding our council, I'm hoping to gauge them as far as ideas and topics," Holland continued. "They could be part of the show, do some interviewing themselves." (Council member Nick Klufas, who supports the idea, said he'd be willing to do so.) "I would never do anything to dismiss my council. I value each of their input as well as what they bring to the table."
Holland said the expense was within the city's budget, and would come out of the recycling program's dollars. A city spokesperson wasn't as precise about the source of the money: "We have started looking at possible funding sources – same funding sources we use for other marketing and branding efforts," she wrote.
Klufas isn't opposed to the expense even though he acknowledges that it will be difficult to gauge the number of listeners or its effect on engagement with the city. "Using the radio as a means of communications is fantastic, I know there's a ton of listeners," he said. "The problem with radio shows it's pretty difficult to measure listeners anyway."
He added: "It comes down to whether or not we are communicating more effectively and seeing our return on that investment, not necessarily in dollars but in citizen's engagement."
Klufas was not aware of the $10,000 expense until he was told by a reporter.
"I would prefer that it had been discussed," Klufas said, referring to a council discussion about the money. "The only thing is, since it's below the threshold that requires city council approval, I can't be too upset."
Nor was council member Heidi Shipley aware of the expense—or the show itself: she was aware of Holland's recent radio appearances, but was under the impression they were one-time things.
"We're paying $10,000? I don't understand why we're paying $10,000 to have her on a show, but it's under $10,000, so it wouldn't come through the council," Shipley said. (The city manager is not required to bring expenses below $30,000 to the council, but he's not prohibited from doing so, either, especially when the expense may carry a heavier perceptible price than its dollar figure alone.)
"I like that she likes to get out there and she likes to speak to the people, I think that's great, but a little heads up would have been nice," Shipley said, referring to the city administration. "She's as transparent as they get, but I think I'd have liked to have known."
Holland is a frequent speaker at community presentations and events. She sees the radio show as a similar kind of outreach, just to a broader audience. Nobile doesn't.
"It's different," Nobile said. "First of all it's the recognition of a radio show. There's no request for the presence of a council member, it's just a weekly show, it gives it undue credibility, and I don't mind if we take time like that on a radio show to advertise events, to talk about events, and the goings on. That's fine. But there cannot be any discussion of any issue that has a possibility of coming before the council. It just can't happen. We can't have someone giving that kind of unfair voice to the public.
Nobile said in council meeting he'd occasionally hear Holland refer to issues as directing the manager to do one thing or another. "The things she says I haven't heard about," Nobile said, "so I asked Landon and said, 'I hope you aren't doing things that aren't coming to the council and aren't being directed by the mayor,' and he assured me no. And then this happened."
"I'm a little upset that this wasn't brought before the council to talk about," he said. "It just doesn't sound, feel, or smell right."
Council member Bob Cuff was non-committal in a brief interview later Friday afternoon, though he, too, had not been aware of the radio show, or its cost, until he got calls this morning from the city. "Depending on where the money is coming from and whether the money is worth it and so forth I guess is what we're going to be discussing at the workshop, but nothing has been presented to me," he said. "I can't tell you I'm against it, but until I find out more about it I can't tell you I'm for it either."