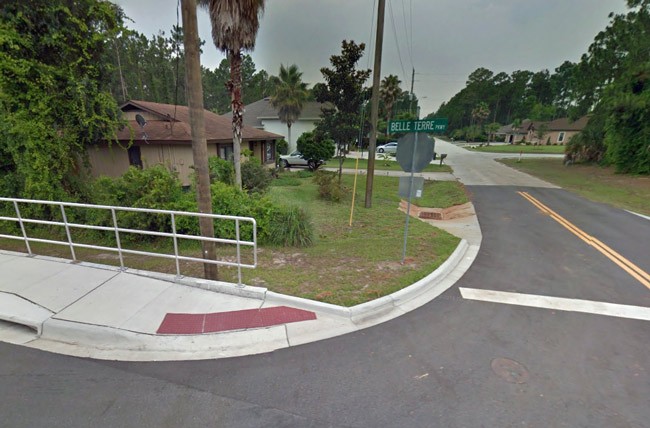 Earlier this morning a 7th grader from Indian Trails Middle School bicycling to school was struck by a vehicle at the corner of Brookside Lane and Belle Terre Parkway. The vehicle kept going.
The student was not seriously injured, and at first his mother was going to take him home. But on further reflection, she decided to take him to Florida Hospital Flagler as a precaution, a school official said.
It is the second time a middle school student was involved in a vehicle crash this week. On Monday, an 8th grader from Buddy Taylor Middle School, bicycling to school, was struck by a school bus on Parkview Drive. The bus driver in that incident was cited for violating the student's right of way. The student was not seriously injured.
Today's incident incident is being investigated by the Flagler County Sheriff's Office. The identity of the driver is unknown. Deputies are looking for a small black, four-door car, possibly a Toyota with a white stripe on the door. If you have any information about that vehicle, you're asked to contact the Flagler County Sheriff's Office at (386) 437-4116.
Jason Wheeler, a school district spokesman, said the driver may not have been aware that he or she had struck the student.
Flagler Schools want to remind motorists to pay close attention while on all roads, both major transportation arteries as well as neighborhood streets throughout the school year and watch out for our students as they make their way to and from school.
For more information contact Wheeler at 386-437-7526, extension 2110.