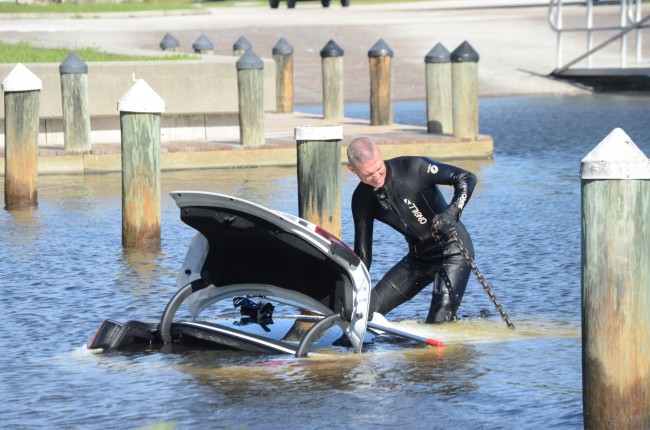 At 7:30 this morning (Oct. 14), a resident walking around the county's Hershel King Park, off of Colbert Lane, noticed a submerged car near the park's boat ramp.
The car, the Flagler County Sheriff's Office determined, had been stolen in Broward County in the past 24 to 48 hours.
"It looks like it was probably pushed down the boat ramp," the Sheriff's Office's Sgt. Chris Sepe said at the scene later this morning. By then, Cpl. Jon Reckenwald, a certified diver and a supervisor with the Sheriff's Office's Marine and Dive Unit, had surveyed the vehicle under water, and found it empty. Its windows and trunk had been left open.
The portrait of a young couple in a wooden frame, recovered from the car, had been placed on the rock revetments.
"It's a recovered stolen vehicle," Sepe said. "I don't know if we'd call it foul play."
The Department of Environmental Protection and the Fish and Wildlife Conservation Commission were contacted (FWC personnel was at the scene). Joh's Towing, the Bunnell wrecker, was called to pull the vehicle–a recent-model, white white Kia Optima–out of the water.
Sepe said that the origin of the case–where exactly the vehicle was stolen–will determine how it will be investigated. But by having the car submerged, whoever did it essentially erased most of the evidence that could resolve the case, Sepe said.
The vehicle was pulled out of the water in a 30-minute operation that concluded at 11 a.m.
"The first truck was used to pull the car away from the pylon. The car was up against the pylon," John Rogers, owner of John's Towing, said. "The big wrecker was brought in to pick up the vehicle in the air so all of the environmentally sensitive coquina and the land underneath the coquina wasn't disturbed."
---
Video: John's Towing Pulls the Kia from the Water