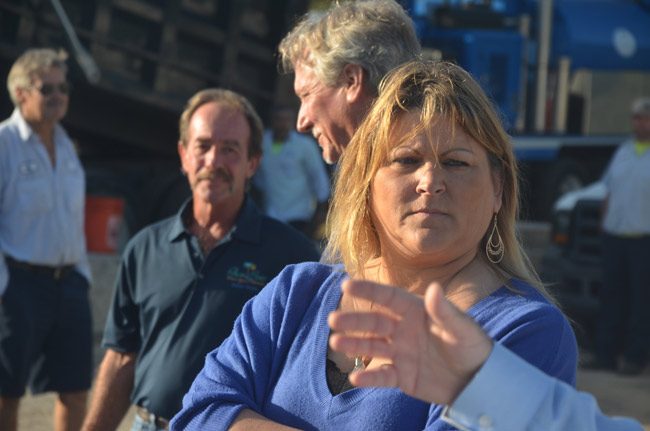 Heidi Shipley will not run again for the Palm Coast City Council seat she's held the last three and a half years after all. "It's just some stuff going on in there that I just don't want to be a part of anymore," Shipley said.
Citing frustrations with constantly being on the losing end of 3-2 votes, a city manager who doesn't return her calls and decisions—such as the two-year plan to replace City Manager Jim Landon—that "makes us look ridiculous," Shipley said this morning she would drop out of the race and hope that others jumped in.
The only declared candidate in Shipley's District 2 race is former Mayor Jon Netts. But several names are floating about as possible candidates, among them Jack Howell, the Teens in Flight board president, and Dan Priotti, a pool-company owner who's been trespassed from city offices and has been arrested a few times locally on min or charges, and a few months ago made Mayor Milissa Holland worry about her safety at a Hammock Beach Resort function he was attending that the sheriff positioned deputies in the room to protect her.
John Ruffalo, a former member of the defunct Ronald Reagan Republican Assemblies, and Stephanie Capehart, who chairs Flagler's Democratic Party, were both mentioned by Netts or Shipley as possible candidates, but both said in interviews today that they don't intend to run. "I would not have the patience," Ruffalo said, though he'd briefly considered it. Capehart said she was "not considering running at this time," though the party was meeting with a prospective candidate this evening to vet him (it's neither Howell nor Priotti).
Howell confirmed his interest this morning. "I'm giving this some serious thought because it's time for change," he said. "I respect Jon immensely, he's got a wealth of knowledge but I thought that's the reason we have term limits. Yes, he has a wealth of knowledge, that's all well and good, but I'm looking to the future and not the past."
Shipley made her announcement at the end of Tuesday's council meeting, but did not go further. In an interview this morning, she said she has no intention to resign the seat before her term ends in November, as fellow-councilman Steve Nobile will this month. But she spoke at length about her frustrations with an administration that, because of council dynamics, has marginalized her, not taking her priorities seriously—since she has no pull from the losing end of votes on the council—and not following up on pledges to complete projects as she had asked.
The turning point for her, she said, was the FPL foot path through the F Section to Matanzas High School, which she had opposed but was completed anyway—a project she now calls a "spite path." Even after its completion, she said, the administration never carried out the council's demands that it be properly lit (aside from "a couple of lights," in her words) nor line the path with additional shrubbery to provide more privacy to properties along the way.
Shipley was also perplexed by the city's insistence on transforming a portion of Whiteview Parkway from four lanes to two, building a linear park along the way instead, a project the city revealed publicly only in the last few months and that had not been part of its strategic planning previously, nor been instigated by any public clamor for it. "I mention it at the budget meeting," Shipley said. "The next day, all of them were gung ho about Whiteview, 'we've got to get that done, we've got to get that done, it's the most dangerous street.' Well, it's not the most dangerous street. Staly just sent his report and it wasn't on his list." She was referring to Sheriff Rick Staly.
Shipley said Landon is in the habit of corralling council members in one-on-one meetings behind closed doors, presenting issues in a one-sided way to get his way, and going ahead with the projects he wants done. "When he wants something done, he will stop at nothing," she said. "You never get the other side of the story."
"It's very frustrating to me to know that no matter what I say it's not going to matter," Shipley said, noting that she never meets with the manager anymore, and the only way he communicates with her outside of meetings is by texts, if she has questions or concerns.
The method is reflective of a manager who has historically respected council members in the majority while showing near contempt to those in the minority: he acted with similar dismissiveness toward Frank meeker, the late council member who, frustrated by the process, opted to run for (and win) a county commission seat in 2012 the moment Holland resigned her seat on the commission to run for a House seat. Adding to Shipley's frustrations is the deliberately slow pace of the council's process to replace Landon, who has announced his resignation, but not before August 2019, after the council said it wanted a change at the top.
"He shouldn't be driving anything, he's been fired," Shipley said, not quite accurately: the council is looking for a replacement but letting Landon drive the process. "He shouldn't be handling things right now when he's on his way out, he shouldn't be making decisions for us."
Shipley had announced her decision not to run for council once before, last October, but reversed her decision after getting pressure from supporters to run again.
Netts was in the room and spoke to Shipley before Tuesday's meeting, when she told him she would not run again. Placing gallantry ahead of politics—since he can afford it—Netts said he was not happy she was dropping out. "No, not at all. I like Heidi," he said. "I'd be willing to go up against her in a debate. The public I think is entitled to a choice, in hearing a choice and so on and so forth." But he said, "I'm almost certain there's going to be somebody else pop up and come into the process."
Though Netts is closely associated with Landon as one of his champions over the years, he too has been critical of the prolonged replacement process. "There's really no point in starting two years earlier, even a year earlier, because the highly qualified candidates are not going to wait and see if Palm Coast picks them."
Netts also dispensed with assumptions that his return to the council would equate into a revocation of Landon being replaced. "No. From my point of view he's announced his resignation. That's a done deal," Netts said, stressing that he would not approve of a reversal.