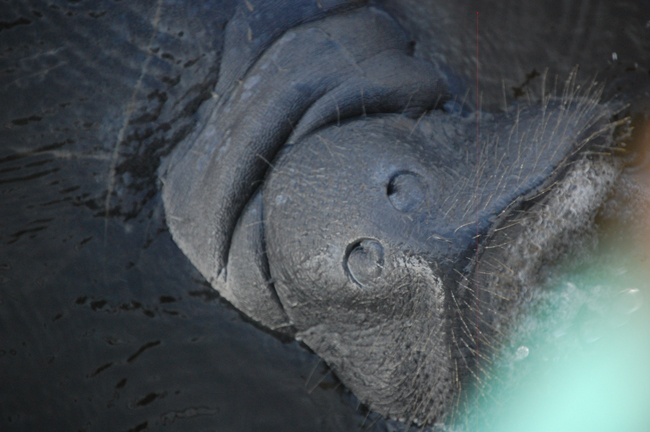 Other than the one time I saw one in a controlled tank at Epcot, I'd never seen manatees in their own environment, up close. That changed yesterday.
I was on a dock on the Intracoastal at around 5 p.m., across the inlet to Mirror Lake. And there they were. Three, four, five, maybe six of them, including a baby nuzzling up to its mother. They were snorting, rolling, ambling around and below the dock like primitive but oddly flexible submarines. They'd disappear. The water would look its muddy indifferent self. Then swirls would form, the sign of hugeness lurking beneath, and one of them would surface, snort, twirl, and go back under in that natural slow motion that could stop Big Ben from ticking. They look almost as big as Big Ben, too, these animals that weigh 1,000 pounds or more and live long enough to qualify for Social Security.
They sort of do. They're listed as one of Florida's 40 endangered animals, though there's some debate over whether they should be. The 2005-2006 Fish and Wildlife Conservation Commission's Florida Manatee Biological Review Panel recommended that the Florida manatee be listed as Threatened–still not all that reassuring, if you're a manatee (or a lover of manatees). But what that would mean is that the likelihood of your extinction, as a manatee, would be considered low, at least over the next few decades.
The numbers don't suggest anything like fruitfulness. An authoritative manatee census put their number in all of Florida at 2,310 adult animals a few years ago. That's not a lot of manatees no matter how big they are. And last year was particularly deadly: 429 recorded manatee deaths in Florida, 97 by watercraft, just 37 from natural causes.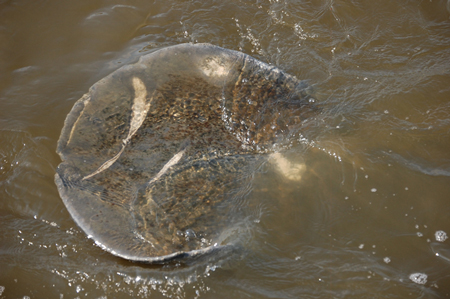 Every manatee matters, or should. They may not be endangered to the point of extinction. But that shouldn't be the only criteria by which they're protected. Assuming there were 10,000 manatees, would be less objectionable every time one of them was slashed to death by a propeller blade? Listening to those who make the argument against the sort of manatee protection that translates to speed limits and no-wake zones on the Intracoastal, that's what the argument comes down to: if they're not in danger of extinction, why bother burdening boaters with slower speeds?
Evidence of the argument's stupidity was in front of my eyes. I took a lot of pictures. At least two manatees showed the sort of damage, on their back and on their tail, that looked alarmingly like the slashes of propeller blades.
I wasn't going to rely on my instant, useless analysis. This morning I shipped the pictures you see here to the Fish and Wildlife Commission, where Karen Parker passed them on to a biologist who works in the agency's imperiled species section in Tallahassee.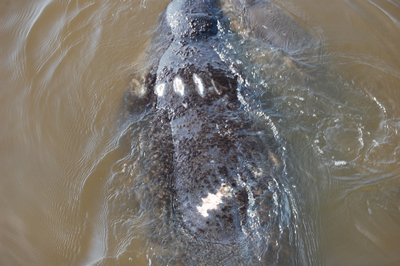 The biologist's conclusion: The series of white markings in two spots you see on the manatee to the left "looks like two healed prop scar patterns," the biologist wrote back. I'd missed one of the patterns, the one lower down, but if you look carefully you'll notice the symmetrical pattern of prop marks across the back, quite different than the ones higher up: two separate strikes, in other words.
The marks on the tail in the picture further up: "Looks like resolving prop injuries, cold stress lesions, or a combination of both." I can hear objections now: those are just guesses. The manatees are alive and twirling. There's risk everywhere. All true. But there's a difference, talking about these animals in the abstract, and seeing them, and their injuries, up close. They're not impressions on a license plate anymore. They're not ideological marking grounds in a public meeting drier than freon. They're living, audibly breathing remnants of an age predating everything about us. They couldn't harm an amoeba. But we're harming them.
In Flagler County, not much: Of the six manatee deaths recorded last year, just one is directly attributable to a watercraft. Same story the previous year. The numbers are higher in Volusia, where there's more boats, and more congregating manatees. But Flagler's waterfronts are slowly beginning to sprawl with docks, and if they're not, the Intracoastal continues to transform into I-95's hydro echo, with Flagler's portion as a speedster's paradise.
Fish and Wildlife is proposing a rule that may bring speed limits to the Intracoastal. Local boaters and "users" of the Intracoastal, as they're called, are mobilizing against the idea. They've stacked a local rules committee, required by law (the committee is, the stacking isn't) to advise Fish and Wildlife, hoping to make it seem as if Flagler is enthusiastically opposed to any such rules, as if this were the sort of thing that should be decided by a popularity contest. The biggest counterweight to manatee advocates on the committee is none other than Jon Netts, the Palm Coast mayor, who somehow managed to get himself appointed to the rules committee and now chairs it: talk about literally throwing your weight around. So the rules committee is a bit of a sham. But its reach is merely advisory. And it still has its uses as a window into the brackish brawn of local politics and boating interests.
Those propeller marks on manatees are its signature.