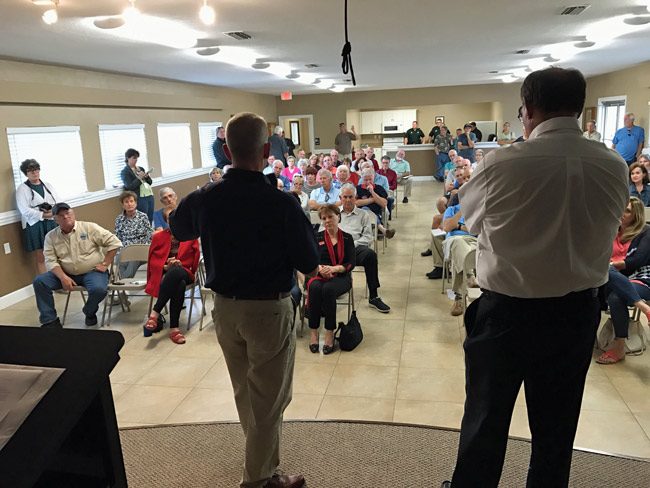 When Rep. Paul Renner was filling in background on the vacation-rental issue for a capacity crowd at the Hammock Community Center late Saturday afternoon, he identified the House bill in question as HB425. "And there's a Senate companion. I don't know the number of that bill," he said.
"One-eighty-eight," the crowd immediately yelled back as if in a revival's call-and-response fashion: it's not often that a mass of ordinary people hundreds of miles from the state capital can sound like wonks down to the minutiae of legislative bill numbers. But that's what the vacation-rental issue has made of Hammock residents.
They were conversant with the issue—the problem, as they saw it then—long before legislators cared or paid attention, long before legislators discovered the mess they'd created in 2011, when they hurriedly passed a law that forbade city or county governments from regulating vacation rentals. Legislators thought they were doing a good thing back then.
They were, but only for a sliver of interests: vacation-rental companies who could cash in on the exploding popularity of using single-family homes as short-term vacation rentals, and homeowners who mortgaged themselves too much during the housing boom, overspent, overbuilt, and found their property deep underwater, so that turning them into vacation rentals was one way to avoid foreclosure or lose the properties.
In any case, for residents who turned out Saturday, the only allegations of water in question were the cold sort they threw on what they said was a myth: "There's really absolutely no truth in the fact that these are struggling people trying to keep their house. These are investors who are preying on us, ruining our community," one homeowner said to applause.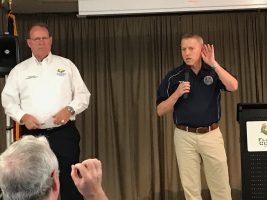 So for the large majority of homeowners affected by the change, the legislative "fix" wasn't so good. It was sloppy and thoughtless, because it did not take in consideration the consequences it would have on them. In Flagler County's Hammock, that meant the majority of homeowners. They didn't buy or build their homes to turn them into vacation rentals. (There are only 100 or so such vacation-rental properties in the Hammock.) They bought and built to live there, and to enjoy the peace and quiet of the residential neighborhood they thought they were living in.
That changed when vacation rentals turned the neighborhoods into transient zones of noise, traffic, partying and the occasional unsightly scenes cropping up next door.
That turned Hammock residents into a regional political movement bent on changing the law to restore some regulatory protections locally. It took three years. But they succeeded. The Flagler County Commission joined the effort, so did then-Sen. Travis Hutson and then-Junior Rep. Travis Hutson, and by 2014, the Florida Legislature changed the law to balance property rights with local regulatory control.
This year, the vacation-rental industry clanged back on the offensive and convinced a House and Senate member to file bills that would, in effect, invalidate the 2014 protections. The bills are drafted as property rights measures that would ostensibly apply regulations uniformly—that is, to all residential homes, forbidding vacation rentals from being singled out for regulation. But to Hammock residents and Flagler County government officials, that would be the same as having no regulations, because even large governments could not effectively enforce such "uniform" regulations without an enormous bureaucracy. Al Hadeed, the Flagler County attorney referred to the measure as opening the way to "big government."
---
"This is a deal that's been broken, and should not be broken."
---
Oddly, Hutson, now a senator, has not been fighting the bills to beat back his own achievement in 2014. To the contrary: last week he introduced an amendment that would have fueled the vacation-rental industry's purposes. He pulled it only when the Flagler County Commission asked him to do so. But he did not pull it happily, and he's not been the county's champion in this issue. His silence has been interpreted by local officials as complicity with the vacation-rental industry.
That left Flagler's Hammock and county government without an ally in the Senate. So they turned their attention to Rep. Paul Renner, who represents Flagler in the House and who's only too happy to seize on a local issue that pleases constituents, if only to lessen the criticism he's suffered because of his sponsorship or support of several other bills that aren't so popular locally.
Renner got a sense of that displeasure from some in the Hammock Community Center crowd Saturday when he was questioned about his support for a bill, HB17, that somewhat contradicts his stand on vacation-rentals: HB17 would encroach on local control, or what's known as home rule. Renner said that bill is targeted against abuses of due process disguised as of home rule. "I'll tell you where I really am firmly behind home rule," Renner said, "issues such as adult nightclubs, strip clubs, alcohol, marijuana, issues where community values, and then this issue is one of them, the short-term vacation rentals is one of those."
Renner's deep involvement through other bills reflects his close alliance with the powerful House Speaker, Richard Corcoran, and all the legislators who want to curry favor with Corcoran. It also suggests that Renner has the sort of political capital that, ironically, Hutson does not in the Senate—and that Renner could choose to spend some of that capital in the battle against vacation rentals. Perhaps unwittingly, Renner provided insights into the backroom bargaining taking place. "The persuasion, that part, how people are going to vote has been happening, has been ongoing, I've been in meetings with people," Renner said, noting that he's been doing so on "all bills"—again, a suggestion that he is willing to deal, and make the vacation-rental bill part of those bills. "On this bill, I do believe there might be some folks that are movable, and so we'll see who we can move," Renner said. (The Sunshine law does not forbid legislators from meeting individually, behind closed doors, as are local elected officials.)
That's why Renner was at the Hammock Community Center Saturday for a hastily arranged town hall, along with County Commissioner Greg Hansen—the local champion on the issue—Hadeed and County Administrator Craig Coffey, who's been working overtime on this issue (among others) and has been, according to people familiar with his reaction, intensely frustrated by the legislative attempt to scrub the 2014 gains.
So the standing-room-only crowd at the community center was not a surprise Saturday, nor was it uninformed, and some in the crowd have been shuttling to Tallahassee to address legislative committees: it was there to give Renner the show of force he says he'll need to help the county's cause when he returns to Tallahassee this week: the House bill has its second go in a committee on which he sites. (Renner told the crowd that it would have its first vote on Tuesday. Not quite: the bill already cleared the House Agriculture and Property Rights Subcommittee in a 9-6 vote on March 14. It cleared its first Senate committee on a more lopsided vote last week.)
Renner was grateful for the large crowd. "It really makes a big, big difference," he told the assembly, "and I really need to hear from you, especially on the vacation rental piece, on the possible outcome, the forks in the road that we may face in terms of trying to see this bill hopefully defeated, but if not defeated, how do we respond if it's a bullet train headed toward passage, these kinds of things. So your input tonight is critically important so I can go back with some sense of the consensus about where everybody is."
If the vacation-rental bill passes Tuesday again, "and it passes handily," Renner said, "then the question becomes how do we look in the other committees going forward, and what do we want to do, if anything. I'm one of 120 people. I'll vote No when it comes to the House floor as well. I can speak against it, I can do all of those things, but that will be one of the questions that has to be addressed going forward."
It's a lot more than Hutson has said he'd be willing to do: Hutson was not at the town hall Saturday.
But Renner heard near-unanimity on this theme: "We need you to fight for us," as one resident—and Tallahassee shuttler—put it to applause. Others spoke of their dismay over the rapidity with which the bills are making their way through committees. One resident urged Renner to seek to stop the bill at the committee level.
"Let the locals deal with their problems," one resident said in support of local control.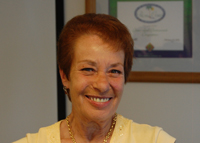 Legislative hearings, hurried ones especially, can spin the heads of fact-checkers, citing facts without context and implicitly making metropolitan areas such as South Florida seem identical to more rustic ones such as the Hammock or Flagler Beach. Flagler Beach City Commissioner Jane Mealy, who was at the Hammock town hall, offered a few correctives based on the city's experience, singling out Sen. Greg Steube, the bill sponsor, for criticism. "Flagler Beach passed an ordinance in 2008, which was not an easy ordinance to pass. It took quite a while, because there were people who wanted short-term rentals and there were people who didn't. After considerable arguments, and 'You'll never get reelected statements," and bla bla bla, we finally did get to an agreement. I think that Sen. Steube has some mis-conceptions about Flagler Breach. Most of A1A is zoned tourist-commercial and general commercial, and we do allow short-term rentals, in general commercial and tourist commercial. So if you build a house–and you're warned, when you build a house along most of A1A, you are warned, a bar could open next to you, a short-term, rental business could open next to you. You want to build your house, go for it, but at least you're warned. But if you go into Central Avenue or Flagler Avenue or Daytona Avenue, or other residential areas, then we don't allow short-term rentals."
So, Mealy added, "if Sen. Steube wants to make disparaging comments about my wonderful little city, you can straighten him out." In fairness to Steube, the misconceptions and falsehoods about Flagler Beach were not only his but also those of Heather Beaven, a property owner in Flagler Beach and Palm Coast–and a former candidate for office whose command of facts was on occasion impaired–who addressed a House committee earlier this month.
"I will take this, I will ask questions, and I will make my position known," Renner said, "which is what I said at the outset, that this is a deal that's been broken, and should not be broken."
About 15 minutes of the town hall meeting were devoted to an update on the county's beach-restoration projects, with County Administrator Craig Coffey outlining what's immediately ahead–bidding out the first batch of sand and dune replenishment, for example, then, in early April outlining the longer range projects on the beaches' horizon.