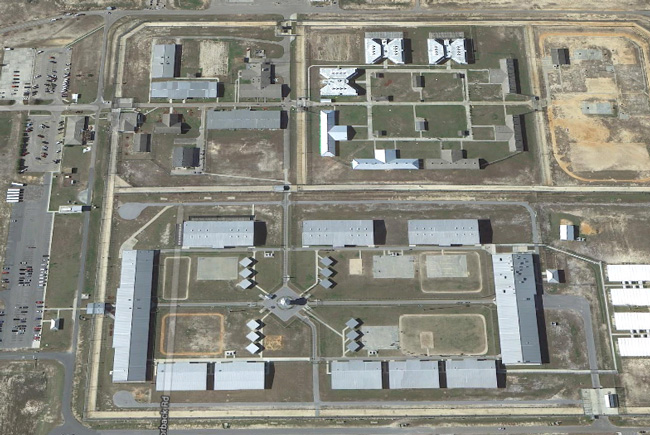 Eleven prison guards were arrested and fired this week for allegedly abusing inmates — including five guards and a captain accused of pummeling a handcuffed and shackled prisoner — in separate incidents at two Florida prisons.
The firings are part of Department of Corrections Secretary Mike Crews' attempt to reverse the beleaguered agency's tarnished reputation in the wake of reports of widespread abuse and cover-ups involving at least two inmate deaths.
On Wednesday, five prison guards were arrested for allegedly stomping on a handcuffed and shackled inmate at the Northwest Florida Reception Center last month. A sixth — a captain — was also charged with taking part in the attack and lying about it.
A new warden took over at the prison Friday because William Churchwell, who had overseen the Panhandle facility, is retiring, according to Crews' spokeswoman Jessica Cary.
The guards allegedly knocked inmate Jeremiah Tatum, who had been gassed with chemical agents, to the ground face-first and jumped on him while he was handcuffed and his legs were restrained and then tried to cover it up, according to probable-cause affidavits accompanying arrest documents.
Meanwhile, five guards at Lancaster Correctional Institution were arrested for battery on an inmate. According to probable-cause affidavits, Officers Earl Short, Stephen Nygard and Julious Riley and Sgts. Robert La Puma and Brittain Williams are accused of punching prisoners in the face.
According to the documents, La Puma and Williams allegedly pulled inmate Kristopher Sanchez off of his bunk on April 16 and "began to simultaneously strike him in the face with their closed fist" while asking Sanchez if he had brought weapons and contraband into the unit. Williams also kicked Sanchez in the head with his boot, and La Puma then kicked him in the head and upper torso area, according to investigators.
Short is accused of slapping and striking four inmates in the head on separate occasions between Dec. 30 and Jan. 14, according to probable-cause affidavits provided by the Department of Corrections.
Nygard and Riley slapped five new inmates in the head "because they didn't move fast enough" during exercise drills at the Trenton institution on Dec. 30, according to the probable-cause affidavits.
As another sign of house-cleaning at the department, Crews also fired Okaloosa Correctional Institution guard Houston Biddle after Biddle was arrested for DUI and Desoto Correctional Institution guard Glen Gordon, who was arrested for operating a motor vehicle with a suspended or revoked driver's license.
---
A department in crisis tries to clean up its act.
---
In the Northwest Florida Reception Center incident, Sgts. William Finch, James Perkins, Robert Miller, Christopher Christmas and Dalton Riley were charged with felony battery on an inmate. Capt. James Kirkland, accused of getting the sergeants to lie about what happened, was also charged with official misconduct. Crews also fired the workers, according to a news release issued by his office late Thursday.
"These arrests and terminations send a very clear message: We have zero tolerance for criminal activity by our staff. I expect everyone to do what is right and I have restated my commitment to hold those who do not to meet our expectations accountable for their wrongdoing," Crews said.
According to the affidavits about the Aug. 5 incident at the Chipley institution, the five prison workers were taking Tatum, 31, to the cold-water shower after he had been gassed with chemical agents. It is unclear from the reports what prompted the gassing, or who ordered the use of chemical agents.
Videos showed that Tatum — who was handcuffed with his hands behind his back and whose legs were restrained, "thus preventing the inmate from protecting himself" — was "slammed face first to the concrete floor" by Finch and Riley, according to the arrest documents. According to the affidavits, Christmas and Perkins jumped on the back of Tatum's legs while Miller pinned his head to the ground.
In sworn statements to inspectors, four of the guards said that Kirkland told them he "wanted Tatum taken to the ground" as the inmate was led to the decontamination shower shortly before 11 p.m.
"Captain Kirkland would make an audible noise and/or state that Inmate Tatum spit on him. The escorting officers were to then force Tatum to the ground," the complaint reads. All five later said that Tatum never spit on anyone.
After the attack, Kirkland ordered Finch to write up accounts of the incident saying that Tatum had spit on him, according to the allegations. The other four officers said they did not write or sign the reports. The five underlings "aided in concealing and covering up Captain Kirkland's illegal order to commit a malicious battery," according to the arrest records.
The department's inspector general is investigating three deaths at the Chipley institution, and a fourth is being reviewed by the Florida Department of Law Enforcement, which is now scrutinizing dozens of other inmate deaths at the request of Crews.
"We have an accountable system. I expect every inmate to live in a safe environment. I expect our correctional officers to be safe. And we expect accountability," Gov. Rick Scott told reporters Friday after a campaign event in Crawfordville. "Secretary Crews has already done more to make sure people have the right training. We have a transparent system. But he's going to hold people accountable and that's what he's doing."
But the firings don't go far enough, said Florida Justice Institute Executive Director Randall Berg, who represents prisoners in lawsuits against the corrections department.
"The culture hasn't changed," Berg said.
Department leaders have for too long ignored a multi-generational pattern of abuse, Berg said, and firing low-level workers won't fix that.
"Crews needs to make certain that everyone from the top down is going to be held accountable. It's not filtering down to the rank and file and it's being ignored," he said.
A week ago, Crews sent a memo to prison workers threatening to fire employees for wrongdoing. After a review, Crews said he found that his department has "not been applying a uniform standard" for abuse and that the inconsistency "has the potential of undermining the culture of professionalism that is necessary for running institutions with integrity."
Crews' reforms, announced Aug. 20, came on the heels of Miami Herald reports earlier this year that Darren Rainey, a mentally ill inmate at Dade Correctional Institution, died after guards allegedly forced him to shower in scalding hot water as punishment two years ago.
Crews fired the warden at the prison, cleaned house at other institutions where inmates have died under questionable circumstances, instituted new protocols for punishing wayward corrections workers and this week launched an inmate mortality website that includes limited information about more than 3,000 prisoner deaths since 2000.
Crews has also handed over investigations into at least 85 unresolved prison deaths to the Florida Department of Law Enforcement, which was already delving into nine mysterious inmate deaths. The FBI is also reportedly scrutinizing Suwannee Correctional Institution, where an inmate-led riot injured five prison guards in October. The April 2 death of inmate Shawn Gooden at the facility is one of those being examined by FDLE.
Meanwhile, four Department of Corrections investigators are suing the agency, saying they've been punished for calling attention to a cover-up about an inmate's death. The whistleblowers claim they started an investigation into allegations of prison-guard misconduct at Franklin Correctional Institution in 2013. That investigation revealed that an earlier probe into the 2010 death of Randall Jordan-Aparo — whom the inspectors found was left to die in a cell after being gassed with chemical agents — "was false and misleading."
On Tuesday, Disability Rights Florida sued Crews and Wexford Health Systems, a private vendor that provides health care services to prisons in the southern portion of the state, alleging that torture and abuse of prisoners, including Rainey, had been ignored for years.
–Dara Kam, News Service of Florida