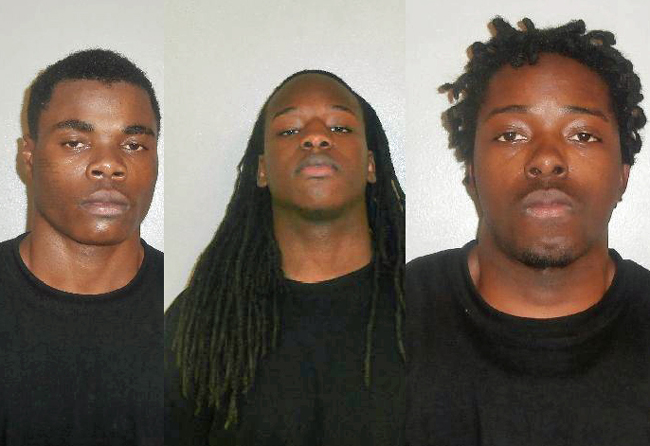 Three men, none older than 20, and a 16 year old were arrested Sunday and charged in the armed burglary of a house at 24 Pine Brook Lane just 800 feet from one of the suspect's home. The site of the burglary is in the heart of Palm Coast's P-Section.
Tyrell Williams, 19, of 8 Pine Bush Lane in Palm Coast (he is originally from Palatka), Devon Burney, 20, of Edgewater, Tammarick Asbell, 20, of Palatka and a 16-year-old from Palm Coast were charged with armed burglary of a dwelling. Williams is being held on $100,000 bond at the Flagler County jail. Burney is being held without bond. He also faces a probation violation charge. Asbell's bond was set at $50,000.
The arrests took place shortly after 2 p.m. Sunday.
According to their arrest reports, the suspects entered the house on Pine Brook Lane to take laptops, tablets cell phones, iPads, large amounts of cash and jewelry. The property had an estimated value of between $2,500 and $3,500. The suspects were allegedly armed with a KelTec 9 mm handgun, which cops located with a black backpack that the suspects tried to "discard and or conceal" as they were fleeing the scene and attempting to elude police.
A second, pink backpack was located in an area where witnesses identified two of the suspects, hiding under a vehicle. The pink backpack contained an X-Box 360, two controllers and the device's power cord. The backpack was inscribed with the name of a juvenile who lives at the house that was burglarized.
The four suspects were positively identified by independent witnesses as the subjects in the area of the burglary and at the house itself, according to the police reports.
Each suspect's arrest report also notes that each of the suspects "is also a known documented 'Grove Street' gang member, representing the gang by wearing camouflage clothing. Camouflage is also a known 'Color' of the Grove Street Gang. By wearing the colors and being known gang members it is believed the defendant's actions were for the purpose of benefiting, promoting, or furthering the interests of a criminal street gang and should be enhanced under Florida statutes 874.03 and 874.04." The laws refer to gang-related crimes.