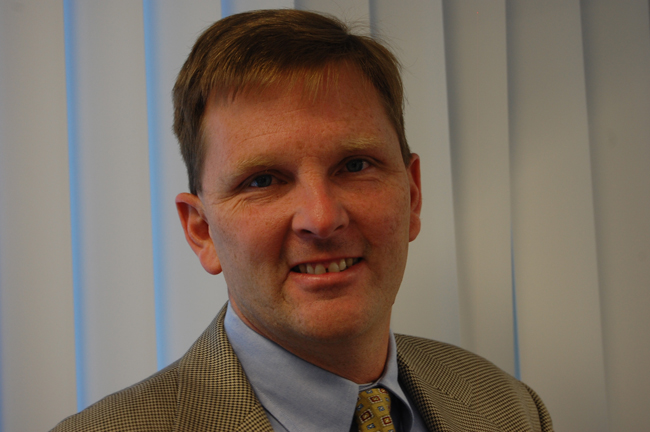 Enterprise Flagler, the private-public economic development agency, has been taking plenty of criticism lately over its mission, its achievements or lack of transparency. The criticism did one thing Enterprise Flagler hadn't done for itself: it brought more attention to the agency, shedding some light on its purpose and shortcomings and compelling it to make its case more publicly than it'd been willing to.
Tuesday morning, Enterprise Flagler Executive Director Greg Rawls did just that before the Palm Coast City Council: We matter, we create jobs, we even save taxpayers money, Rawls told four of the five council members. (Council member Bill Lewis, one of Enterprise Flagler's most caustic critics, was absent until the very end of Rawls' presentation.) The report to the council was in response to last week's criticism by several council members that Enterprise Flagler was taxing taxpayer dollars without accounting for it.
Rawls outlined a series of achievements: Keeping Palm Coast Data and Sea Ray in the county (1,600 jobs between them), bringing ACI, the software company (75 jobs), Bunnell's National Direct Response (190 projected jobs, though there are questions about that company's promise), and nurturing several other, smaller enterprises that have less visibility but still add up to jobs now or in the future. Among those: "The hose people," as Rawls called MH Operations, the innovative hose company that just scored a deal with the Flagler County Commission to use one of the county airport's many empty buildings, at deep discount, to start manufacturing its product.
"We need each other," Rawls said toward the end of his presentation. "The government can't do it by itself and the private sector can't do it by itself."
Rawls was more cagey when it came to explaining his role or Enterprise Flagler's intentions regarding the contentious tax the agency is proposing. The tax (25-cent-per-$1,000 in property valuations) appears on this November's ballot. The $2 million or so it would generate would be used to build new industrial facilities that would attract companies to the county, and to market the county as a business destination. The proposal is weathering more criticism than support for being unclear. Rawls did not make it more clear or compelling this morning.
Council member Holsey Moorman, noting that Rawls has a staff of two, asked him how that initiative, if it succeeds, is going to help him step up his operations. "Are you looking to add additional staff? How are you going to step up your operation to go after more business that come into Flagler County?" Rawls responded with what has become the standard pitch for the referendum: Flagler County "is not in the game" when it comes to attracting companies looking for industrial facilities of 50,000 square feet or more, as 70 to 80 percent of the leads Rawls receive call for. The initiative, however, "could possibly fund another position" at Enterprise Flagler.
Rawls did not take the opportunity to detail his initiatives regarding the tax proposal, including a new web site he registered at godaddy.com in mid-July, to be called "Flagler's New Game Plan" (and go along with the rather clunky web address, flaglersnewgameplan.com). Marketing 2 Go's Cindy Dalecki just launched a Facebook page of the same name, without yet connecting it directly to the initiative. And Enterprise Flagler is preparing to roll out a public-awareness campaign, including an extensive Q&A designed to address skepticism and criticism of the tax.
Ironically, soon after Rawls made his presentation, the council took up discussion of the single-largest development proposal in Palm Coast's 10-year history, Old Brick Township—which would include 1 million square feet of industrial development, again raising the question of need for government-backed subsidies of industrial developments.
Several of the items on Rawls' list of achievements had less to do with job creation than marketing—and marketing Enterprise Flagler particularly. And several items, including Palm Coast's relatively new, high-speed "fibernet" network for businesses, Palm Coast's "master plan" for development in and around the county airport, and the development of an industrial zone were not Enterprise Flagler achievements but what Rawls described as "community initiatives" in which Enterprise Flagler played a role. And Rawls' contention that Enterprise Flagler saves taxpayers money–because, he claims, the agency prevents duplication of services–is questionable, as Palm Coast and the county have economic development budgets that dwarf that of Enterprise Flagler, yet keep contributing to the agency.
Council members asked only a few questions after the presentation, and Netts turned down a request from the public to comment, saying he would allow it only at the end of what promised to be a long meeting. Netts asked Rawls to return in six months. "Six months or six years?" Rawls said, an attempt at humor that didn't take with Netts, who said again: "Six months."