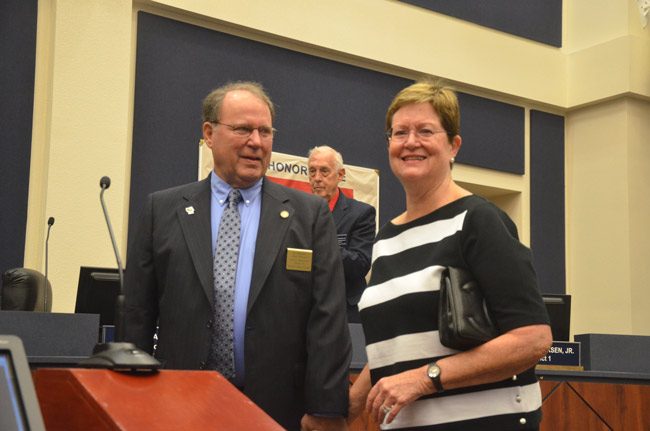 Greg Hansen was sworn-in as Flagler County Commissioner this morning to complete the 22 months left of the late Frank Meeker's term, but also completing the historic sweep that has stocked the commission with nothing but Republicans for the first time in the county's 100-year-old history.
"I'm excited and I'm humbled by the governor's faith in me, picking me to do this," Hansen said immediately after the swearing in as he sat in his commissioner's chair for the first time, his voice breaking. "I really look forward to serving Flagler County. Linda and I have come with a phrase, celebrate Flagler. I think that's what we need to do, celebrate our county, make it better." Linda Hansen is his wife.
The brief swearing-in ceremony this morning at the Government Services Building was conducted by County Judge Melissa Moore-Stens, who wisely zipped out of the room immediately after carrying out her function: the rest was politics. The swearing-in was attended by several members of the Republican Executive Committee old and new, including Violet Drexler, 88, a longtime state Republican committeewoman from the days when Republicans were a rarity on local government boards, and Joanne and Bob Updegrave, whose presence was also a reflection of the party's assertive awareness of its victory.
The swearing-in was also a reunion of the now-defunct Ronald Reagan Republican Assemblies of Flagler County, the short-lived but influential, breakaway branch of the more radical Republicans Hansen sympathized with, and who often were at war with the more traditional branch: Dennis McDonald, John Ruffalo, Bob Hamby and Mike McElroy—the masthead of the organization—were all there, applauding an unlikely victory for one of their own. (They got three of their members elected: Janet McDonald to the school board, Steven Nobile to the Palm Coast City Council, and Charlie Ericksen to the County Commission, though Ericksen dropped that association and became one of the Reagan group's targets.) Bob Hamby, had openly backed Hansen before the appointment and called Hansen "a man of integrity."
It was a quietly discordant sight: the very men—McDonald and Ruffalo especially—who were among those who'd spent the last three years pursuing county commissioners and their top staff with ethics, electoral and other types of charges were now applauding Hansen's accession to the body that had been the object of their derision.
Meeker, who died in July of cancer, would not have applauded: he represented the branch of local Republicans often at war with the Reagan group, and had finally decided to counter-charge, filing a set of ethics charges against McDonald shortly before he died, and had often spoken acidly of McDonald's colleagues in the Reagan group. He would not have reacted happily to the irony of his succession.
Hansen himself was not surprised by the fact that the initial reaction to his appointment was not entirely positive. Three elected Republican officials on three different government boards reflected some of that reaction. One expressed "shock," another responded with expletives, and a third didn't know who Hansen was. All three spoke on background, not wanting to tarnish the way ahead with Hansen. But the appointment process was also fraught with politicking and behind-the-scenes maneuvering, and whoever was appointed was bound to draw some ire from those who favored others (the finalists had included Hansen, former Palm Coast Mayor Jon Netts, and Larry Jones, a former Seminole County top administrator who'd been favored by Flagler County Administrator Craig Coffey).
"I'm not sure I do represent one faction or the other," Hansen said today in a brief interview after the swearing in. "I'm a Republican. I'm not ashamed to say that. I believe in the Republican values. That's capitalism, small business, low taxes. That's where I stand. And I think all Republicans do that, and I think a lot of Democrats do."
Bob Updegrve categorically disagreed with a question on local Republicans not all being friends. "At this point they're all friends. That's all in the past," he said. "That is all behind us." When told of recent comments by elected Republicans, he said: "Not coming from the party."
"We're trying to keep things on the up-and-up and unity and the whole nine yards," Joanne Updegrave said, though even she conceded: "We were kind of shocked" by Hansen's appointment, echoing the same word an elected official had used. Bob Updegrave then said there would be no divisions between the five men on the commission. "And the Republican party supports him. The Republican Party supports all five of these guys." As to the lack of opposition—or Democrats—on the commission, Updegrave said: "It means these Republican commissioners and the party have a tremendous responsibility to this community, to Flagler County, and one that we all take seriously and are committed to fulfil. So we welcome Greg."
The last Democrats to serve on the commission, Barbara Revels and George Hanns, were defeated in last November's election–by Dave Sullivan and Donald O'Brien–and Democrat Jason DeLorenzo, formerly of the Palm Coast City Council, fell short in his bid against Ericksen. In the audience today, there were only one prominent Democrats: former Flagler County Sheriff Jim Manfre. The ceremony was also attended by the current sheriff, Rick Staly.
Hansen spoke of his first priorities: "I want to fix the beach, I want to fix Flagler County, make it a better place to live," he said. "I think we're doing wonderful, everything is going in the right direction that I see, everything is going in the right direction. We just want to keep it going that way. But I think the first thing we need to do is fix the beach."