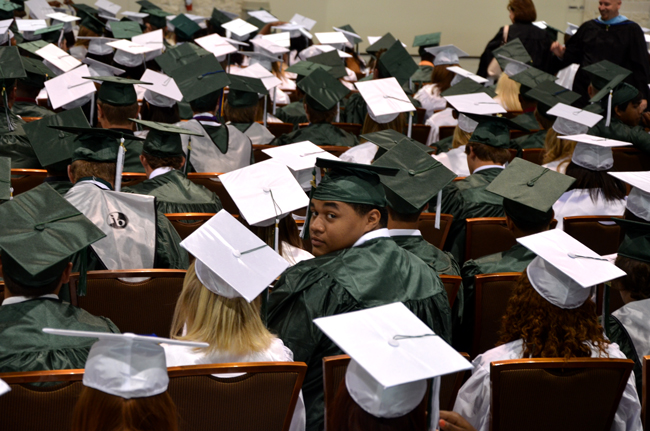 Flagler County schools want parents to take their involvement in their children's education more seriously, for good reason: the district's drop-out rate remains high. The state's graduation requirements are going to be increasing year after year. Money flowing into the school district is decreasing. Students will have a harder time graduating. Parents will have a harder time keeping up.
All of that is further shifting the burden of staying on top of what's expected of students. To ensure that students reach graduation, parents will have to take on more responsibilities, not less. (See a complete charts of graduation requirements from 2011 to 2017.)
The Flagler school district is prepared to make it easier for parents, starting with a county-wide back-to-school orientation session on Aug. 4, when the district will host information stations at nine locations in the county to help parents understand what's changing and how much will be expected of students.
"It'll really be looking at promotion and graduation requirements," says Sabrina Crosby, the district's special projects coordinator and the organizer of its "Graduate One, Everyone" project.
The Aug. 4 orientation sessions will take place at 7 p.m. at the following places:
The Bunnell City Hall
The County Government Services Building next to the courthouse, on State Road 100
The Hidden Trails Community Center
The Espanola Community Center
The African American Cultural Society on U.S. 1
The County Public Library in Palm Coast, oN Belle Terre Parkway and Palm Coast Parkway
The Palm Coast Community Center on Palm Coast Parklway
The Hammock Community Center
The Wickline Center in Flagler Beach
Every one of those information stations will be staffed by district employees and volunteers. Packages of information and resources will be handed out, including information on free and reduced lunch applications, when and where free backpacks and school supplies will be handed out, where parents can turn for mentoring or tutoring assistance, and similar matters.
Why "Graduate One, Everyone"? Think of it this way: the school district wants the idea of mentoring to become a county-wide mentality. If every member of the community takes on the responsibility of ensuring that at least one student graduate, the district's graduation rate would soar. But that means increased parental involvement as well as the involvement of civic organizations, businesses, politicians.
---
Graduation Requirements, 2011-2017


[nggallery id=83]
---
Crosby and Jerusha Logan, a volunteer who pays particular attention to students who have trouble graduating or staying in school, appeared before the Flagler League of City's mayors earlier this month to outline the Graduate One program and ask them for their help through their respective governments—disseminating the word and making the point that "Graduate One" will take a concerted, county-wide approach.
The mayors were struck by the contradictions in the state's expectations: Florida is increasing graduation requirements and standards while slashing budgets. "Wait a minute, that sounds awfully counterproductive," Palm Coast Mayor Jon Netts said after the presentation. "The message I got is this clearly makes them nervous. They see significant problems looming."
That said, the district is responding by doing what it can, within its means, to ensure that parents are aware, ahead of time, of what will be expected of them and their children, and to put a support system in place to help them through it.
Take students entering 9th grade this fall. In order to graduate on time in 2015, they're going to have to pass the 10th grade reading FCAT test, pass Algebra 1, pass a geometry course (by passing the new, end-of-course exams), and pass a biology course. Two years later, those entering 9th grade in 2014, (that means those who are entering 6th grade this year) to graduate in 2018-19, will have to do all the things that this year's 9th graders will be expected to do, plus pass a biology end-of-course exam, earn an Algebra II credit, and pass wither a physics or a chemistry class on top of another "rigorous science" course from an approved list. It gets heavier in subsequent years, with middle school students also expected to pass a civics end-of-course exam by the middle of the decade.
Florida still has one of the highest high school drop-out rates in the nation. Still, because a decade of high-stakes testing through the Florida Comprehensive Assessment Test (FCAT) hasn't changed that fact. One out of four student entering high school doesn't graduate, and that's by the state's rather generous accounting. Maryland's Editorial Projects in Education Research, an independent organization, calculates that just 58 percent of Florida students graduate high school with a regular diploma in four years.
Flagler County's drop-out rate isn't as bad as the state's, but it's still dismal: 83 percent of seniors graduate within four years, which means that 17 percent don't. It also means that more than 400 high school students, from grades 9 through 12, are failing to reach graduation in any given high school cycle.
"The school district can't get any better until we reach the students that are not doing well," Logan says. "The parent support has to be there for the students who are not doing well." But Logan is also at her wits' end: the district knows who those students are, who those parents are, but privacy rules forbid the release of their names. Even though Logan says she could get an army of volunteers together to get on the phone and get those families involved, she cannot do it. That's not about to change, either.
"You have so many things that work against you. You have a tutoring kid who wants to stay at school, but doesn't have a way to get home. You have teachers having to make so many standards. It's an impossible task." On top of that, the district just shortened the school day by 45 minutes, reduced course offerings in high school and laid off teachers.  Help me understand why they tie our hands and expect us to get this done. How do we let them tie our hands like that? These people who make these laws work for us."



The free backpacks program was conceived because of an increased need to provide for poorer students. Due to limited quantities, children who qualify for free lunch will be given first priority while supplies last. Families with extenuating circumstances may also apply. Eligible families may contact the front office of their child's school to receive information about applying for the "Packs 4 Backs School Supply & Backpack Program."
Although sponsors have covered the majority of backpack and school supply costs, the Flagler County Education Foundation needs funds, or donated supplies, to fill 750 backpacks at a cost of approximately $10 per child. To make a contribution, please contact Flagler County Education Foundation Executive Director Deborah Williams 386/437‐7526 ext 3125 or by email: [email protected].