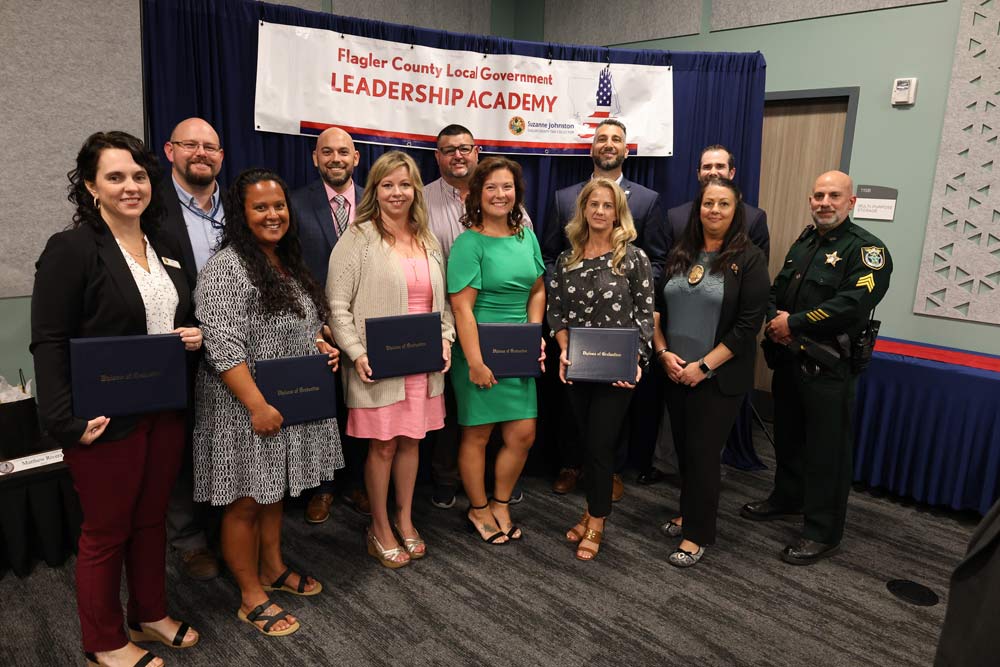 Thirteen executives, managers and professionals from a half dozen local government agencies graduated from the Flagler County Local Government Leadership Academy at a special ceremony at the Flagler County Sheriff's Office Operations Center last week.
The graduates of the Academy's fifth class were as diverse as Rosana Vinci, a detective with the Flagler Beach Police Department, John Fanelli, who served an appointed stint as a Palm Coast City Council member and is Flagler schools' coordinator of student supports and behavior, Alyssa Roscoe, a customer service specialist with Palm Coast (and a roller derby specialist to boot), Teresa Rizzo, the executive director of the Flagler County Education Foundation (the non-profit arm of the school district), and several members of the Tax Collector's office, which had home-field advantage this year: Tax Collector Suzanne Johnston organized and hosted the classes at her main office in Bunnell.




The four-month executive education program met weekly for two-hour classes at the Tax Collector's Office. Graduates sat for lectures led by Dr. Joe Saviak, a senior executive, leadership and management consultant and former professor of public administration at Flagler College. Saviak was also a member of the Sheriff's Office's executive team for a few years.
Topics included leadership, human resources, budgeting, risk management, customer service, program evaluation, teamwork, and organizational culture.
Students read two highly regarded books on leadership and completed a series of real-world assignments. They enhanced their knowledge of successful leadership and strengthened valuable skills like research, writing, presenting, analysis, decision-making, teamwork, project management, communication, problem-solving, and planning. They learned best practices and used data-driven decision-making to select policies and programs with proven performance.
"Leadership is the single greatest predictor of how successful any organization will be," Johnston, who in her nearly 20 years in office, knows a few things about leadership, said. "This academy teaches students the key subjects and specific skills to ensure these leaders excel in their roles and responsibilities. We teach everything that our residents would want and expect in our leaders."




Flagler County Sheriff Rick Staly, whose human resources director, Christopher Wagner, was among the graduates, said: "As leaders, we have to be thinking about today, tomorrow, and ten and fifty years from today. This academy helps our current leaders be their best and it effectively prepares emerging leaders for future roles. We congratulate all of our graduates on this accomplishment. We look forward to seeing your continued success as you and those you lead create a very bright future for Flagler County for many years to come."
Saviak originated the concept of the academy a few years ago when the focus was on county employees. He in the leadership-teaching role, seemingly discussing leadership and management at every opportunity. The academy merely formalizes what he does as if by second nature. "We are grateful for the strong partnerships across local governments which make this program possible," he said.
"By teaching best practices in successful leadership, we help ensure that local government always operates effectively and efficiently to best serve citizens," Saviak said.
The next Flagler County Local Government Leadership Academy begins this fall. For more information, contact the Flagler County Tax Collector Operations Manager and coordinator of the academy, Shelly Edmonson, at [email protected] or at (386) 313-4165. There is no cost to participate, but space is limited.
The graduates:
John Fanelli, Flagler Schools
Doug Gonzalez, Flagler County Tax Collector's Office
Ron Mello, Flagler County Sheriff's Office
Kelly Mullen, Flagler County Tax Collector's Office
Matthew Rivera, Flagler County Government
Teresa Rizzo, Flagler County Education Foundation
Alma Rock-Yanochko, City of Palm Coast
Jennifer Rodbourn, Flagler County Tax Collector's Office
Alyssa Roscoe, City of Palm Coast
Ryan Simpson, Flagler County Government
Rosana Vinci, City of Flagler Beach
Christopher Wagner, Flagler County Sheriff's Office
Stacy Whalen, Flagler County Tax Collector's Office