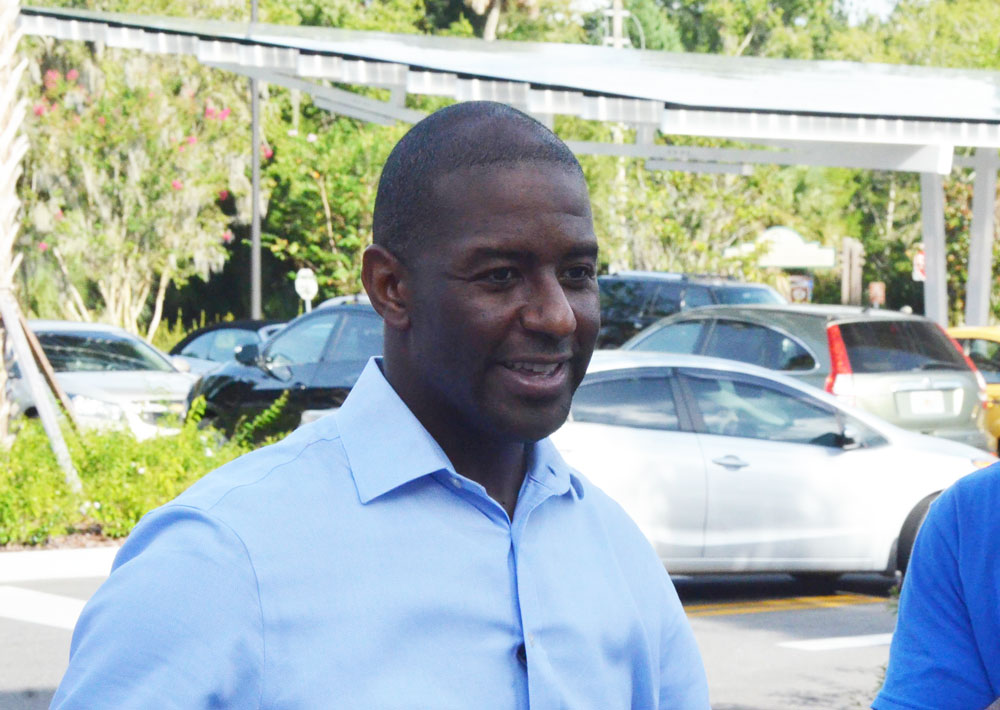 Less than two weeks after a mistrial, federal prosecutors on Monday filed a motion to dismiss conspiracy and fraud charges against former Democratic gubernatorial nominee Andrew Gillum.
The move to drop the charges against Gillum, a former Tallahassee mayor, comes after jurors on May 4 acquitted him of lying to federal investigators but were unable to reach a verdict on charges that he and his political mentor, Sharon Lettman-Hicks, bilked political contributors out of money and illegally steered it to Gillum for his personal use.




Monday's one-sentence motion by prosecutors asked U.S. District Judge Allen Winsor to "dismiss the indictment against" Gillum and Lettman-Hicks, as allowed under federal rules.
Gillum's legal team hailed the move.
"Andrew Gillum had the courage to stand up and say I am innocent. And that is finally being recognized. We want to thank the hard working jury who did their job and explained to the government why it should drop the case. Andrew has endured a lot over the past few years and now can resume his life and public service," attorneys David Oscar Markus, Margot Moss, Katie Miller and Todd Yoder said in a text message Monday afternoon.
Gillum, a onetime rising star in Democratic politics who has steadfastly maintained his innocence, on Monday tweeted an emoji of two hands clapping, adding, "But God …"
The charges against Gillum came after a lengthy FBI public-corruption probe that also snared Scott Maddox, a former Tallahassee city commissioner and former Florida Democratic Party chairman. Maddox pleaded guilty in 2019 and is serving time in a federal prison. The investigation also netted Maddox's long-serving aide, Paige Carter-Smith, and prominent businessman J.T. Burnette.




U.S. Attorney Jason Coody's office did not elaborate on the decision to drop the charges against Gillum and Lettman-Hicks.
But The Tallahassee Democrat newspaper reported this month that jurors were deadlocked 10-2 in favor of acquittal on 19 charges of conspiracy to commit wire fraud and committing wire fraud.
Gillum and Lettman-Hicks were indicted last year on charges related to activities that took place between 2016 and 2019, as Gillum's political stature blossomed.
Gillum catapulted into the national spotlight after winning the Democratic gubernatorial primary in 2018. Gov. Ron DeSantis defeated Gillum by less than 33,000 votes in the general election.
Gillum, who at age 23 was elected in 2003 as Tallahassee's youngest city commissioner, served on the commission for a decade before getting elected mayor in 2014.




Gillum and Lettman-Hicks were on trial for two weeks before the jury cleared Gillum of lying to investigators and deadlocked on the other charges. During opening arguments April 18, prosecutors laid out a complex set of transactions involving contributions from a handful of non-profit organizations to P&P Communications, a company controlled by Lettman-Hicks. The indictment accused her of illegally steering campaign-related funds to Gillum for his personal use.
Gary Milligan, an assistant U.S. attorney, repeatedly accused Gillum of "attempting to distance himself" from the alleged wrongdoing. "He wants something to happen but doesn't want to take responsibility for it and he's separating himself from it," Milligan argued.
But Gillum's lawyers argued that prosecutors "put a target" on the Democrat, who was Florida's first Black gubernatorial nominee.
The charges stemmed from payments Gillum received after stepping down from his job at the liberal-advocacy group People for the American Way, where he earned $122,500, in addition to his roughly $70,000 annual salary as mayor. After launching his bid for governor and leaving the job in 2017, Gillum began receiving regular payments from P&P, according to the indictment. Prosecutors filed a "superseding" indictment in April that dropped two of the initial charges against Gillum and Lettman-Hicks.
The indictment accused the defendants of having "engaged in an ongoing and evolving scheme to defraud by unlawfully soliciting and obtaining funds from various entities and individuals through false and fraudulent representations and promises that the funds would be used for a legitimate purpose, but instead using third parties to divert a portion of those funds to P&P, which Lettman-Hicks then fraudulently provided to Gillum for his personal use disguised as payroll payments."
For about a year after his narrow defeat to DeSantis, Gillum continued to enjoy national fame, working briefly for CNN as a political commentator in 2019.
But he dropped out of the spotlight after a 2020 incident in a South Beach hotel room, where a man reportedly overdosed. Gillum was in the room, and a police report said he was "unable to communicate with officers due to his inebriated state."
Speaking to reporters outside the federal courthouse after the trial ended May 4, Gillum said he and his family have been "under attack on all sides" for the past seven years.




"They've quite literally tried to take everything from us. And the beauty is that in our system, the powers that be don't always get to decide," said Gillum, accompanied by his wife R. Jai. "Everyday people like you and me sometimes get our swing at the ball and today the jury took it."
Gillum has asserted that he was the victim of a political witch hunt, in part because he is Black.
"I just got to believe that, through this all, maybe one of the things that needed to be revealed to me is that this system is in desperate need of reform. And I'll just say, 'to be continued,'" he said.
—
–Dara Kam, News Service of Florida