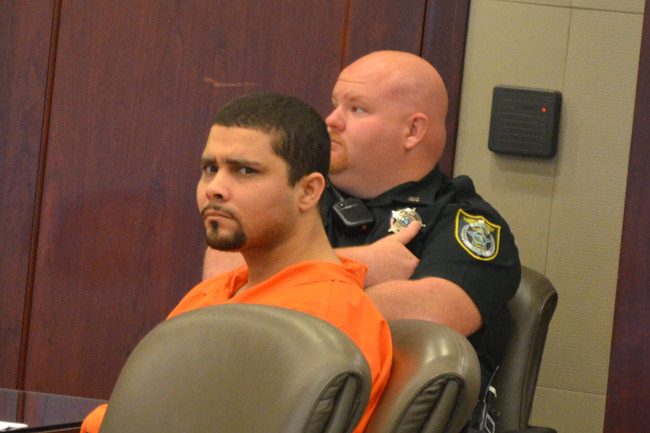 Immediately after anyone is sentenced in court for a misdemeanor or a felony, the person is always ushered to a stand a few feet from the judge and fingerprinted for the court's records. It usually takes a minute or 90 seconds as the individual, usually in shackles, tries to navigate the mechanics of the pad, the ink, the bailiffs' instructions and the handcuffs.
It took George Wood eight seconds this morning.
His fingers keyboarded from inkpad to fingerprint card with the speed of a veteran stenographer, but more like a boy trying to impress his elders. It was an almost poignant irony closing a sentencing hearing with nothing poignant about it: Wood, at age 32, was just found guilty of his 13th and 14th felonies, a life if crime that began when he was 16, stretched over two states (he grew up in louisiana), included two stints in Florida state prison, the last one ending four years ago, the third one, starting today, to last 10 years. And he's yet to face another trial later this month that could result in a life term without parole.
Wood wore the routine of his convictions on his sleeves: when the judge asked him at the beginning of the hearing whether he preferred to sit next to his public defender instead of on the more wooden, less cushy chairs where defendants are usually lined up in pre-trials, he just shrugged. When the judge and the attorneys were discussing whether he should be judged a habitual offender, he was not paying attention, instead flipping off a photographer.
This morning, Circuit Judge Dennis Craig adjudicated Wood guilty on five charges, including escape and possession of a firearm by a convicted felon, charges for which he was found guilty by two juries in separate trials this year and last. The offenses resulted from an incident at Bunnell's Circle K a year ago, when a deputy approached him as the deputy was investigating the reports of an argument, and Wood at first refused to answer questions then, inexplicably, took off, jumping into a car, briefly dragging a deputy holding on to the car, crashing the car, getting tased, then managing to escape out of the patrol car where he'd been detained, taking cops on a chase and being discovered from the air with an infrared camera (it all happened at night).
Because he was found guilty of more felonies within a five-year window of his last, Craig declared him a habitual offender. Because he was a habitual offender, his second-degree felonies, normally carrying a maximum of 15 years in prison, could be doubled, to 30 years. That's what Assistant State Attorney Mark Lewis asked for. "Mr Woods shows no remorse, has learned nothing from his previous incarcerations," Lewis told the judge. (Not showing remorse, as the judge noted, may not be what it seems: a defendant may also need to preserve a no-guilty posture in case of appeal, and when Craig noted that, Wood nodded.)
Assistant Public Defender Regina Nunnally, who can habitually deflate any prosecutor's hyperbole with hyperbole of her own, conceded that Wood has had "some history since he was 16" and has had "a relatively unstable life." But she offered as mitigating actors his lack of structure with a father who gave him the wrong examples and went on to put last February's incident in a different context: Wood was not engaged in any criminal activity when a cop showed up. He just refused to answer questions and "panicked." He ran, a display of his usual anxieties, Nunnally said. "Yeah he made people work, but going to prison for 30 years for what, $30 damage to a car? To me, that would be overkill," Nunnally said.
The judge agreed.
"The state's argument about your long history, and your long history is significant," Craig told Wood, who by then was standing in front of the judge, "the state's argument is actually reasonable in the circumstance. Also Ms. Nunnally's argument is reasonable under the circumstance, that you shouldn't be sentenced to an extended period of time." He continued:
"The reason I'm not going to sentence you as to the state suggests is effectively, there are no victims involved in the offense, number one. Two, nobody did get hurt, but quite frankly there was a high risk of somebody getting hurt, particularly when the deputy was hanging on to the vehicle when the vehicle crashed," and when Wood finally jumped out of a tree, hurting his back, as deputies had surrounded him. "You could have ended up paralyzed just for a fall out of that tree," the judge said.
He sentenced him to 10 years in state prison. The 10-year sentence is less than it seems. He's already knocked off a year by serving it in the local jail, awaiting trials. And he could get 15 percent of the time off for good behavior. On the other hand, the lesser sentence could be a mere technical reprieve from much worse ahead.
Wood still faces trial for an armed burglary in Palm Coast. He was offered a 15-year plea. He turned it down. That was before today's sentencing. Craig wanted to know if the plea is still on the table, otherwise Wood goes to trial later this month, and if convicted, faces a mandatory life in prison term, without parole. It was not clear if the plea was still on the table. Wood wanted time to consider it anyway. He is to reappear before Craig next Wednesday for a pre-trial hearing on the armed burglary. That may result in a plea, possibly adding five years to his prison sentence–unless he opts for trial.