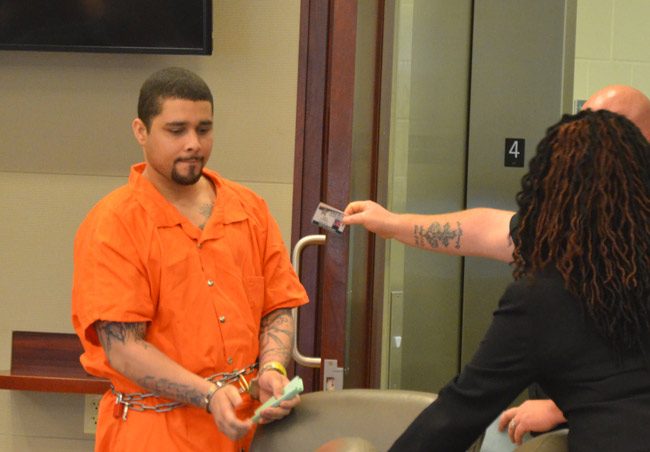 Until today, George Wood, 32, a resident of 15 Pineland Drive in Palm Coast before his arrest, was headed for trial on an armed burglary charge. If found guilty, he faces mandatory life in prison because of his prior records: he's a convicted felon 14 times over.
On Jan. 25, a Flagler County jury found him guilty of possession of a firearm by a convicted felon. On Dec. 8, a jury found him guilty of four charges, including escape. On Feb. 8, he was sentenced to 10 years in prison and sent back to the county jail to await his third and final trial, on the more serious and consequential charge that could lock him away for life.
But Monday, Roger Davis, a Jacksonville psychologist, informed his defense attorney that Wood was found incompetent to stand trial in an evaluation the court ordered on March 5. A pre-trial is scheduled before Circuit Judge Terence Perkins on Wednesday. If Perkins ratifies the order, which calls for Wood to be sent to a state psychiatric hospital for six to nine months, that puts a stop to the momentum toward trial on the burglary charge. It also puts in question Wood's two previous convictions.
"You can't try somebody that's incompetent to stand trial. That goes back to our very heart of our legal system," Wood's attorney, Josh Davis (no relation to Roger Davis), said today. The same principle applies to his two previous convictions, he said, when somebody should have flagged his competency. Davis says he'll put in motion whatever appeal mechanism is necessary. "It won't be a de-facto reversal but it's pretty stinking close. It's not like he fell off the roof and knocked his head loose, he's the same guy now that he was then. I don't know, that's a big problem. Big problem."
Davis, a private attorney, wasn't representing Wood in the December and January trials. Regina Nunnally, an assistant public defender in Flagler, was. Nunnally did not respond to an email inquiry about the case, asking why Wood had not been evaluated previously and whether the office's appellate division will be filing an appeal.
Davis said Wood initially doesn't act in any unusual way. "He acts normal and regular and whatever in court, so it's not like the prosecutor or the judge would have noticed him," he said. But in conversation, Davis became curious about his mental health and pursued the issue, getting an order from Circuit Judge Dennis Craig to conduct an evaluation. (Craig has since been transferred to Volusia and was replaced by Perkins.) Wood had a stint in a state psychiatric hospital in Louisiana. He is currently awaiting trial at the Flagler County jail
Getting a declaration of incompetence to stand trial means a defendant does not appreciate the nature or severity of the charges against him or has no ability to make decisions in his defense. The declaration is usually temporary, pending the outcome of the prescribed period at the state hospital.
Wood was sentenced in January on charges involving a murky encounter with police at a convenience store in 2017. There'd been a minor altercation there, prompting the dispatching of a deputy. When the deputy approached Wood, Wood jumped into a car through a window and asked the driver to take off. He was eventually seized and placed in the back of a deputy's vehicle, from where Wood escaped, running from the convenience store to a residential neighborhood in Bunnell, where a surveillance helicopter, using an infrared camera, located him hiding in a tree. Cops converged, he dropped to the ground and was arrested. It was never clear why he had run from the deputy initially.
An investigation into an unrelated incident had been ongoing. On Oct. 8 or 9, Weidig Gunsmith, a store at 15 Utility Drive in Palm Coast, was burglarized repeatedly. The county was under a state of emergency due to Hurricane Matthew at the time. Power was cut, enabling burglars to go in and out of the store without fear of an alarm going off. According to one of the participants, who later spoke to a detective from a prison cell, he and three other accomplices, among them Wood, stole 41 firearms totaling more than $20,000 in value and ammunition and other accessories totaling $1,100. A SWAT team and detectives recovered 20 of the firearms on Oct. 10 at a house believed to be occupied by Kenneth Kirsch at 142 Espanola Road. Four more firearms confirmed to have been stolen from the Utility Drive store were found in subsequent days, and a few others from unrelated burglaries.
As a crime scene technician was processing the scene at the store, some prints were connected to Wood. He was at the Flagler County jail on charges unrelated either to the burglary or to the escape and firearm possession counts. He denied involvement. Kirsch, who was held at the Nassau County jail, in March last year told investigators that Wood had thought up the plan to burglarize the store to take advantage of the power cut–and that he, Kirsch and two others went into the store on three different occasions that day, driving back each time to 27 Londonderry Drive and splitting the loot. The third time they were seeking to break into the store's safe, using a machete at one point. It didn't work.
That's the armed burglary charge Wood faces. He had been represented by Nunnally in that case until the end of December. The burglary charge is a life felony because he was rearrested within three years of his last state prison stint, making him a prison-release re-offender, which aggravates the potential penalties of a subsequent conviction. He also faces a grand theft charge and yet another charge of possession of a firearm by a convicted felon.
Davis, his attorney, said the incompetency issue puts all proceedings in question. "It's going to be a mess. A mess," he said.