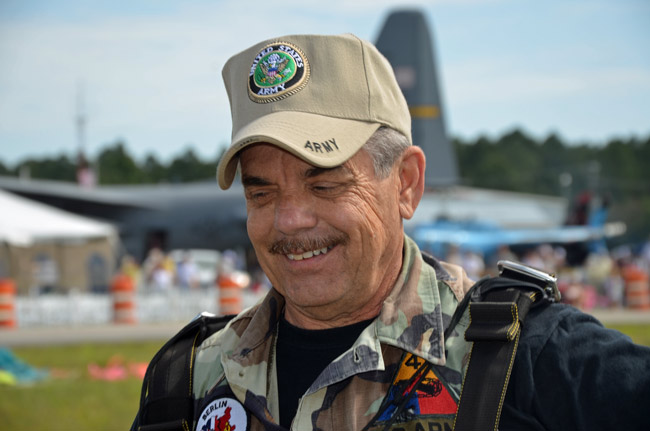 For George Hanns, the longest locally elected official–he's been a Flagler County commissioner for the past 20 years–it was a jump with great significance.
On Christmas Eve he was at his brother's bedside at Florida Hospital Flagler's intensive care unit. He knew his brother Donald, a Vietnam veteran devastated by years of aftershocks from exposure to Agent Orange and post-traumatic stress, was dying, though not 24 hours earlier George had picked Donald up at his home and taken him to a doctor after what appeared to be a simple fall. Donald was ailing, but wasn't so invalid that he couldn't still live on his own. The fall proved to be a sign of something more serious than either brothers thought. The doctor sent Donald to the hospital. Matters deteriorated by the hour. By nightfall on Christmas Eve, George was in and out of his brother's room, putting on a braver face than necessary and recalling some of his years with him. The next day, Donald died.
"For me, it was my personal tribute to my brother Donald," George said after parachuting down from 6,000 feet to open the third annual Wings Over Flagler air show late Saturday morning, after flying in from Palatka, "and all of my family of veterans who have served and are still serving. Our family has lost members during World War II, Vietnam and Desert Storm in Iraq." Hanns himself served in military intelligence, spending several years in Europe at the height of the cold war, between 1963 and 1969.
Hanns wasn't new to jumping from planes. He'd jumped to open the local air show in 1994, from somewhere above 12,000 feet. He was a little younger then. He's 65 now. Craig Coffey, the county administrator with the most overt sense of humor of any local public executive, ran out to Hanns's landing spot the moment the veteran touched down and handed him a supersized roll of toilet paper. Hanns, of course, declined. He might have been nervous the day before. But the jump itself proved exhilarating enough that he had time to snap a few pictures (including a terrific one of the scene below; see the pictures at the foot of the article) and deploy a giant Stars and Stripes.
"It was great," Hanns said. "We came down so smooth, nice exhilaration, a rush out the door. We had a nice ride all the way down." Hanns dropped from the Cessna Caravan in tandem with Art Shaffer, owner of Skydive Palatka. When he deployed the flag, he said, his chest puffed out . "That was really very moving for me," he said, moments after landing to cheers, and awaiting family, including his son George Jr. and his long-time companion, Sophie.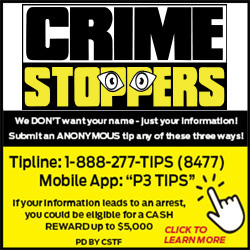 Hanns, who keeps a flutter of flags on his dais during commission meetings to commemorate veterans' service, had another reason for the jump: he's highlighting this year's county fund-raising for the Wounded Warrior Project, the non-profit devoted to raising money for casualties of war. Flagler County is organizing a fund-raiser on May 19 at Flagler Palm Coast High School, a 5.5-mile walk to support returning veterans.
The Flagler County Wounded Warrior Walk is planned for 8:30 a.m. that day (a Saturday), through Palm Coast's Town Center and the Lehgeigh Trail. Registration for the walk is $20 (relay teams $100) and includes a lunch at the Knights of Columbus Hall at 51 North Old Kings Road in Palm Coast, following the walk. Walkers are encouraged to sign up sponsors for each mile they walk. (Register here.)
"It really is a great cause," County Commissioner George Hanns said."The Wounded Warrior Project's mission is to honor and empower our wounded warriors. Most people would like to thank those who serve our country, this event is a way to give back."
Hanns's jump over, the air show took off in earnest, with Yaks, T-6s, T-28s and an assortment of other plans taking off periodically for maneuvers and aerobatics. Twice a plane landed on the back of a truck, without, needless to say, a hitch. The star attraction was a C-130 transport hulk hulk from Pittsburgh. A few helicopters, including a Coast Guard copter armed to the gills, sat on the tarmac. And at 4 p.m. Saturday, the show paid tribute to Wild Bill Walker, the aerobatic pilot who died when his plane crashed in the final hours of last year's show, before a gaping crowd.