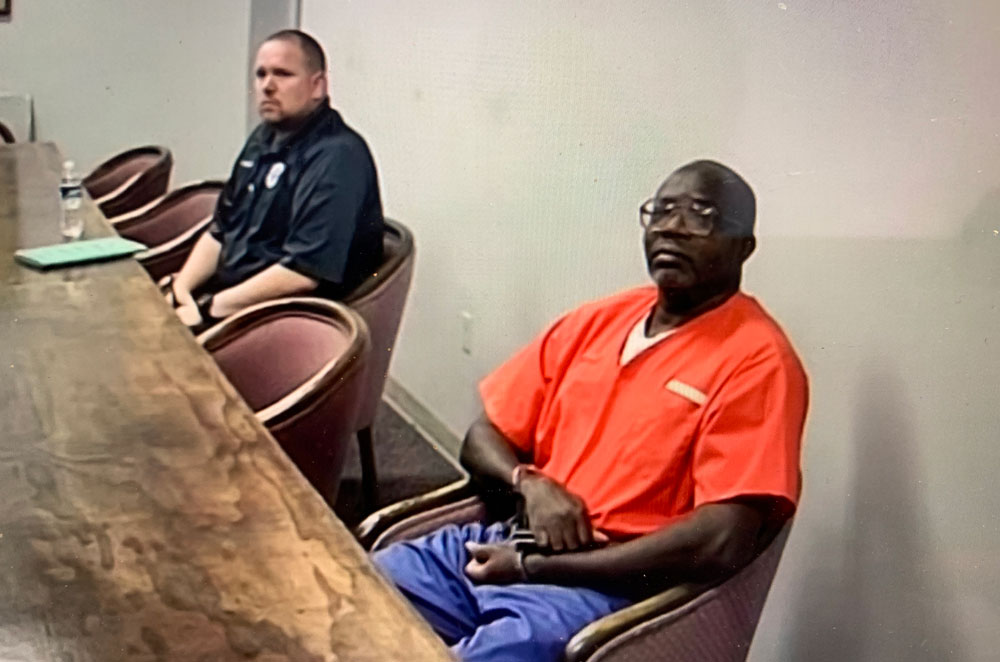 The U.S. Supreme Court on Tuesday refused to block the execution of Death Row inmate Louis Gaskin, who is slated to face lethal injection Wednesday in the 1989 murders of a Flagler County couple.
A two-sentence order said justices denied a stay of execution and a petition to hear the case. As is common, the order did not explain the decisions.




Gaskin's attorney appealed to the U.S. Supreme Court after the Florida Supreme Court last week rejected arguments aimed at preventing the execution. Gov. Ron DeSantis signed a death warrant last month, with Gaskin scheduled to be executed at 6 p.m. Wednesday at Florida State Prison.
Gaskin, now 56, was convicted in the murders of Robert and Georgette Sturmfels during a burglary of their Flagler County home.
A summary of the case included in the Florida Supreme Court opinion said Gaskin parked his car in a wooded area on Dec. 20, 1989, and shot Robert Sturmfels twice through a window of the home. He shot Georgette Sturmfels, who was trying to leave the room, and then shot Robert Sturmfels again, according to the summary. He shot Georgette Sturmfels again after seeing her through a door and then entered the home and shot both of them in the head, the filing said.
After taking lamps, video-cassette recorders, cash and jewelry, Gaskins left the home and went to the home of Joseph and Mary Rector, according to the summary. After Joseph Rector got out of bed to investigate noise, he was shot, but the Rectors were able to get to a car and drive to a hospital.
The appeals at the Florida Supreme Court and U.S. Supreme Court focused, in part, on arguments that a jury was not given evidence of Gaskin's mental illness before recommending that he be sentenced to death. The jury voted 8-4 to recommend that Gaskin be executed, with a judge then issuing the death sentence.




"This (U.S. Supreme) Court has made clear that the consideration of mitigation (evidence) by the sentencer, is at the heart of the constitutionality of the death penalty," Eric Pinkard, an attorney for Gaskin, wrote in the motion for a stay at the U.S. Supreme Court. "Because the trial judge and the recommending jury were denied the mitigation that was extant in Mr. Gaskin's case, the recommending jury and the trial court never focused on the unique circumstances of Mr. Gaskin. His deprivation, mental illness, and trauma he suffered was never heard, thus falling to meet the minimum constitutional requirements."
But in a response filed at the U.S. Supreme Court, Attorney General Ashley Moody's office wrote that Gaskin's petition for justices to take up the case was an "attempt to deprive his victims of justice on the eve of his execution for heinous crimes committed decades ago. Every question he presents now should have been (or was) asked and answered long ago."
The Florida Supreme Court's 21-page decision last week said Gaskin's mental-illness argument was "procedurally barred" because it had been rejected in earlier court proceedings after the conviction.
"Even if Gaskin's claim was not procedurally barred, he still would not be entitled to relief," the decision said. "In denying initial postconviction relief, the circuit court concluded that defense counsel made reasonable strategic decisions not to present certain evidence and the testimony of certain witnesses because that would have resulted in the jury hearing highly negative information about Gaskin."
Gaskin is scheduled to be the second Florida inmate executed in less than two months. The state on Feb. 23 put to death Donald David Dillbeck, who murdered a woman in 1990 during a carjacking in a Tallahassee mall parking lot. Dillbeck, 59, was the 100th inmate executed in Florida since the death penalty was reinstated in 1976.




Before Dillbeck's execution, the state had not carried out a death sentence since Gary Ray Bowles was put to death by lethal injection in August 2019 for a 1994 murder in Jacksonville.
DeSantis last week also signed a death warrant for Darryl Barwick, who was convicted of murdering a Bay County woman in 1986. Barwick is scheduled to be executed May 3.
–Jim Saunders, News Service of Florida


Vigil Note: Executive Director of Floridians for Alternatives to the Death Penalty (FADP) Maria DeLiberato, FADP Board Member and Florida's 27th death row survivor Ron Wright, Jr. (who was sentenced to death by a 7-5 non-unanimous jury vote) and allies from across the state meet at 5 p.m. for a vigil and peaceful protest ahead of the scheduled execution in the designated area across the highway from the death chamber at Florida State Prison, 23916 NW 83rd Ave, Raiford. You may also register to join FADP and Death Penalty Action for a live, informative, and prayerful online vigil beginning at 5 p.m. Register here to be a part of the live audience, or watch on the Death Penalty Action Facebook Page. In the event of a solid STAY this event will be postponed until further notice. For those who want to join the vigil from Palm Coast: There will be a 2:30 p.m. bus pick up at Winn Dixie, SR 100 and Old Kings Rd, Palm Coast. Contact: Our Lady of Lourdes, 386-255-0433. The bus will make an earlkier stop at 2 p.m. at Destination Daytona, 1637 US Hwy 1, Ormond Beach.