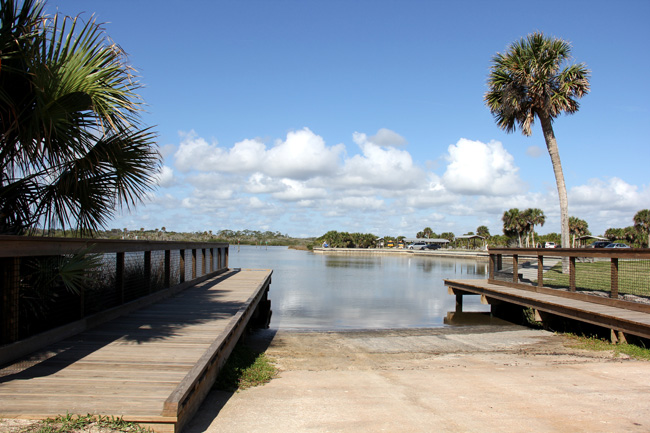 Straddling State Road A1A at the southeastern point of Flagler Beach is Gamble Rogers State Recreation Area, an unassuming little park if you fly by at 45 mph, but a park full of surprises if you stop, or if you're really lucky — camp.
Camping at the park means waking up to sunrises over the Atlantic Ocean and falling asleep under the stars with the sound of the surf lulling you to sleep at one of the 30 campsites set up for tents or recreational vehicles. Although the campground has a 97 percent occupancy rate and spots are reserved up to a year in advance, last minute spots are often available.




"We always tell people to call ahead and check, every day or a couple of times a day," said Mark Giblin, assistant manager at the park. "Reservations that were made 11 months in advance are sometimes cancelled because people's plans change."
In the late 1800s the site was used for one of 10 Houses of Refuge along the east coast of Florida. Created by the United States Life Saving Service, these houses aided in the rescue of shipwrecked sailors in what was basically an uninhabited area of the coast.
In 1915 the USLSS merged with the United States Revenue Cutter System and became the United States Coast Guard. The Flagler Beach House of Refuge was placed in an inactive status and reactivated in 1924 for use by the Coast Guard until around 1940. During World War II it housed soldiers in the United States Army Corps who reported on enemy aircraft and vessels in the area.
The state received title to the property in 1954 and the Flagler Beach State Recreation Area was opened in 1961 under that name, and transferred to the Florida Park Service in 1968.
Folk singer Gamble Rogers and his wife Nancy were camping at the park in 1991, on a break from a tour that was taking him from Georgia to Texas to Pennsylvania. He drowned On Oct. 10, 1992, as he attempted to rescue Raymond Tracey of Ontario, who'd been caught in an undertow. Tracey also drowned. He was 48. Rogers was 53. In 1992 the park was renamed in his honor.
The 145 acre park is on a barrier island between the Atlantic Ocean and the Intracoastal Waterway and provides visitors the opportunity to explore by land and sea. The park rents kayaks, canoes and bicycles, or visitors can walk the trails through the coastal scrub and maritime hammock.
Environmental programs are conducted on a regular basis and include an inside look at the three types of sea turtles that nest on the beach from May to September, ranger guided flora and fauna walks, themed cruises on the Hurricane Queen and musical events to honor its namesake Florida folk singer, Gamble Rogers.
Many of the reoccurring monthly events are included in the park entrance fee. There are separate charges for cruises aboard the Hurricane Queen and larger festivals. All proceeds benefit Florida State Parks.
For the day tripper, Gamble Rogers is the perfect place to kick back with a book, picnic, a pair of binoculars and camera. Bird watchers will see a variety of avian species as they migrate through during different seasons, as well as the year-round residents, pelicans, egrets, heron, osprey, bald eagles and blue scrub jays.
Dolphin are often seen in both bodies of water, especially in the early morning and late afternoon. Manatees are frequently spotted in the boat basin.
Experienced and novice fishermen can choose between surf and intracoastal fishing and crabbing. The park offers fishing and crabbing instruction monthly throughout the year. Not all of the animals are wild. Dogs on leashes are welcome throughout the park, in the campground and on the beach.
As soon as visitors pass through the coquina rock entrance they are engulfed in a Florida many don't take the time to visit and often come back for more.

Gamble Rogers State Recreation Area:
---
3100 S. State Road A1A, Flagler Beach, FL
Website: floridastateparks.org/GambleRogers
Phone: 386-517-2086
Fees: Daily admission $5 per vehicle 2-8 occupants; $4 single occupied
vehicle; $2 per pedestrian or bicyclist; $5 per boat from the
Intracoastal Waterway.
Annual state park fees: $60 per person, $120 up to 8.
Camping: 30 sites for tent or recreational vehicles, $28 plus tax per
night includes electricity and water. Restroom facilities with
showers. Pets on leashes are welcome.