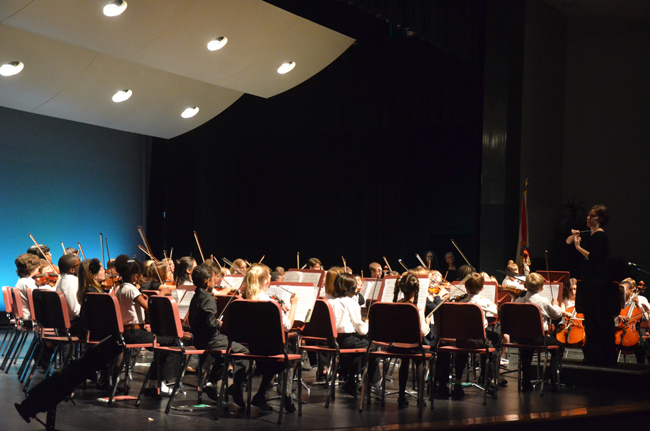 The Flagler Youth Orchestra performs its first concert of the 2013-14 season on Wednesday, December 11, at 7 p.m. at the Flagler Auditorium in Palm Coast. Conductor Sue Cryan and fellow teachers of the FYO will lead five orchestras with more than 300 string musicians — a cross-section of public, private and homeschooled students– in a program showcasing the students' skills and range by way of Corelli, Mussorgsky–with selections from "Pictures at an Exhibition"–a little Haydn by the faculty quartet, and much more.
Tickets are available at the Flagler Auditorium box office or by calling (386) 437-7547. Adult tickets are $6.00 with $1 from each ticket going to the Auditorium's Arts in Education Fund. Children 17 and under are $1. The orchestra's proceeds help underwrite instrument scholarships and repairs, teaching staff and concert productions.  The Flagler Youth Orchestra is made possible by the Flagler County School District, with the support of the Friends of the Youth Orchestra, whose sole mission is to provide free music education after school to all Flagler children with a desire to play an instrument.
For more information on the concert, how you can show your support of this performing arts program or enrollment in the strings program, contact Cheryl Tristam, program director, at 386/263-2543 or by email here.