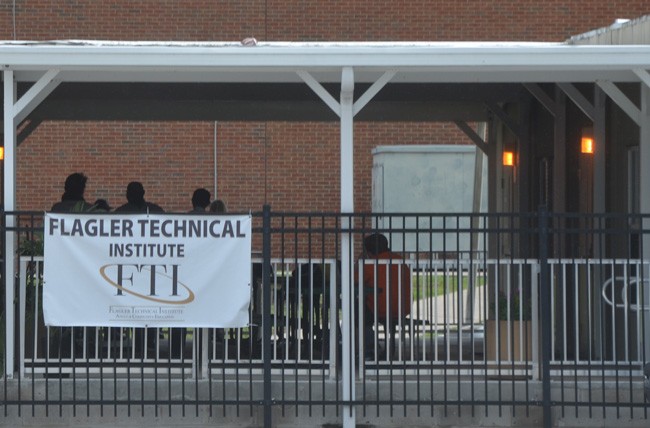 Last Updated: 7:15 p.m.
An anonymous call reporting that a gun was hidden in a bathroom at the Flagler Technical Institute, the technical, adult and community education school adjoining the campus of Flagler Palm Coast High School, had both schools on lockdown from shortly after 11 a.m. to 12:30 p.m. today.
No gun was found, but the search continued. At 6:25 p.m., the sheriff'f office issued a news release stating that "While deputies investigated, they learned that it was not a gun they were looking for today; rather, a knife. Deputies and school staff disassembled the bathroom ceiling and ultimately cut into the wall and discovered some money, an empty pill bottle and a brass knuckle knife. Based on the details of the investigation, deputies arrested a 16-year-old white male Palm Coast resident without incident. He was charged with one count of felony possession of a weapon on school property" and was booked at the county jail. "He was later released to his parents. The student is an Indian Trails 8th grade middle school student who attends the FTI program."
The incident developed in late morning.
"We received a call today at about 11:08," Jim Troiano, the Flagler Sheriff's Office's chief spokesman, said at the scene. "The caller stated anonymously that there was a handgun hidden in this building here somewhere on this campus." Troiano was standing in front of the portables at FTI, adjoining the FTI offices that occupy what used to be the school board offices a decade ago. "We responded, approximately eight deputies were on scene, we still have quite a few."
The campus was placed on lockdown, as was FPC, "which is protocol," Troiano said. "We searched, we were not able to find a handgun. so what we're doing now, we're conducting a follow-up investigation." The detectives want to find out who called and whether there truly was a gun on campus. "We did receive calls from parents, very concerned with what was going on on campus."
The calls were prompted by parents themselves getting calls from their children that the school's threat level had been raised to orange, scrapping all outdoor activities, with no classes change and students and staff required to remain in place.
At least two detectives were at the scene in early afternoon, but all was back to normal, with students in and out of both campuses.
Kevin McCarthy, FTI's director, said there were some 150 students on the FTI campus when the incident tok place. They were taking a mixture of classes, including GED, adult high school classes, adult English as a second language classes, and students in the scaled back alternative program for the district, which amounts to a single classroom on the FIU campus.
McCarthy said the anonymous call may have been a student or a parent who was concerned with what the caller had heard. "The challenge when you deal with young people is sometimes they say stuff as bravado," McCarthy, who has also been an assistant principal at FPC, where he dealt with discipline routinely, "but you take every single statement seriously. They're continuing the search right now but we've returned to normal business."
"Our goal here is to determine why, whether there was a legitimate concern about a gun on campus," Troiano said as the search was continuing.