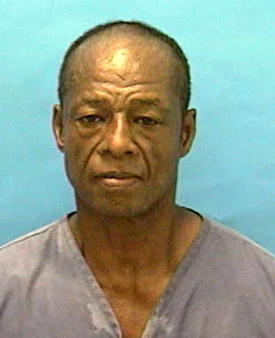 Freddie Emanuel hasn't had an easy life. Nor, according to his long prison record, has he made it easy on others: His last of many stints in state prison ended in September 2010, that stretch lasting a year and a half, not including another nine months he'd spent at the Flagler County jail after his arrest for battery on an elderly person in October 2008.
Barely a week ago, he was booked into the Flagler County jail again on a trespass-after-warning charge. The charge was dismissed.
Late Wednesday evening, Emanuel, 57, of Hymon Circle in Bunnell, was in the 300 block of East Booe Street in South Bunnell (he has lived at 406 South Booe previously) when he was struck by a passing car. "It appears that he was walking across the street when he was struck by the motorist," Bunnell Police Chief Arthur Jones said.
The accident does not appear to have been malicious. "We handled it like it may have been a fatality and called in FHP," Jones said of the Florida Highway Patrol, which is investigating the accident. Emanuel was airlifted in critical condition to Halifax Hospital. "He stabilized and was not expected to expire," Jones said.
The driver of the car involved in the accident was cooperative at the scene, he said. The florida Highway Patrol identified the driver as Rafiel Emanuel, 21, of Palm Coast. He was driving a 1997 Ford Ranger, with one passenger, Antonio Watson, 21, of Palm Coast, going west on E. Booe, near South Pine St. There were at least two witnesses.
Emanuel has a disability: he uses sign language to communicate.
He's been an inmate in the Florida prison system five previous times before his sentencing for battery, including a six-year stint for a sexual assault in 1977, when he was in Volusia County, and several shorter sentences.