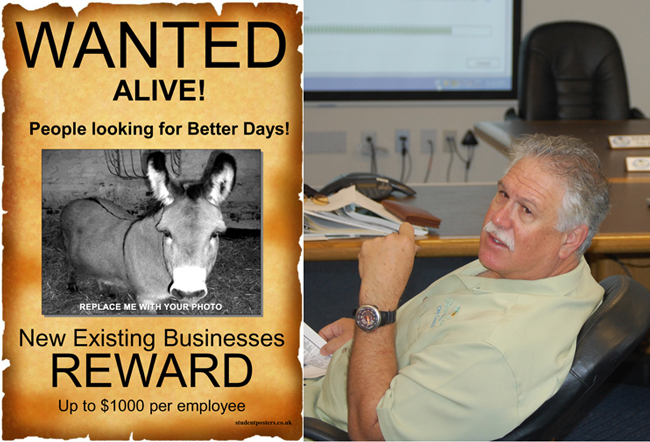 Every once in a while an elected official remembers that ideas are a terrible thing to waste, and a seat on an elected board a cool place from where to project those ideas. The results can be bracing and possibly of great public benefit. It was Bunnell City Commissioner Elbert Tucker's idea last month, after all, to invite Flagler Sheriff Don Fleming to propose how he might take over the bedraggled Bunnell Police Department.
The results can also be weird, if also entertaining. In April, School Board member Colleen Conklin sprung the idea of a "paddy wagon" as a disciplinary measure for problem kids on school buses. Her colleagues laughed and pretty much left it at that, though Conklin was, worrisomely, as serious as a paddle's smack. In July, it was eventual county commissioner-elect Nate McLaughlin, during a campaign debate, trying his hand at an idea and suggesting that, rather than going after big manufacturing companies, the county could go after door-knob makers. In fairness to McLaughlin or his opponent during that debate, it was the closest thing to an original idea the entire hour.
On Tuesday, it was Palm Coast City Council member Frank Meeker's turn. He came to a city workshop armed with a powerpoint presentation and what he projected as possibly the next great idea in economic development.
What if Palm Coast residents were encouraged to become an army of economic developers? "We should energize the population of Palm Coast, which the last time I looked was 75,000 strong, plus or minus whatever," Meeker said, "and we offer a bounty or a reward to citizens when they help relocate an existing business to Palm Coast."
The reward: $1,000 over three years, for each new job relocated here lasts that long—starting with an initial  $200 relocation reward, $300 more if the job is still there a year down the line, and $500 more if it's still there three years hence. That's before taxes and without counting inflation, should inflation return. "The key concepts in my mind is that the business must already have an established track record in another town, that the number of employees who come to town must stay the same or increase, that it's a three-year deal, and the business must relocate within the city limit of Palm Coast," Meeker said.
The councilman wants to appeal to Palm Coast's pool of talented and networked retirees with connections up north, for example, but all residents would be potential recruiters. "This posse of 75,000 interested citizens, they scatter to the four winds, as I say, in the hopes of meeting somebody who's going to know somebody who's willing to pick up their business, move from the northeast where the snow is getting too much, they're tired of their cars being buried when the snow plough goes by, whatever, and they come across somebody who's willing to relocate and come to our city."
His slides unapologetically compared the idea to vigilantism in the old West when, "if you wanted to bring somebody back to town, you'd hire a posse and go get 'em." Those days are no longer romanticized except in old westerns, for good reason: posses were brutal, lawless, and generally without scruples. Not the sort of thing modern towns, or public money, might want to be associated with, even if potential employers rather than suspected lawbreakers were being roped in. But Meeker, who at one point said that he didn't want Palm Coast to end up like Deadwood—an illegally founded town in South Dakota that rose and fell on gold's fortunes. Meeker incorrectly alluded to it as a ghost town, though Deadwood is still around, bankrolled by legalized gambling and tourism.
Meeker is the only working-age, and actually working, member of the city council, suggesting that the distance between him and the everyday realities of working people might be a bit narrower than that of his colleagues. His presentation, however, did not seem grounded in much more than creative theory. Almost a fifth of working-age adults in Palm Coast are trying to stay energized to find a job. A likely much higher proportion is spending a great deal of energy holding on to one or more jobs, a mortgage and some sense of stability. And well over a third of the population is done with it all, clinging on to what remains of retirement's fixed certainties. Who and how the rest would expend either energy or resources for what amounts to a small reward were questions Meeker didn't tackle.
"If I get 10 people doing something, it's more than I've got right now," Meeker says. That, of course, might be news to Netts—and City Manager Jim Landon—both of whom were in the room, both of whom serve on the board of Enterprise Flagler, the economic development partnership whose whole purpose is to bring businesses to town.
Meeker nevertheless got more than a discussion going. Mayor Jon Netts asked the city manager, Jim Landon, to take it up and assign it to his staff to study. At the city's expense. Landon, who has little patience for economic development that doesn't bear his stamp, didn't hide his skepticism.
"Mr. Landon, are you willing to take this back to your economic development team and ask the necessary questions?" Netts asked the manager.
"If you all would like us to do that, yeah," Landon said, after staying mum through Meeker's 18-minute pitch. "There's all sorts of things going on in my head, a lot of details, and dealing with public money etcetera."
"Wow wow wow," Meeker said, "we do incentives to attract businesses all the time using public money. We did it with Palm Coast Data."
That left Landon a bit tongue-tied, the retention of Palm Coast Data jobs through $400,000 in public-dollar incentives from the city's coffers being one of Landon's signature achievements. But Nets reiterated the need for clarification on what questions to ask and how to define Meeker's "posse."
"We probably need to let staff have a whack at this, the attorney have a whack at this, and I think council have a whack at it, ask the questions," Netts said. He alone had several questions: what if a chain were opening locally and someone was identified as the person who made it happen. Who would decide if, in fact, that person was responsible? What if the owner of a business in Ormond Beach applied for the money after relocating to Palm Coast on his own? What if two people claimed to be the origins of another business' move? What if it wasn't a new business?
Meeker said he was just floating the notion and picking $250,000 as an initial, annual budget for it (coincidentally, almost the same amount of public money Enterprise Flagler gets every year). If no jobs move here thanks to his posse, no money is lost. If jobs do move, the city gains. "From there you move on to the next great idea, whatever it is," he said. "That's all I wanted to present here, if something like that makes sense or not, whether we should forge ahead—again, if the people don't go out and move, we haven't spent any money. Instead of having an economic development force of maybe five employees or two employees—Enterprise Flagler's got one guy and a secretary—what if we empower the citizens to go out and do the looking for us."
"You've got too much time on your hands," council member Mary DiStefano told Meeker at one point, though later she sounded just as willing to give the idea its 15 minutes of fame.