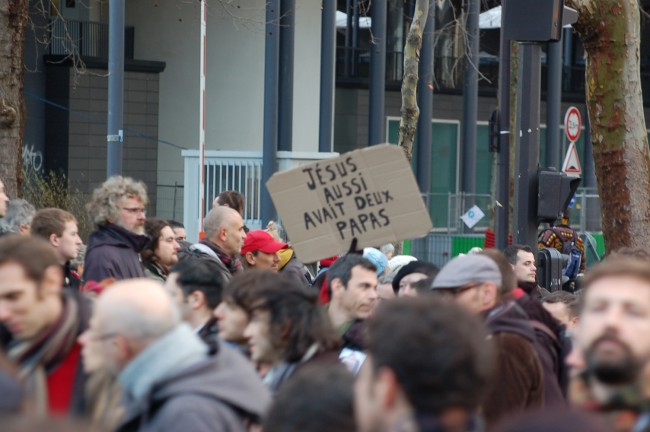 It was tortuous, it featured epic demonstrations in Paris and the rest of France by citizens favoring or opposing it, there was even the occasional burst of violence in the four months of debate leading up to today's vote by the French National Assembly on the legalization of gay marriage. But in the end, it wasn't even close.
The National Assembly voted today (April 23) 331-225, with 10 abstentions, to legalize gay marriage and gay adoption in France. The vote followed almost 137 hours of debate in the assembly. It makes France the 14th nation in the world to legalize gay marriage, and the ninth in Europe. The United States has not done so, as a nation, though nine states have legalized same-sex marriage so far, all of them north of the Mason-Dixon Line and, with Iowa's exception, east of the Mississippi.
For France, it was an unusually heated slog that began with a Jan. 13 protest in Paris that drew between 340,000 people (according to police) and 800,000 people (according to organizers), with the larger estimate making it one of the biggest demonstrations in Paris in half a century.
The demonstration preceded by two weeks the opening of debate in the National Assembly (the equivalent of Washington's House of Representatives). The assembly passed the bill on first reading in mid-February. In march 24, yet another colossal demonstration in Paris, this one drawing 300,000 people (according to police) or 1.4 million (according to organizers), with 98 arrests. The demonstrators opposed gay marriage, and focused on opposition to gay adoptions.
Last week, French President Francois Hollande–embattled on so many fronts–denounced homophobic and violent incidents, while right-wing lawmakers from the floor of the assembly link gay marriage and adoption to "the assassination of children." Between the first and second reading of the bill, no fewer than 8,500 amendments were submitted.
The United States Supreme Court heard arguments in two gay marriage cases on March 26 and 27. One case concerns the constitutionality of Proposition 8 in California, which overturned a California Supreme Court decision that had legalized gay marriage. The other concerns the federal Defense of Marriage Act, which President Clinton signed into law in 1996, and which denies couples in same-sex marriages from receiving federal marriage benefits, including benefits from inheritance. The court is scheduled to decide both cases by the end of June.
Gay marriage is prohibited in Florida by law, and by an amendment to the state constitution, which 62 percent of voters approved in 2008.