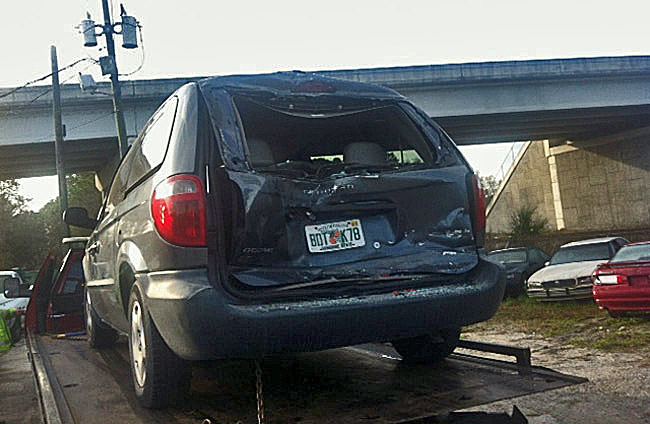 A Flagler County school bus with 27 high school students on board rear-ended a Dodge minivan at the intersection of Pine Grove Parkway and Belle Terre Parkway Monday morning, sending three people to the hospital with minor injuries. A fourth victim–a student–had minor injuries and declined medical attention. (The student's parents arrived at the scene and took care of the student.)
The wreck took place at 7:38 a.m. It involved the Eagle bus (Bus Number 20514), a Bluebird, on its way to Flagler Palm Coast High School. It was driven by Carl Pierre.
"Preliminary indication," Sheriff's spokesman Bob Weber said, "is that the van was stopped in the center median, across from Pine Grove, waiting to make a left-hand turn southbound onto Belle Terre. Apparently the bus was at the stop sign at Pine Grove, and pulled out to go into the center median as well and struck the rear of the van."
The van sustained significant damage. The Flagler County Sheriff's Office is investigating the wreck, and hasn't yet determined who was at fault. The three occupants of the van were all transported to Florida Hospital Flagler with complaints of back pain, Weber said.
The bus has minor damage, Mike Judd, the school district's senior director for facilities, said. The bus was driven from the scene, but only to be taken back to the bus depot for repairs and analysis. The bus driver, too, was taken off the bus route for now, pending a drug test, Judd said: that's normal procedure after any bus wreck. The students were transferred to a different bus, and taken to school.
Traffic was impeded on Belle Terre for about half an hour. Aside from the sheriff's office, units from the Palm Coast Fire Department and Flagler County Fire Rescue responded, while the Palm Coast Fire Police routed traffic. John's Towing cleared the scene of the wreckage.