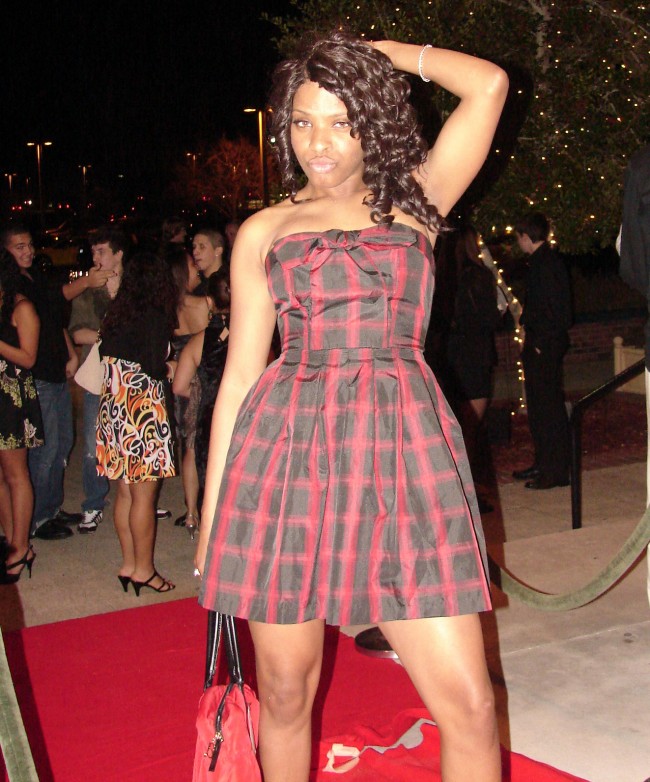 It's a high school tradition as old as hairspray: the annual vote for best couple, most likely to succeed, biggest flirt, most gullible, most courageous, most willing to stand up to authority. Actually those last two aren't local categories yet, but maybe they will be soon, especially as the list of categories keeps getting longer: 17 awards were handed out at Flagler Palm Coast High School's version of Oscar night last Friday.
They walked the red carpet. They posed. They bathed in flashlights. They brandished their statuettes: The school's Student Government Association hosted the annual Oscars, honoring the Senior Superlatives, with dual winners in every category (boys and girls).
Best all around? Tatiana McEachern and Cory Soard. Best hair (seriously): Victoria Rodriguez and James Alex Weilein. Class Cclown: Lonsheca Watson and Brad Decker (look for their names on Republican or Democratic ballots a few years down the line). Cutest couple: Danisha Geffrard and Mike Hymon. Biggest flirt: Ebony Bartley and Jimmy Gomes. And most likely to succeed: neither the supremely confident Ryan McDermott nor the supremely suave Vladimir Jean-Pierre won that one (Vladimir got the lesser most fashionable award), which went to Alvante Pearson. Among the girls, Kaci Ellis beat out Stephanie Batista and Chantal Acosta.
Neither the Academy of Motion Pictures nor the soon-to-be-eviscerated Florida Department of Education had anything to do with the awards. Members of FPC's senior class were all given ballots in December to nominate their peers in the 17 categories. The top three nominees in each category were announced the beginning of January and invited to attend the Oscars. SGA members Maria Kalaj and Joseph Alter hosted the event, with members of the FPC faculty and staff acting as presenters (one of them wore a pink wig to present the best hair awards).
When the nominees arrived Friday night, they walked the red carpet outside the Flagler Auditorium, were cheered by fans, and were interviewed by by local stand-ins for Joan Rivers–in this case, members of FPC TV Production. The auditorium was decorated with stars for each of the nominees, to replicate the Hollywood walk of fame, and during the show each nominee's picture was shown on the big screen as they were announced. And yes, they gave acceptance speeches, but we won't inflict those on you (since we don't have a record of them).
Three student groups performed during the show: Jasmine Moore and Jerail Fennell sang and rapped. Jeff McDevitt, a nominee for most talented, played the guitar and sang an original song about memories made in high school and leaving friends behind, and Alvante Pearson and Rachel Barthellemy (another most talented nominee) sang a medley of R&B hits.
The winners' trophies were provided by Acme Trophy in Bunnell.
Below is a complete list of the nominees and winners below the image gallery.
---
Oscar Night Image Gallery


[nggallery id=51]

Flagler Palm Coast's 2011 Senior Superlative Awards: Winners Indicated by a Star (*)
Girls

boys

Best All Aound

Jordan Martin

Cory Soard*

Tatiana McEachern*

Brad Spivey

Deetra Ware

Brett Swartz

Best Car

Morgan Bunting*

Corey Nettles

Jillian Crosbee

Jordan Taylor*

Meghan Wilsey

Raymond Santoianni

Best Eyes

Alexa Camburn

Stephen Hood

Katie Kleiner*

David Proebstel*

Jasmine Moore

Shawn Upson

Best Hair

Kim Apoyon

James Alex Weilein*

Kelsey Donahue

Brandon Solomon

Victoria Rodriguez*

Nick Shaw

Best Physique

Diamond Ellenwood

Johnny Barrett*

Casey Senkowsky

JZ Williams

Veronica Williams*

Dan Ivanovskaya

Best Smile

Melanie Cimino

Tyler Cue*

Marilynn Monreal

Charlie Heng

Riley Shugg*

Adam Lehman

Biggest Flirt

Ebony Bartley*

Jimmy Gomes*

Chelsey Clemons

Tyler Guerriero

Marissa Smith

Aaron Pearson

Class Clown

Chelsea Fisher

Brad Decker*

Alexis Lamanna

Nick Monroe

Lonsheca Watson*

Shakir Terry

Cutest Couple

Justyn Berry and Derron Green

Danisha Geffrard and Mike Hymon

Christie Lamphere and Adam Begtrup

Most Athletic

Ty'neka Addison*

Lorenzo Butler

Danielle Hagins

Derron Green

Desirea Hurley

Yeovanti Williams*

Most Fashionable

Carli Cipolla

Eric Garcia

Alexis Jennings*

Alex Lugwig

Cameron Murry

Vladimir Jean-Pierre*

Most Gullible

Teniyah Christian

Billy Boyer

Meghan DeVore

Christian Jordan*

Samantha Wellnitz*

Most Likely to Succeed

Chantal Acosta

Vladimir Jean-Pierre

Stephanie Batista

Ryan McDermott

Kaci Ellis*

Alvante Pearson*

Most Outgoing

Katie Bryl

Mac Kelly

Tricia Henry-Evans

Alex Ludwig

Imani Thomas*

Roger Romero*

Most School Spirit

Kenya Pate*

Justin Capela

Shyla Ramage

Tracey Clark*

Most Talented

Rachelle Barthellemy*

Patrick Farris

Kelly Bender

Jeff McDevitt

Caitlin Hannan

Alex Seard*

Most Talkative

Abbey Konchan*

KJ Chambers

Cassandra Pennington

Michael Giuliano*

Javon'te Walker

Cody Sheperd
Source: Cheryl Perry/Flagler Palm Coast High School