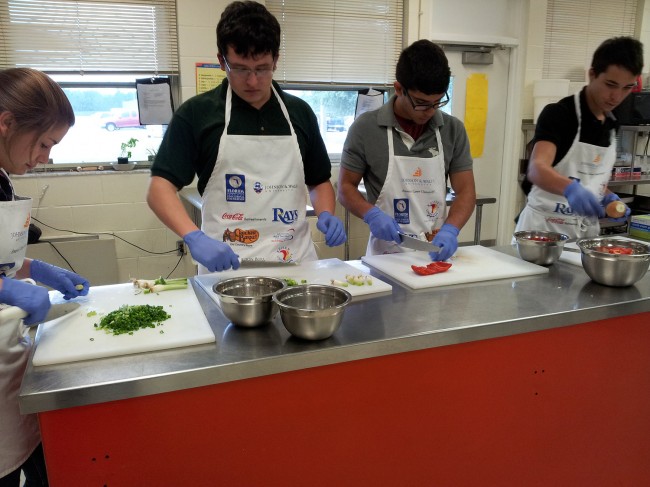 Look for Ronnie Stedman on the Food Network show "Chopped" after he graduates from Flagler Palm Coast High School. At least that's his prediction, flashed with the same confidence competing chefs display in those cut-throat television shows about the business.
"Cupcake Wars" would be a likelier show for Dylan Areizaga, who enjoys baking cakes and cupcakes. He plans to work his way through the culinary program at Daytona State College with jobs in the restaurant industry.
Mathew Sousa is looking for culinary schools after graduation and Amanda Hale hopes the skills she learns in the high school culinary program will enhance her life as she aims for a veterinary career.
Those four students were part of a team that finished ninth out of 50 schools at the Pro Start Culinary Team Competition last month in Orlando. "That was top 10 and that's what we were aiming for," said Lori Savoca, culinary arts teacher.
Culinary classes are popular at Flagler Palm Coast High School, with 133 students from 9th to 12th grade participating said Savoca, who is addressed by her last name by the students. "They like to eat," Savoca said. "They do want to learn skills for themselves to succeed."
Those skills include how to execute knife cuts such as a dice or julienne, sanitation and safety, food preparation and how to work and manage the dining room and kitchen areas of a restaurant, or the "front and back of the house."
Students feed the teachers a lunch once a week in the Bistro next to their kitchen, as well as cater for community groups and the school's sports teams. On a recent day the culinary team and other students prepared to serve a dinner for the school's girls weightlifting team.
"It just seemed like a fun thing to do," Hale, a 17-year-old junior, said about why she signed up for the culinary program. Hale prepared the entrée for the competition in Orlando: chicken saltimbocca (the word is Italian for hops in the mouth), an appetizing recipe including pepper, sage seasonings and chicken wrapped in spinach and prosciutto with Reggiano parmesan cheese and a homemade stock.
Stedman, 17, a senior, said he's wanted to take culinary classes ever since middle school, but none were offered at that level. "When I found they had it in high school I was stoked," he said. He started in the Future Chefs Club. Savoca says "Ronnie was a natural." Stedman said his interest grew from spending time with his grandmother, watching cooking shows on television and cooking. "I try to do everything," said Stedman, who enjoys making cakes. He handled the plating at the competition. "He's very artistic," Savoca said.
Sousa, 17, a senior, said his father once worked in a four-star restaurant. "I always looked up to him," he said. Despite that experience, his family cooked at home and seldom ate at restaurants. Sousa said he helps with dinners. "We dedicate ourselves to the program and what we want to do with our lives," Sousa said of the culinary program.
That dedication included giving up Saturdays every weekend to practice their competition dinner, participating in another competition at Daytona State College, then revamping their meal for the Orlando event. In addition to having one hour to cook, the students were required to demonstrate knife skills at the Orlando competition. Sousa was chosen to cut a chicken into pieces.
Areizaga, 18, a senior, also credits watching cooking shows with his grandmother and cooking meals with her as the reason he became interested in a culinary career. "You get to feed people and see the happiness on their face," he said. "It makes you feel good." He enjoys making cakes and cupcakes, once making a birthday cake for his younger brother in the shape of the comic-book word "POW."
Accepted to Daytona State College where he plans to enter the culinary program, Areizaga has already applied to five local restaurants as he hopes to land a job to gain experience and money for college and his career. In addition to the team, Hailey Jankowski, 18, a senior, participated individually in the edible centerpiece portion of the Orlando event. She finished 10th of 50 participants.
Cooking shows, of course, are double-edged knives. As Mark Bitman, the New York Times food critic, put it a few years ago, the shows make people aware of food's endless varieties, "but at a cost: When you watch most celebrity chefs go to work on TV it is a) baffling and intimidating, and b) a charade. Baffling and intimidating because nearly every ingredient is usually prepared in advance, and what isn't is selected so that the chef can show off his (almost never "her") knife skills, which are bound to intimidate nearly all of us who can never aspire (and why would we, really?) to chopping an onion with our eyes closed; his ability to make food fly in the air while cooking it; and/or his skill at presentation, which has absolutely nothing to do with taste."
The pressure-cooker is at a much lower intensity at regional competitions and in high schools, as at FPC, where the aim of culinary classes isn't necessarily major league stardom. Savoca supervised on a recent day as students prepared food for the girls weightlifting team. "Even if they don't want a culinary career, the skills they learn here could help them get a job to get through college," she said.
Still, any dreams the fledgling chefs have of being on television might be realized soon. A television crew from the food network recorded the competition in Orlando. Savoca said the popularity of television cooking and food shows, such as Food Network, has helped drive interest among students in culinary arts. "They all want to be on 'Chopped,' " she said.
And as Julia Child famously said. "The grand thing about cooking is you can eat your mistakes."