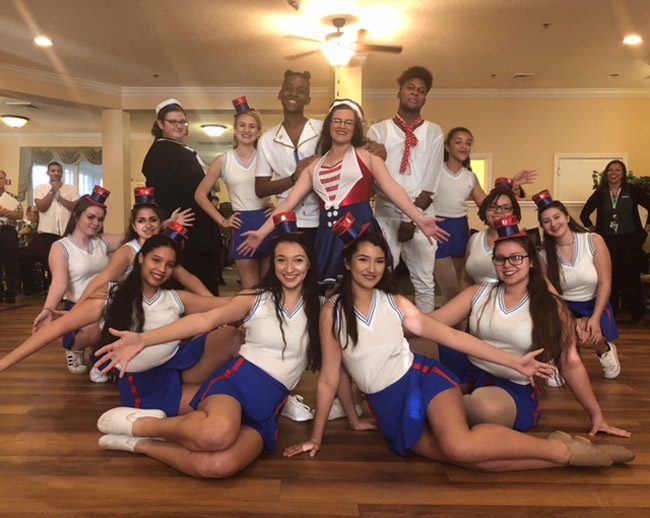 The residents of Brookdale, an assisted living community in Palm Coast, were treated to a spectacular holiday show on November 29 by students from Flagler Palm Coast High School.
The show opened with several Christmas carols played by members of the school's jazz band, under the direction of Ryan Schulz. The musicians included Sawyer Perry, Saxon Swartic, Sean Callahan, Jordan Killmer, Sam Mazella and Frankie Glancy.
Solo vocalists each took the microphone to croon traditional Christmas favorites, which inspired a sing-along with Brookdale residents in the audience. The singers, under the leadership of Choral Director Amy Fulmer, included Nick Aiello, Michael Mendoza, Martha Lopez, Emily Orozco and Samantha Schumaker, who performed a memorable rendition of The Christmas Song.
Flagler High's visual arts teacher and artists Edsen Beckett introduced three top students–Ben Ward, Kayla Fair and Madi Imperio–to give presentations of their creative works to the audience. The highlight of the holiday extravaganza was a swing dance routine performed by the school's dancers, choreographed by dance teacher Janice Monsanto. The troupe of 14 energetic dancers came roaring onto the stage to Glenn Miller's "In The Mood," immediately transporting the audience of seniors down memory lane.
The dancers were Stephanie Branch, Solanch Delgado, Brian Phillippe, Ashley Gilbert, Kailen Jackson, Yireh Martinez, Alexa Isidore, Julian Hamilton, Christina DiBuono, Jaclyn Dotson, Beth Recker, Alexa Zeak, Sierra Storms and Zandra Rooney.
The volunteer community event was sponsored by Craig Flagler Palms Funeral Home and Memorial Gardens under the leadership of General Manager Allen Whetsell. "We have enjoyed a long standing role in the community promoting good will with such events as this one today," Whetsell said. "We were pleased to sponsor it in conjunction with our valued partnership with Brookdale of Palm Coast."