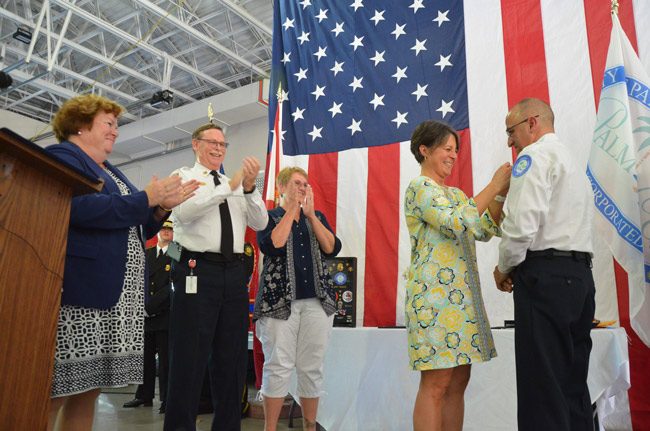 And so it happened. At 2:37 this afternoon, after Jerry Forte took the oath of office as Palm Coast's new fire chief–only its second in nearly 20 years–his wife Lisa Forte pinned the chief's insignia on his uniform.
Mike Beadle called in to dispatch (the 911 center) and declared himself retired. Some 250 people gathered for the occasion at the firehouse bay of Station 25 on Belle Terre Parkway erupted in applause, and what had been in preparation almost 10 years, according to Beadle, was now done.
Of course the crowd had stood up when the department's Patrick Juliano, master of ceremonies, introduced Beadle as chief for the final time, just before the pinning. He described his morning at 5 a.m., breakfast with the ranks organized by the firefighters' union, then "from breakfast we went right into lunch," prepared by the volunteers, "and then the best part of the whole thing, we're having cake." He described his journey from his native New Jersey to Palm Coast. "What a ride it's been from 30 years ago," he said.
Beadle begun to tear up only when he spoke of Forte as the man who'd become his friend. Forte's instinct as a paramedic didn't fail him: he immediately got up from his chair and presented Beadle a box of tissue. (Beadle copied the favor when Forte later teared up as he spoke of his Mom and Dad and the rest of his family.)
"Ten years ago, I hired your next fire chief," Beadle said, as if Forte's hiring was prophesy. In this case, it had been.
Moments before the ceremony, as the sauna-like firehouse bay was filling, Forte was checking on a few last preparations. As always, he was the picture of calm, as unflappable there as he would be outside a burning building. "Comfortable," is how he described himself with characteristic restraint. This moment, he said, was 10 years in preparation, emblematic of every succession plan in the department: every significant position has been similarly prepared for whoever is stepping into new responsibilities. "All the people are already trained and experienced to move into those spots," Forte said.
His plan is simple: To be his ranks' reliable example, to be their point of focus when they need direction. And to be here for the next 10 years. That's his goal.
Forte, 50, has always been known as the more modest, less flashy but equally commanding version of Beadle: a workhorse who gets things done and who, all told, was a foundation to Beadle's success, or the stability of his long firehouse regime. The two have grown close over the years to the point of–as Forte put it–being able to finish each other's sentences and order each other's lunches, and of course have those closed-door arguments when they'd let fly their disagreements with each other.
Forte is feeling the loss.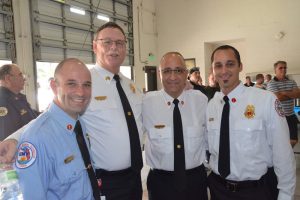 "My friend is leaving. My friend is leaving," he said in that brief interview before the ceremony. His eyes weren't as dry anymore. But he diverted the emotional moment, reverting to a professional reflection: "He's leaving us in a good position." Still, he then mentioned Monday, the day when he'll report to work as the new chief, while Beadle, who's not yet 60, will be basking in his first hours of retirement, dreaming either of sauntering sheep or of his new RV, which will be home to him and his wife for the foreseeable future.
Beadle and his wife are taking an RV across country, "anywhere we want," he said. No particular route, no destinations, a couple of exceptions aside. They're leaving in March, returning the following October. "We don't really have any place we're going to go, we're just going to go," he said. Canada is on the itinerary, so is Albuquerque for the International Balloon Festival from Oct. 6 to the 14th. Not that Beadle is going airborne. "No," he says categorically, "because I've been up in the air my whole career. Don't need to get off the ground anymore."
After eight years as a cop in New Jersey, Beadle started as a volunteer firefighter in what he describes as the "department that was overseen by the county" (he would never, ever completely describe himself as a county volunteer) then shift commander. Palm Coast incorporated in 1999. He was appointed in September 2000 as the city's fire chief. There's been no other until today. "That was my claim to fame. I was the only fire chief in the city's history," he said.
He chose to retire, he said, "because we get to a point in the career when it's time to move on, let the younger generation so to speak take over and move forward, not that I've stopped them or we've been stagnant or anything. It was just time."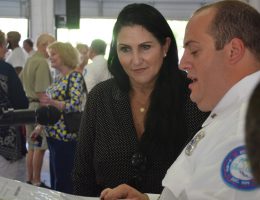 He does feel ownership of the department, but he also feels no hesitation. "I have no regrets. I've got a few but nothing that's going to change the course of history or anything," he said. He was asked if he feels any sense of loss or void when he imagines himself no longer answering fire calls. "I filled that void over the last couple of years with good people," he said, starting even then to hang back and let others take the rein. and sits back and watches them take over.
It's not quite ending: Interviewed a few days ago, he said "I'm going to be a husband to my wife, a father to my kids, and a grandfather to my grandchildren." He has three children (ages 36, 34, 28) and three grandchildren (3, 14, 16) and a grandson on the way. "I'm going to be Pop and Dad and Honey. I don't regret doing what I've done for the past 40 years but it's time to get back to my family. It's time to be all those things. Looking forward to it. It's been a great run."
Not that any of Beadle's progeny was in evidence, the way it was for Forte: the man may be the definition of unassuming, but Forte force is everywhere: Anthony Forte is a lieutenant in the Flagler Beach Fire Department (the department's chief and deputy, Bobby Pace and Steve Cox, were in attendance), Forte's nephew Jason Forte is a lieutenant with Flagler County Fire Rescue (Chief Don petito was present), and Jessica Matthews, formerly Forte, his daughter, is with the Daytona Beach Fire Department. They were all in attendance.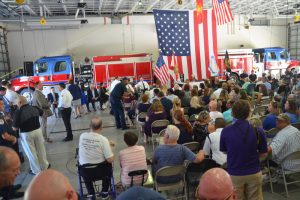 Mayor Milissa Holland, there with council members Bob Cuff and Vincent Lyon, read a proclamation declaring Sept. 27 Chief Michael C. Beadle Appreciation Day in recognition of his "long and honorable service to the City of Palm Coast." Beadle does not expect Forte to email him for any work-related reasons.
At the end of the ceremony, Beadle's troops "wanted to take me home in a firetruck," Beadle said, "and I said no. They said why? I said the last ride you take in a fire truck is in a box." An RV's dimensions aside, no box can yet contain him.
But he knows he knows he has nothing to worry about, given who he's leaving in charge: the ax may symbolize firefighting (Beadle was gifted a parting ax at the ceremony) but it's probably not lost on anyone that the standard definition of forte is what the Palm Coast Fire Department has always known: "The stronger part of a sword blade, from the hilt to the middle."