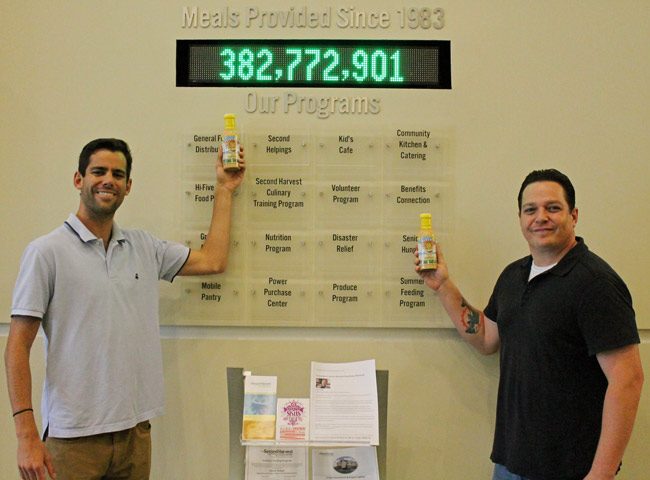 Christopher Marlow of Flagler Beach's Golden Lion Café announced today that through sales of the Golden Lion's Key Lime Tartar Sauce, the operation has donated over $2,800 to three area nonprofits that supply food to the needy.
Second Harvest Food Bank of Central Florida, an affiliate of Feeding America, got $2,000, Halifax Urban Ministries of Daytona Beach got over $300, and the Bunnell Food Pantry received $500. The donations were made on May 4. They were the largest donations to date from the sale's proceeds.
"These donations will provide approximately 11,000 meals to Central Florida families in need through the sales of our famous sauce at Publix Supermarkets and Winn Dixie stores," Marlow said in a release. "We have been performing in-store promos at the local stores sampling the product and raising awareness about the tremendous need in our community." According to Second Harvest Food Bank's website, one in six Central Floridians is struggling with hunger.
Marlow owns Golden Lion with Tony and Carolyn Marlow, his parents. Fifty percent of the profits from sales of the sauce are donated. This was the third check that the company has donated to the Second Harvest Food Bank, a nonprofit that collects and distributes donated food to more than 550 nonprofit partner agencies. Marlow presented the check this month at Second Harvest Food Bank in Orlando. Second Harvest Food Bank will be able to provide 8,000 meals with the $2,000 donation.
Golden Lion's Key Lime Tartar Sauce can be found in Publix Supermarket's from Tampa to Jacksonville, Florida, all the way to Gulf Shores, Alabama, and Southern Georgia. The company also makes monetary donations to Halifax Urban Ministries in Volusia County, an organization that works with children and families. Marlow has also partnered with Bette Rountree, the Executive Director of the Flagler County Resource Center, and President of Church Women United in Bunnell, the second busiest food pantry in Flagler County.
The giving doesn't stop there. For every 10 'likes' on the company's Facebook page (https://www.facebook.com/keylimetartarsauce), the company donates one dollar to feed the hungry. Second Harvest Food Bank can turn that one dollar into four meals for those in need.