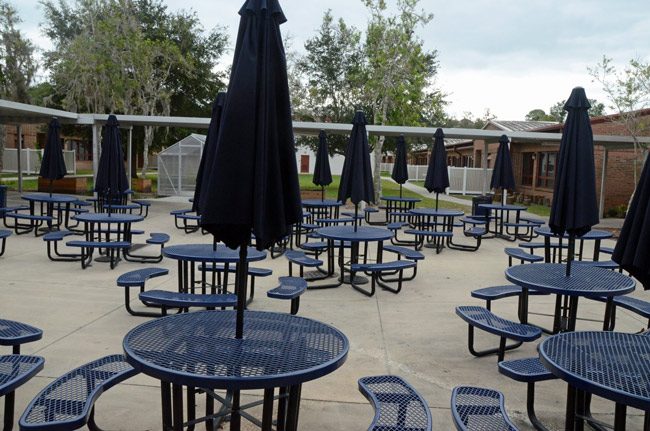 A total of 237 students, or almost a fifth of Old Kings Elementary's 1,270 students, were absent Friday, four times as many absences as are recorded on a typical day, with no fewer than 54 students sent home after developing gastrointestinal or flu-like symptoms.
"It is significant, there was an outbtreak, no doubt about it," Flagler County Health Department Administrator Robert Snyder said this morning. As the day wore on, Old Kings' school nurse was grappling with still more flu cases. The day had started more promisingly than Friday, with eight students being sent home by late morning, but by 2 o'clock, that number had climbed to 35, and could be higher by school day's end. The total number of absences for the day at the school would not be available until much later today or tomorrow morning. Seven teachers were absent today at Old Kings.
But the outbreak appears limited to Old Kings Elementary, with no other school reporting similar spikes, Snyder said. The county at large has its share of flu cases, but the rolling average has been holding steady at around 170 people over 42-day periods, which is neither unusual nor of special concern at this time of year.
The absence of 237 students at Old Kings on Friday does not mean that all 237 were ill: that's simply the total number of students who were either sent home or did not go to school that day. It may include students on vacation, having various appointments, or simply being kept at home for precautionary measures. But given the trend, the number is almost unquestionably related to the flu outbreak and reflects at least a sizable number of students kept home because of illness: On December 8, the total number of absences had been 107, suggesting that the outbreak was picking up momentum. A week earlier, the total number of absences was at 60, which is the high end of the average number of absences on a typical day–40 to 60 students, according to Jason Wheeler, the school district's chief spokesman.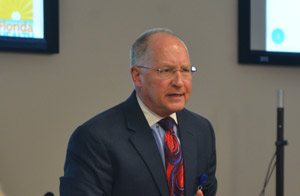 The district picked up on the outbreak early last week, contacting the health department on Dec. 11 with concerns about mounting numbers of absences and sick children and sending a letter home to parents on Tuesday and again on Thursday with information and cautions about the illness–which itself may have prompted more parents to keep their children home either out of concern or to heed the health department's suggestions.
The district and the health department have been working together to implement a new protocol on how to address such outbreaks, with a combination of information and stepped up cleaning protocols at school and on school buses.
"It's a thorough deep cleaning, as far as disinfecting and that kind of stuff goes," Wheeler said, "above and beyond what they normally go through."
"They are doing a tremendous job from our standpoint, being very conscientious, with cleaning," Snyder said of the new protocol in place at schools.
The word to parents is simple: "Keep your children home when they're sick, isolate them from other children, isolate them from school to make sure that at least for 24 hours there's no symptoms showing," Snyder said.
---
Student Absences Reported Last Two Fridays
| School | Absent on Friday, Dec. 8 | Absent on Friday, Dec. 15 |
| --- | --- | --- |
| Bunnell Elementary | 51 | 68 |
| Belle Terre Elementary | 47 | 64 |
| Rymfire Elementary | 33 | 54 |
| Old Kings Elementary | 107 | 232 |
| Wadsworth Elementary | 36 | 67 |
| Buddy Taylor Middle | 39 | 45 |
| Indian Trails Middle | 46 | 63 |
| Flagler Palm Coast High | 205 | 161 |
| Matanzas Hifgh | 103 | 112 |
Source: Flagler County Schools.
An infected child means that the infection can and will spread quickly in a relatively closed environment with a concentrated population. Once an outbreak develops, it has to run its course beyond what preventive measures can be taken. "It's just so difficult to get it out of the school in a very timely manner, and that's the message we're giving the parent at Old Kings as well as all over our schools," Wheeler said.
Students who have to be sent home are kept at the nurse's office until a parent or guardian is able to get to the school. Sometimes a parent is held up at work or working in a different county, making an immediate pick-up difficult. "This is why we stress to parents the need to have more than one emergency contact person on file with the school," Wheeler said. "Every effort will be made to contact those on that list if a student shows signs of illness while on campus. If no one can pick that student up, the child will be kept with the school nurse and made comfortable until a parent or guardian can get the child." He added: "Also, there is a 24-hour period for a child to remain out of school if they get sick during the school day. If teachers and staff find a student returns early, the parent will be called and asked to take their child home."
Exact numbers for the rest of the state were not immediately available, but Snyder said the flu is going around Florida. "last week was a rough week." But he stressed that as far as Flagler County is concerned, and Old Kings aside, there is no significant, unusual spike. Flagler's numbers (that running total of 170-odd cases) are a reflection of all patients who go to hospitals or urgent care centers in the county or out of the county, and report their home to be in Flagler.
At Old Kings, there'll be a built-in end day to the outbreak: schools go on their Christmas break at the end of day Thursday, not to return until Jan. 8.