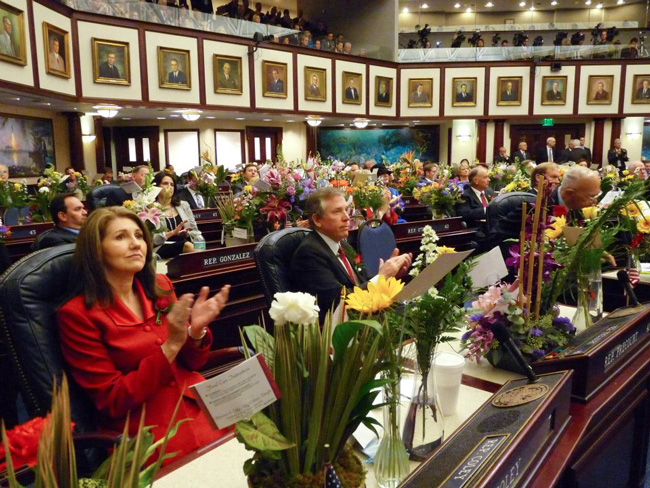 The already-conservative Florida House will lean even more to the right the next two years.
Republicans, as part of a national wave, regained hold of a supermajority Tuesday in the lower chamber.
The party retained two Republican-held seats where it faced serious challenges, while flipping six Democrat-held seats that were heavily contested in the Interstate 4 corridor.
Outgoing House Speaker Rep. Will Weatherford, R-Wesley Chapel, called the Tuesday night results a "validation of the policies we've been fighting for the last several years."
"This is a great Republican night across the board," Weatherford said.
The Democrats getting unseated were Rep. Linda Stewart of Orlando, Rep. Joe Saunders of Orlando, Rep. Mike Clelland of Lake Mary, Rep. Karen Castor Dentel of Maitland, Rep. Carl Zimmermann of Palm Harbor, and Rep. Mark Danish of Tampa.
"While this election did not go as I hoped, the voters have spoken," Stewart said. "I am proud of the positive campaign we ran and I want to thank everyone who made phone calls, knocked on doors, or talked to their neighbors about a positive vision for Orange County. It is my hope Mr. Miller will continue the fight for the values that make Orange County so special."
After the wins Tuesday, Republicans held 81 of the 120 House seats. As of 11 p.m., the South Florida District 112 seat held by Rep. Jose Javier Rodriguez, D-Miami, was still undecided. Also, a special election will be held in early 2015 for a Jacksonville seat that has been held by Democrat Reggie Fullwood.
The newly elected GOP lawmakers are former Rep. Scott Plakon of Longwood, Bob Cortes of Altamonte Springs, Mike Miller of Winter Park, Rene "Coach P" Plasencia of Orlando, Shawn Harrison of Tampa, and Chris Sprowls of Tarpon Springs.
Republicans said before Tuesday night's count that getting back the two-thirds supermajority they enjoyed during the 2010 and 2011 sessions wasn't as important as retaining its majority and "picking up some competitive seats."
Tuesday night incoming House Speaker Steve Crisafulli, R-Merritt Island, said he was "grateful" voters gave the House Republicans a supermajority
---
It will be tougher for Democrats to have a say in legislation that runs through the House.
---
"Over the past four years, Governor Scott's willingness to make tough choices has reversed the losses we saw under Charlie Crist, leading to a recovering economy, job creation and a record number of visitors to our great state," Crisafulli said in a release. "I look forward to working with the governor to continue making Florida the best state in the nation."
Incoming House Minority Leader Mark Pafford, D-West Palm Beach, expressed optimism before the polls closed that the minority party had been able to "neutralize what they've thrown at our incumbents."
After the votes were tabulated, he issued a statement saying he looked "forward to working with him (Crisafulli) and the House Republican leadership."
"We begin with the idea that all of us act in good faith to do what's best for the people of Florida," Pafford said in the release. "Democrats will neither hesitate to support good ideas, no matter their origins, nor shy away from opposing bad ideas and offering viable alternatives."
Democrats retained at least one of the seats that Republicans sought to flip.
Rep. Dwight Dudley, D-St. Petersburg, fended off a challenge from Republican Bill Young to win another term in Pinellas County's House District 68.
Young — the son of the late Congressman C.W. Bill Young — issued a statement conceding the race.
"We knew it would be an uphill battle to take on an incumbent in a battleground seat like this, and I couldn't be prouder of the hard work we put in," Young said. "My first campaign was a great experience and I'm grateful to the residents of District 68 for giving me this opportunity."
The supermajority for the next two sessions means it will be tougher for Democrats to have a say in legislation that runs through the House.
In the 2011 and 2012 sessions, when the GOP had a supermajority in both chambers, lawmakers put unions under the microscope — many would say under attack — in a way they haven't been in years. They also were able to pass contentious bills that tightened restrictions on abortions, strengthened gun rights, created a Medicaid managed-care system and made it harder for people to collect on sinkhole and wind-damage claims.
But just because the Republican dominated both chambers, not everything went smooth, as House and Senate GOP leaders fought throughout both sessions.
–Jim Turner, News Service of Florida