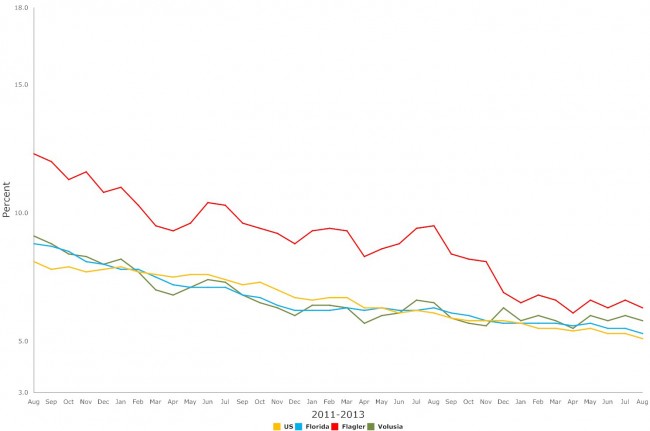 Florida's unemployment rate dropped to 5.3 percent in August, from an upwardly revised 5.5 percent in July, while in Flagler County the rate dropped back to 6.3 percent, where it had been two months earlier, continuing a trend since December of seesawing within five decimal points. The state unemployment rate is the lowest since February 2008, when it was 5.2 percent.
Total employment in the state grew by 9,000 in seasonally adjusted numbers and the ranks of the unemployed declined by 13,000, though the labor force also declined slightly, by 4,000, accounting for part of the decline in the unemployment rate. Non-agricultural employment grew by 19,600 jobs.
In Flagler County, the unemployment rate fell last month even as the labor force remained flat: the gains were in employment, with 213 net new jobs held by Flagler residents (but not necessarily in Flagler). The ranks of the unemployed declined from 2,809 to 2,688, a reduction of 121, and a reduction of 745 over the year. The labor force, however, remains below where it was last year: it is smaller by 610 workers, continuing a trend that's been reflected in school district enrollments. While the county has gained new residents at a rate of about 1,500 a year, those residents have been largely beyond the work force. Still, for Flagler's workers the overall improvement of the region's economy has helped, with unemployment rates in St. Johns (4 percent, second-lowest in the state after Monroe's 3.7 percent) Volusia (5.8 percent) and Duval (5.9 percent) helping Flagler residents land jobs there.
The county's former image as a state-leading troth of unemployment is long gone, with Flagler 20th from the county with the most unemployment (Hendry, at 12.2 percent). Flagler's rate is now tied with Miami-Dade's.
Private-sector industries gaining the most jobs over the month in August were education and health services with 14,600 new jobs, leisure and hospitality with 7,800 new jobs, and professional and business services with 3,900 new jobs, according to the state's labor department. Florida job postings showed 274,225 openings in August 2015. Florida's workforce system, which includes the 24 regional workforce boards, reported more than 37,900 Floridians, including 2,174 veterans, were placed in jobs.
the full report is below.