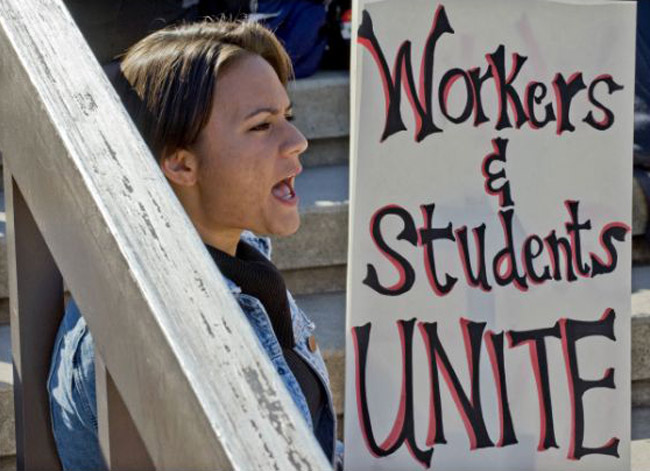 Breaking with their counterparts at the state's universities, presidents at a handful of Florida colleges urged lawmakers to be cautious about any moves that could push tuition upward.
The comments came in testimony before the House Education Committee, which is working to hammer out a set of recommendations on how to overhaul the state's higher education system.
Gov. Rick Scott has pushed for reforms that would place more of an emphasis on "STEM degrees" — those in science, technology, engineering and math — and House Speaker Dean Cannon, R-Winter Park, has suggested that the governance structure for colleges and universities needs to be revamped.
During earlier testimony, university presidents largely supported giving schools more authority to increase tuition more rapidly in order to fund an increased push for high-cost STEM degrees.
"I don't think that's where we are at all," said Sandy Shugart, president of Valencia College in Orlando. "I think we would like to keep our doors as open as we can."
College presidents highlighted several differences between their institutions and universities.
Perhaps the most striking: While universities lag behind institutions in many states in their tuition rates, college presidents said they rank around the national median.
"We're becoming rather expensive in the community college world," Shugart said. "I think that's a huge mistake."
And it's particularly a concern, Shugart said, with "students stranded in the middle of their educations now" as federal financial aid is pinched by the budget problems in Washington.
Ty Handy, president at Northwest Florida State College, said that students in different areas might react differently to increases in rates.
"It is population, locality-driven," he said about the potential impact of further tuition increases. "Some people can afford more, but many people can't."
House Education Committee Chairman Rep. Bill Proctor, R-St. Augustine, said his committee would hear from another group of state college presidents before making recommendations on the system. Proctor's committee had already heard from the heads of each of Florida's 11 public universities, who pleaded for more flexibility in setting their own price tags.
But Proctor said the college presidents had made a case for the committee to consider separate proposals on tuition when it comes to the panel's final suggestions.
"It's going to figure into any discussions we have on tuition," Proctor said.
He said he hopes the committee could finish its work on the recommendations by the middle of the month.
–Brandon Larrabee, News Service of Florida