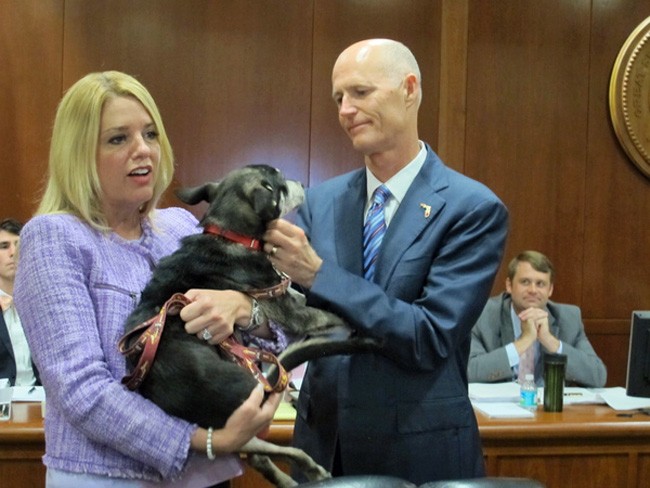 Agriculture Commissioner Adam Putnam and state Chief Financial Officer Jeff Atwater said Thursday they're open to discussing at the next Cabinet meeting the need for an investigation into the departure of Florida's top law-enforcement official.
Putnam also suggested that the Feb. 5 meeting, usually held in Tampa as part of the opening of the Florida State Fair, should be held in the Capitol.
"We need to have a more normal location and platform to have these conversations than the agenda that typically occurs when we're holding a Cabinet (meeting) on the road," Putnam told reporters after an Enterprise Florida meeting in Tallahassee.
Longtime Florida Department of Law Enforcement Commissioner Gerald Bailey left his job abruptly in December. The departure touched off a controversy this month after Bailey disclosed that he was forced out of the job and made potentially damaging allegations about the actions of Scott and the governor's aides.
Scott spokeswoman Jackie Schutz fired back Thursday at Bailey.
"Unfortunately, weeks after stepping down honorably— and only after the new FDLE commissioner was approved by the full Cabinet — Gerald Bailey began making ridiculous attacks," Schutz said in an email. "Our office will be providing detailed information on the accusations shortly."
Scott told reporters Jan. 13 that Bailey "resigned." That statement came after the Cabinet unanimously backed the governor's appointment of Rick Swearingen, the former head of the Capitol Police, to the top spot at FDLE.
Bailey, however, disputed Scott's statement, telling the Herald/Times Tallahassee bureau that "I did not voluntarily do anything."
That seemed to catch Cabinet members off guard.
A spokeswoman for Scott later issued a statement that said the governor "thinks it's important to frequently get new people into government positions of leadership."
Since then, questions have grown regarding Bailey's departure.
The Herald/Times Tallahassee bureau has also reported that Bailey was forced out of office by Scott in part for rejecting a request to participate in the governor's re-election efforts. Another report had Bailey alleging that Scott and members of his staff sought to have the state police in 2013 indicate that acting Orange County clerk of court Colleen Reilly was the target of an investigation. Bailey told the Herald/Times he refused the request, while Scott has denied the allegation.
Putnam and Atwater said Tuesday there should be a follow-up to those reports.
"Just as they've been said, they're very serious and they should be looked into," Atwater told reporters. "Everybody should be able to see all of this. It should be all very transparent, very exposed, all the questions answered."
Scott, who attended the Enterprise Florida meeting, left without addressing the media. An aide had said Scott would talk briefly with reporters following the meeting, but that the governor also was limited for time as he was flying to Jacksonville for a scheduled mid-day announcement about tax cuts.
Putnam, who has disagreed with Atwater on the need to reopen the hiring process for the FDLE commissioner, agreed with the chief financial officer on Thursday that the Cabinet should discuss what actions could be undertaken concerning Bailey's reported comments.
"There should be some follow-up to those allegations and whether they were incidents of illegal activity versus sloppy campaign official-type of interactions that occurred," Putnam said.
Putnam and Atwater were unsure of the jurisdiction, the FDLE or an inspector general, to conduct a potential investigation.
Putnam said he had "complete faith" in the FDLE to conduct such an investigation.
Attorney General Pam Bondi, the third Cabinet member, was not immediately available for comment Thursday.
Bondi on Wednesday issued a statement that said questions about Bailey's departure are "serious," adding that "the recent process behind the appointment of a new FDLE commissioner has raised serious questions, and those questions should be answered to ensure transparency, and the public's right to know."
The comments Thursday came a day after Putnam expanded on an Atwater proposal to revamp the hiring process for Cabinet-level agency heads.
Scott has requested the Cabinet at the February meeting also start to consider the possible removal of three additional agency heads: Florida Insurance Commissioner Kevin McCarty, Office of Financial Regulation Commissioner Drew Breakspear and Department of Revenue executive director Marshall Stranburg.
Atwater, clarifying earlier comments, said Thursday he would oppose such a move at this time until the Cabinet reviews the hiring and firing process.
"You could put 100 names on the list, I'm not going to take up any list," Atwater said. "I'm not going to talk about any talent that works for the state of Florida until there is a process that we all agree to that is transparent."
–Jim Turner, News Service of Florida