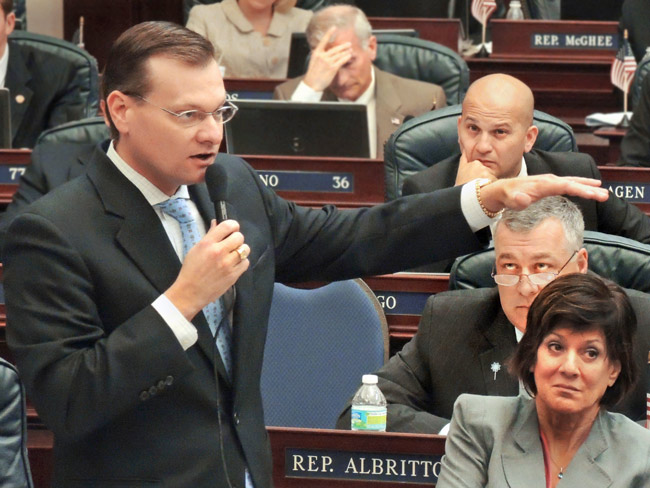 House and Senate negotiators began working in earnest Friday to limit the differences between their competing plans on the budget for the fiscal year that begins July 1. As they headed into the weekend, having made limited progress on Friday, here's where things stand on some of the biggest issues:
PAY RAISES
One of the largest differences in the budget remains how to structure salary increases for state employees and public school teachers. Both chambers agree that the raises should be structured based on teacher performance, but they would achieve that in different ways.
The amounts are still relatively far apart. The Senate would devote $480 million for salary increases for K-12 teachers, in line with the amount that Gov. Rick Scott wanted, though the governor asked for across-the-board, $2,500 raises. The House started at $676.4 million, but lowered that to $628.4 million in its first conference offer.
Clashes over other state employees' pay could be minimized. Senate Appropriations Chairman Joe Negron, R-Stuart, has signaled that he is likely to more toward the House's proposed flat salary increase instead of the Senate's percentage increase — meaning that the raise would be proportionally larger for lower-income workers.
"What I'd like to see us do is to have a pay raise that pays more to state employees who make less than $40,000," Negron said Thursday.
He went further in comments Friday to the Tallahassee Democrat, saying "the House plan addresses" the wishes of Negron and Senate President Don Gaetz, R-Niceville.
HIGHER EDUCATION
One of the biggest issues — how to spend performance funding for the university system — was largely resolved by a measure already passed by the Legislature. That would put $45 million into three pots for incentive funding for areas like technology and high-demand classes. But the House, which started out with $65 million in performance funding for universities, would still like another $20 million.
Another major difference in higher education comes in tuition increases. The House would raise prices by 6 percent across the board, while the Senate would stand pat. That comes to $92.8 million for universities, $52.8 million for state colleges and a shade over $3 million for workforce education.
HEALTH CARE SPENDING
There are some differences in funding. For example, the House would spend a total of $24.3 billion on the Agency for Health Care Administration, while the Senate would spend about $23.8 billion. Most of the other human services expenses are relatively close to one another.
Both sides have also agreed to go to using "diagnosis related groups," or DRGs to determine how much the state will reimburse health care providers. DRGs are kind of like a price menu, an attempt to standardize the costs for certain procedures. Legislative leaders say the new formula will simplify the complicated Medicaid reimbursement formula that's currently used.
But there are still differences between the two proposals. The House would allow for more adjustments to the formula for certain kinds of hospitals or patient groups — something that safety-net hospitals say would benefit them. Those hospitals say that the Senate plan would cut their Medicaid reimbursements by $113 million.
TRANSPORTATION AND ECONOMIC DEVELOPMENT
There are a number of differences in the area of the budget dealing with building up the state's economy and infrastructure.
The House would increase Visit Florida funding by $20 million, while the Senate would boost it by just $9 million. The House would also spend more on financing for Space Florida's aerospace industry — $10 million, compared to $1 million in the Senate plan.
Meanwhile, The Senate funds a $50 million bike trail from St. Petersburg to Titusville, a project that is absent in the House budget. The two sides are also trading offers on a number of smaller project sprinkled throughout the spending plan.
OTHERS
–The Senate would spend $70 million on Everglades restoration, while the House would devote $32 million. But the House would give more to water management districts for land acquisition, $32.6 million, than the Senate, $18.9 million.
–The House would remove the clerks of court from the budget — a $418.4 million line item. The Senate would not.
–It's not clear yet whether Scott's proposed elimination of the sales tax on manufacturing equipment will make it. About $75 million has been set aside for tax cuts.

Saturday Update
Lawmakers continued to work toward a budget agreement Saturday, as one budget conference committee finished its work and another cleared away a major hurdle to a deal.
But some of the highest-profile issues, from a difference over teacher pay raises to how to structure a major change in Medicaid reimbursements, remained unresolved with a Tuesday deadline looming before legislative leaders take over the negotiations.
A joint House-Senate committee overseeing the government operations side of the budget — largely dealing with state regulators and management — reached a deal on most of the issues facing the committee Saturday, becoming the first of several conference committees to finish its work.
"We both wanted to spend our time wisely and be here and be efficient and so it was a lot more smooth than I think it could have been, or I, in my mind, could see that it could have been," said Rep. Clay Ingram, R-Pensacola, who led the House negotiations.
Sen. Alan Hays, R-Umatilla, headed the Senate contingent.
But the panel still had to "bump" some issues up to meetings next week between Senate Appropriations Chairman Joe Negron, R-Stuart, and House Appropriations Chairman Seth McKeel, R-Lakeland. All unresolved issues have to be referred to the pair by 5 p.m. Tuesday.
Among the differences that couldn't be overcome: Where some state technology functions should be housed, a pair of measures meant to increase transparency in state spending and a Senate provision requiring the Public Service Commission to perform a review of the "prudency, cost effectiveness, and need of any proposed nuclear power plant for which cost recovery has been authorized."
Meanwhile, lawmakers working on the budget for the state's justice system agreed to remove clerks of court from the budget, where they had been housed since 2009. Senate lawmakers had wanted to retain some control over clerks' spending to ensure accountability.
Sen. Rob Bradley, R-Fleming Island, said the upper chamber had made that concession on the budget with an eye on later discussions about a related bill.
"But when we start to get into the details of conforming bill language I think you'll see it become apparent that there will continue to be robust accountability measures with regards to clerks' operations throughout the state," he said.
Despite the movements Saturday, some of the biggest conflicts remained unresolved. The chambers didn't expect to hold discussions on the plans to overhaul the way Medicaid pays hospitals until at least Sunday, preferring to get other, smaller details of the health care budget out of the way first.
And the conference committee hammering out a deal on education spending met just once for the second day in a row. House lawmakers want a difference structure for teacher pay raises and $148.4 million more that local districts could, but would not be required to, use on those increases.
–Brandon Larrabee, News Service of Florida