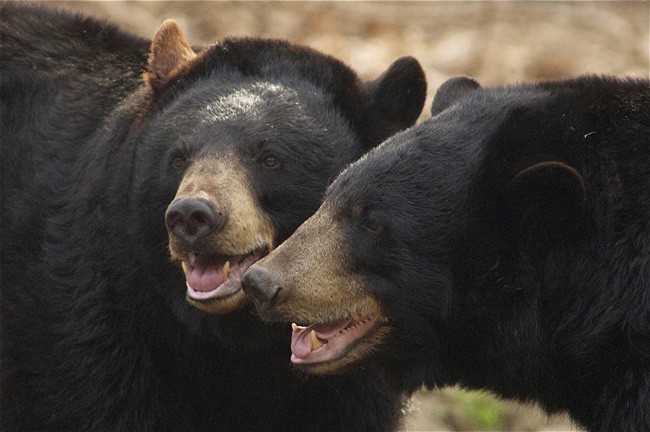 More than 3,500 people armed with guns and bows are expected to take to the woods across four swaths of the state starting Saturday morning to begin a quest to kill formerly threatened Florida black bears.
Taking aim at bears is something hunters haven't been permitted to do anywhere in Florida since 1994.
Some opponents turned out Friday at protests across the state and intend to spend the next few days keeping watch on the 33 Florida Fish and Wildlife Conservation Commission game-check stations where hunters are required to bring fresh kills within 12 hours.
"We're concerned that too many of the bears will be taken," said Sally Sanders, organizer of a "Stop the Bear Hunt" protest Friday that drew about 70 people outside the commission's Tallahassee headquarters. "We're concerned that the population could drop down below a level that it can recover."
But, state officials remain adamant that the hunt, which limits each permit holder to killing a single bear weighing at least 100 pounds, won't exceed the overall 320 bears targeted for what the commission calls a "harvest."
"We know from the experiences in other states that hunter success rates, without the use of dogs and without the use of bait, hunt success is expected to be very low," said Diane Eggeman, commission director of hunting and game management. "From other states that use those methods, we might expect, on average based on those other states, that only 7 percent of our hunters will harvest a bear any time during our season."
Hunting could last as long as seven days and is to be halted in each area the day after that region's kill quota is reached, she said.
The commission had placed a two-day minimum on the weeklong season, but an agency lawyer noted Oct. 1 during a court hearing that an emergency order may be issued to stop hunting in areas after one day. The hearing ended with a Leon County circuit judge refusing to issue an injunction against the hunt.
"Every day, if hunters plan to hunt the next day, they need to check with us after 9 p.m. to make sure the hunt will be open in the bear management unit," Eggeman said, referring to the region of the state where they plan to hunt.
The hunt comes amid a growing number of incidents across the state involving bears and humans, as development continues to move into the black bear's natural habitat.
However, the agency says the hunt is a result, in part, of the success Florida has had in protecting the species, which was placed on the state's threatened list in 1974, when the black bear population fell to between 300 and 500.
Bears were removed from the list in 2012 when a new management plan was approved.
Eggeman said the state has been pursuing other methods of reducing human-bear conflicts for years, such as getting more communities to require bear-proof trash containers. But the hunt is "the best tool" to stabilize the bear population, which is estimated around 3,000 in the state, she said.
"It's an important management tool for us, because bears are abundant and doing well in many parts of Florida," Eggeman said. "Regulating and keeping their numbers at a good balance with people and for sustainable bear populations is a part of our job."
Opponents argue the state should have waited at least another year when updated bear population counts would be available for all four regions of the state where the hunt will occur.
Those critics contend a rush to hold the hunt is simply to afford hunters the chance for a new trophy.
"This hunt is completely unnecessary, and it's not supported by science or by public sentiment," said Kate MacFall, Florida state director for The Humane Society. "The state would be better off helping citizens manage trash and outdoor food sources. Unfortunately for bears, most of Florida's wildlife commissioners failed to listen to the overwhelming majority of Floridians who publicly opposed the hunt."
Susan Cerulean, a Tallahassee-based nature writer, said the hunt isn't an effective way to manage the bear population and that people need to be required to do a better job securing trash.
"Bears are programmed to seek food, and if we leave things out for them they're going to go after it," Cerulean said. "That is what happened in Alaska, you get fined if you leave coolers unsecured. And here, it's the bears that take the hit."
The state is using 2002 bear estimates for two of the four regions where hunting will be allowed. The commission divides the state into seven bear-management units or regions.
Using the 2002 bear population estimates, the quota is 40 bears in an eastern Panhandle region, which includes the northwestern Big Bend area to west of Apalachicola Bay. In a South region, which includes Broward, Collier, Hendry, Lee, Miami-Dade, Monroe, and Palm Beach counties, the quota number is 80. The South region excludes the Big Cypress National Preserve.
Using 2014 estimates, the target is 100 bears each in the Central region, which includes the St. Johns River watershed to the Ocala National Forest, and in the North region, which goes from Jacksonville west to Hamilton and Suwannee counties. There are an estimated 1,300 bears in the Central region and 550 bears in the North region.
The state sold permits for $100 to Florida residents and $300 to people from out of state, with no limit on the number of permits that could be sold. Money from the permits is expected to help fund efforts to reduce bear-human conflicts.
Among the permit holders are Republican state House members Frank Artiles of Miami, Jay Trumbull of Panama City and Tom Goodson of Titusville, Fish and Wildlife Commissioner Aliese Priddy and rock star Ted Nugent.
The "shooting hours," with rifles, shotguns, pistols, muzzleloaders, bows and crossbows, are from a half-hour before sunrise to a half-hour after sunset. Dogs, which must remain on a leash, can only be used to help find a bear that has been shot.
Eggeman said officials will conduct a review after the hunt to determine if any changes are needed for future hunts.
Critics said they will keep up the protests and support for a lawsuit by the Seminole County group Speak Up Wekiva. The lawsuit contends the rules for the hunt go against a 1998 voter-approved constitutional amendment that created the commission as an independent body "to conduct management, preservation and conservation decision-making based upon sound science."
–Jim Turner, News Service of Florida