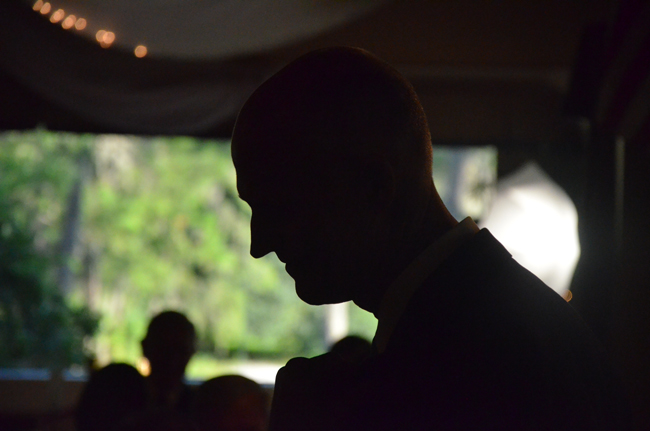 As 2014 kicks off, here's a look at some of the key issues that could dominate the political landscape in the year ahead.
GOVERNOR VS. GOVERNOR FOR GOVERNOR: The most closely-watched race in Florida this year will be the battle between Gov. Rick Scott and his immediate predecessor, former Gov. Charlie Crist, for the state's top job. The psychodrama in the race adds a dimension to what would already be a tough contest for commander-in-chief of a critical swing state. Crist is a Republican-turned-independent-turned-Democrat running against his old party, at times taking shots at policies he once supported while accusing the GOP of wandering too far to the right. Scott, meanwhile, has plans to spend up to $100 million to trash Crist and tout an economic record that he says has earned him a second term. Crist is also up against the troubled record of his new party, which hasn't won a gubernatorial election in Florida in 20 years. And he still has to fight off a primary challenge from former Senate Minority Leader Nan Rich, D-Weston.
IT'S THE ECONOMY, STUPID: Providing a backdrop for the gubernatorial contest will be the state of the economy, which has continued to slowly emerge from the shadow of the recession. Already, Florida's unemployment rate shrank to 6.4 percent in November, down from 6.7 percent in October, according to the state Department of Economic Opportunity. That marks the lowest rate in Florida since July 2008 — during Crist's tenure. Scott has already begun touting the fact that jobs lost under Crist have been replaced while he was in office. At the same time, the good economic news has provided additional tax revenue for Scott to use to boost spending on public education and to propose tax cuts — two things he'll be certain to remind voters about in the fall, especially if things continue to improve as expected.
FLORIDA, FLORIDA, FLORIDA: The nation's capital will also be focused on Florida. With Democrats heavy underdogs to retake control of the U.S. House, the biggest swing state in the country will be one of the places they look to cut into the GOP majority. Former Chief Financial Officer Alex Sink is already running in the special election to replace the late Republican Congressman C.W. Bill Young; her GOP opponent is yet to be decided. Gwen Graham, the daughter of former governor and U.S. Sen. Bill Graham, is mounting a Democratic campaign against incumbent GOP Congressman Steve Southerland in a Northwest Florida seat. Southwest Florida Congressman Trey Radel, also a Republican, was arrested for purchasing $250 of cocaine during an undercover sting in October in Washington, D.C. But Radel's district is heavily Republican, and his biggest threats might come from within the party.
SENATE PRESIDENCY: There's no real drama in the race for control of the Legislature this year. Democrats are hoping instead to diminish the GOP's hefty majority in both chambers. The more intriguing fight might be in the Senate, where the presidency following the 2016 elections is still very much in play. On one side is Sen. Joe Negron, R-Stuart, a wonkish legislator who serves as the chamber's budget chief. On the other side is Sen. Jack Latvala, R-Clearwater, a gruff Senate veteran on his second stint in the chamber. Much of the battle could be decided during the primaries but general election contests could shape the fight as well.
SEARCH FOR A LIEUTENANT GOVERNOR: Florida is nearing the end of its 10th month without a formal No. 2 for Scott since Lt. Gov. Jennifer Carroll resigned in March. Carroll co-owned a company that provided consulting services to St. Augustine-based Allied Veterans of the World while she was a member of the House, which became problematic when Allied Veterans became ensnared in a racketeering investigation. Carroll was never charged with a crime. Since then, Scott hasn't rushed to fill the position. The governor could wait until after the legislative session and then name a running mate who could strengthen his hand in the general election. Until then, Attorney General Pam Bondi would take over for Scott if he was unable to carry out his duties.
ROLLING BACK CAR FEES: Scott's signature legislative issue is his promise to reduce taxes and fees by $500 million, most of which — $401 million — would come from a proposed cut in vehicle-registration fees. Scott has endorsed doing away with an increase approved during tough budget times in 2009. But Scott and Negron — who first pitched the idea of a decrease — say the conditions that led to the increase have receded. The fee decrease carries the added political bonus for Scott of blaming Crist, who was governor when the fees went into effect, for the price hike. The former governor has already taken steps to inoculate himself, arguing that he never intended the increase to be permanent and that it has been in place longer under Scott than it was under Crist.
GAMBLING: Undeterred by the long odds facing any hot-button legislation in an election year, gambling supporters are expected to ante up and try to get something through the Legislature. There's already talk of a sweeping bill that could include a rewrite of the state's gambling laws and regulations, the creation of a gambling commission and, possibly, a kitchen-sink of elements sought after by existing race tracks and frontons as well as destination resorts coveted by out-of-state casino operators. But other proposals are also emerging, including the idea of a constitutional amendment to decide issues such as whether the state opens the door to Las Vegas-style casinos, an idea floated by House Speaker Will Weatherford, R-Wesley Chapel.
PENSION PLANS: Weatherford is also expected to make another run at overhauling the pension plan for public workers. Ideas range from the speaker's proposal last year, which would require new employees to enter a 401(k)-style retirement plan, to offering a "cash balance" plan, which allows employees to take their pension either as a lump sum or as an annuity. An overhaul of state pensions died last year in the Senate, when a maverick group of Republicans teamed with Democrats to block Weatherford's plan. But Weatherford continues to send signs that he's not abandoning the issue. "The time for pension reform has come. RT if you agree!" Weatherford tweeted on Friday.
VOTING PURGE: Secretary of State Ken Detzner's office is expected to soon begin forwarding the names of suspected non-citizens on the voter rolls to local elections officials. The state has been working to finalize a procedure for using a federal list to vet registered voters since 2012, when it first struck a deal with the Department of Homeland Security over the use of the Systematic Alien Verification for Entitlements, or SAVE, database. That would replace a process using a state database that ran into resistance from county elections chiefs because of problematic scrub lists. The renewed program could still face legal challenges from voting-rights organizations, who have argued that it amounts to an attempt to purge minority voters — who tend to support Democratic candidates — from the rolls.
REDISTRICTING LAWSUITS: The legal fight is expected to continue over the districts that lawmakers approved in 2012 for Florida's congressional delegation and the state Senate, dragging it into a third year. Critics of the maps contend that they were drawn to aid Republicans and incumbents in violation of the anti-gerrymandering "Fair District" amendments that voters added to the constitution in 2010. The Florida Supreme Court has ruled that the state Senate maps can be the subject of a civil lawsuit, despite receiving preliminary approval from the high court in 2012. And Supreme Court decided that lawmakers can be forced to testify about the redistricting process even though legislators generally enjoy a privilege shielding them from speaking in court about their official duties.
HEALTH CARE FIGHTS: Florida's participation in the federally-backed expansion of Medicaid, a key part of the Affordable Care Act approved by Congress in 2010, appears to be off the table for good. Scott had thrown his support behind it last year, but the idea was ultimately rejected by legislative leaders, who offered their own plans but which all failed to pass. GOP lawmakers are unlikely to reconsider the issue again in 2014, but Democrats will push it anyway. Candidates could keep an eye on the once-troubled rollout of the federal exchange where some consumers are signing up for and buying insurance. A resurgence of technical flaws could pose political problems for the law's supporters, mostly Democrats.
NEW PRESIDING OFFICERS: After the November elections, new leaders will take the helm in both the House and the Senate. If Republicans hold onto the House as expected, Rep. Steve Crisafulli would become speaker. Crisafulli, R-Merritt Island, was something of an enigma in the Capitol when he was quickly chosen to take over for former Rep. Chris Dorworth, R-Lake Mary, who lost his 2012 bid for re-election. Sen. Andy Gardiner, R-Orlando, has been on track for his chamber's presidency for years despite an attempted palace coup in 2012. Both will bring their own issues to the table, and could begin exerting their influence in the 2014 session as they get ready to assume their new roles.
TROUBLES AT DCF: The embattled Department of Children and Families could also face continuing changes. Scott could choose a long-term replacement for agency Secretary David Wilkins, who resigned in July. Interim Secretary Esther Jacobo announced she will stay on the job until 2014 legislative session ends in May. Meanwhile, Jacobo has asked Scott and the Legislature for funding to slash caseloads for frontline staff and other proposals aimed at keeping children more safe. Lawmakers are also determined to strengthen laws dealing with sexual predators in the wake of reports by the South Florida Sun Sentinel that found that nearly 600 sexual predators had been released only to be convicted of new sex offenses — including more than 460 child molestations, 121 rapes and 14 murders.
COMMON CORE CONTROVERSY: State education officials are also expected to make a series of key decisions about Florida's educational guidelines, currently based on the Common Core standards. Those benchmarks, which were developed by officials from Florida and other states, have drawn anger from conservative critics who say they could increase federal involvement in the state's public schools. Education Commissioner Pam Stewart has said changes to the standards could go before the State Board of Education as early as February.
–Brandon Larrabee, News Service of Florida