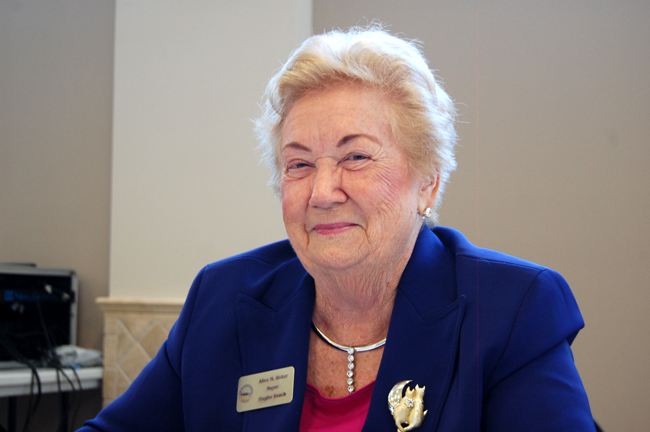 There will be several changes in Flagler Beach City Commission politics early next year, starting with an election for mayor and one commission seat to be held on Jan. 31 instead a of the city's traditional March date. The city changed the date to coincide with Florida's presidential primary and save money. The primary itself is scheduled earlier than usual in an attempt by Florida's GOP to give the state a louder voice in that contest.
At least two candidates have lined up to run for mayor, as Alice Baker will not run again for the post she's held since her appointment to it in May 2006, when she replaced Ed Kuhnlein. Baker, 80, has not been attending the last few commission meetings. She fell and suffered an injury in the parking lot at Target, tripping on a car-stopper.
J. NeJame, 61, a frequent presence at commission meetings and on Flagler Beach election ballots who's yet to win his first contest, has qualified by petition to run for mayor, as has Linda Provencher, who was a city commissioner from 2006 to 2010. Provencher, 46, a manager at the Golden Lion restaurant in Flagler Beach (she was an elementary school teacher in Flagler and Putnam County schools),  was first elected without opposition in 2006 (the year Joy McGrew and Jane Mealy were also elected without opposition). She chose not to run in 2010. NeJame is a retired serviceman and yacht broker.
It is also likely that Mike Evans, a former commissioner and a candidate for city manager last year, will run for mayor.
On the commission, John Feind's seat is also up. Feind, who won prominence in city politics as the head of its Concerned Citizens at the beginning of the last decade, has been on the commission since March 2003 and hasn't lost an elections since. He did not gather the necessary petitions to run again, but has until Friday to qualify with cash, paying $439.
"I haven't made a decision yet," Feind said Monday evening. "I have numerous things going on and I haven't been able to reconcile it yes or no."
But there appears to be an agreement between Feind and McGrew, the former city commissioner, who has qualified to run for the seat by petition, and spoke as if Feind's decision was already taken. "I told him I wouldn't run against him, if he chose to run again," McGrew said. "My understanding is that he wouldn't run," though she said she'd have a discussion with him if he reversed course. "We've talked once or twice and he's left me to believe that he was comfortable with his decision that I was going to run if he chose not to."
And so far, no one else has filed to run for the position, opening the possibility that McGrew could be elected by Friday. McGrew has lived in Flagler Beach since 1983 after moving from Silva, N.C. She's owned a landscaping business and worked for the city's parks and recreation department, and now works at the Flagler Beach Pharmacy.
McGrew, 52, decided not to run last year, nor did long-time commissioner Ron Vath. It had been a contentious year marked by many raucous meetings over the commission's paralysis over the appointment of a new city manager. Their seats were filled by Marshal Shupe and Kim Carney. "Politics is a fickle little bedfellow," McGrew said. "You can put up with so much and you can try to be nice and civil to people, and when the civility is not there I just decided to step back because I didn't want to become part of that lost civility, I didn't want to be lured into that or drawn into that position."
The paralysis ended when Bruce Campbell was appointed Flagler Beach's permanent city manager in mid-October. McGrew, who had initially resisted Campbell's appointment but was the swing vote to give him the interim position for almost a year, says she is supportive of the permanent appointment—and is looking forward to jump back in the fray: "I guess I just didn't get my fill of it."
Feind, who brings a deliberate style to his chairmanship of the commission—a style in sharp contrast with McGrew's direct, often unhesitant candor—would be comfortable with McGrew. "I don't believe she has an agenda," Feind said. "That would be what I would really be concerned about, if somebody had a real agenda, that would possibly sway me, but I know Joy doesn't have an agenda per se."
He added: "And if I don't run I may run in the future. I'm not saying I won't. I wouldn't think I would. I might, it's always a possibility. As I say, if I choose not to, I probably wouldn't run again, but there would be nothing that would stop me from running."
Candidates in the Jan. 31 election face a few challenges: turnout in recent city elections have been pitiful. Flagler Beach voters are used to March elections. A January election will be competing with holidays for attention, and even space: it's difficult to put an election sign as part of a nativity scene in a yard, though creative decorators will surely find a way.
"I'm hopeful that the community is in tune to the fact that we have a mayor's seat and a commission seat open," McGrew said. "I hope they become educated to the fact that we have an election coming up and they need to get out and vote."