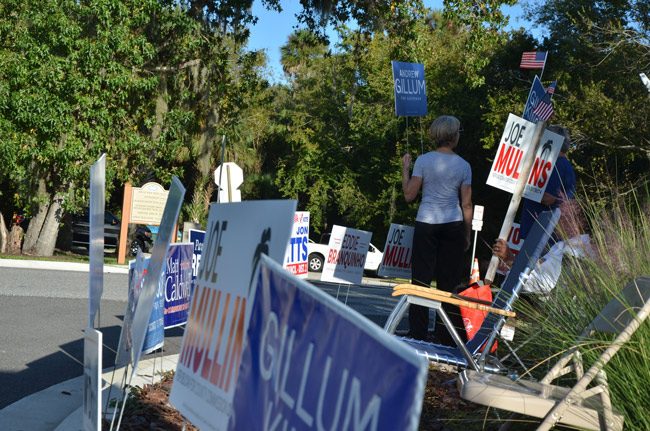 Flagler County Elections Supervisor Kaiti Lenhart wants to know why you love voting–assuming you do.
The supervisor is asking voters to fill out a brief five-question online survey, with an additional open-ended entry asking if "you have anything else to share which may inspire others to vote." The survey, however, does not ask any questions of those who choose not to vote or why they choose not to vote.
The survey, called "Why do you love voting?" was timed for Valentine's Day, but is running through the weekend, as it had generated only 40 responses by Thursday. The idea is "to get information from the community which might help inspire others to be more involved, especially in local elections," Lenhart said. "We just came through a very active mid-term, and I hope that even with our upcoming municipal elections, that we see some higher turnouts."
Bunnell, Flagler Beach and Beverly Beach all have active elections on the same day in March, the first time in 10 years that's happened. "Some of these cities have a history of lower turnouts," Lenhart said. Turnout in the last general election was 64.5 percent in Flagler, the highest mid-term since 2002.
The information from the survey will be used "to create and develop more targeted voter outreach," Lenhart said, "sharing the statement made by people like–why is voting important to you? Some of the responses we've gotten back are really quite interesting and might be inspiring for someone else. We'll be sharing that soon."
The survey is multiple choice. For example, the question about why one loves to vote offers such possible answers as "Voting is a civic responsibility," "I vote to make an impact for future generations," "I want to take an active role in choosing my representatives in government," or "If I don't vote, I can't complain!." There's an option for "other," but no option for "all of the above," though for many voters all the answers apply.
Other than why you like voting, other questions include: Why is voting important to you? How do you prefer to vote: By mail? During early voting? At your precinct on Election Day? Why do you have a favorite? Do you feel that local elections are important? Why?
You can take the survey by clicking here.