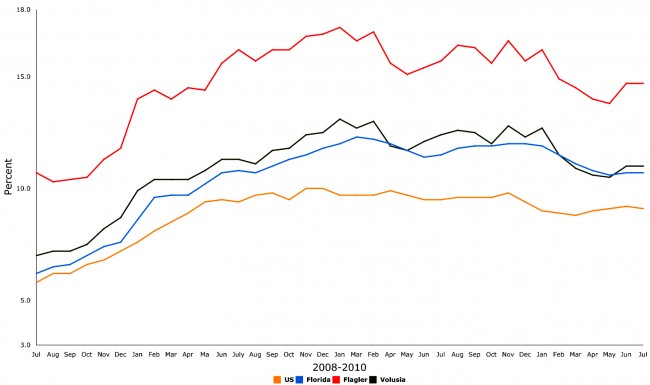 Last Updated: 10:57 a.m.
Flagler County's unemployment rate in July was unchanged from June's revised 14.7 percent (last month's original rate was 14.6 percent). Florida's unemployment rate also stalled at 10.7 percent, with 987,000 Floridians out of work.
Flagler County has the second-highest unemployment rate in the state after Hendry's 18.8 percent. Indian River and St. Lucie counties are third, at 13.8 percent. But in terms of metropolitan statistical areas, Palm Coast's remains at the top of the chart, with 14.7 percent unemployment, followed by the Sebastian-Vero Beach MSA, at 13.8 percent, and Port St. Lucie, at 12.9 percent.
The state lost 22,100 jobs in July. (See the full report below.)
In July, the construction sector saw a steep loss, with a drop of 5,800 jobs, or 1.7 percent, adding to a year-long loss of 23,000 jobs. Information, finance, professional and business services all lost. But by far the largest loss was in government, which shed 11,200 jobs, including 9,700 local government jobs. In the last 12 months, government has lost 16,900 jobs.
Education services and retail trade each added 3,800 jobs in July, posting the best performance of any sector.
"Mixed signals from economic indicators during recovery are common," Cynthia Lorenzo, the state's labor department director, said in a release. "Fluctuations in rates of unemployment and job growth are typical examples of starts and stops while the economy rebounds and unemployed workers who may have given up looking for work rejoin the workforce.
If in fact discouraged workers were rejoining the workforce, the state's labor pool would have grown. It is shrinking instead, suggesting that more workers are leaving the workforce–and more workers are being dropped off the jobless rolls because their unemployment benefits have run out. The Florida Legislature this year dramatically shortened the number of weeks unemployed workers are entitled to unemployment checks. Once workers are bumped off the unemployment rolls, they no longer count as unemployed, even though they still are. The result is an artificially lowered unemployment figure even as the actual number of unemployed persons may be rising.
Flagler County's labor force, for example, is 1,052 smaller in July than it was a year ago, a 3.1 percent decline that suggests either that the county's population has declined or that a significant number of people have left the labor force for a variety of reasons: retirement, jobless benefits running out, discouragement from looking for work.
Florida's numbers also do not distinguish between those employed full time and those involuntarily employed part-time, because they could not find full-time work or because their hours were cut. All workers with jobs, including part-time jobs, are counted as fully employed.