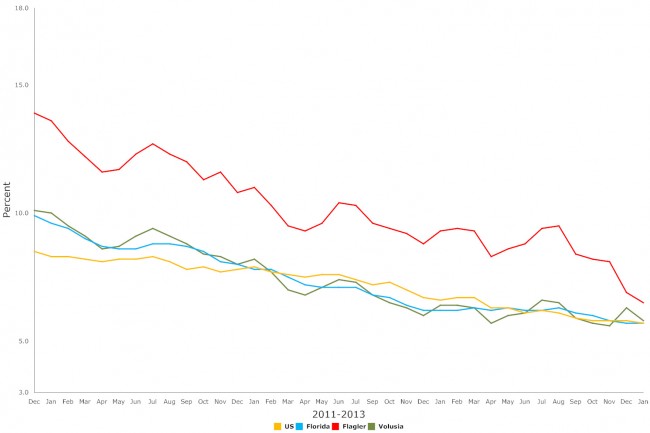 Flagler County is no longer a leader in unemployment: its 6.9 percent unemployment rate in January ranked it 14th in the state, after Flagler spent the better part of the last seven years near or at the top of the chart of the counties worst hit by unemployment. In December, the state's labor department reported, the county saw an unemployment rate of 6.5 percent.
The last time Flagler had an unemployment rate that low was in December 2007, when it was 6.4 percent and rising very rapidly. Flagler's January unemployment rate brings it closer to that of Volusia County, which was 6.3 percent.
Putnam County now tops Florida's 67 counties with the worst unemployment rate, at 8.4 percent.
8.4 percent.
Florida's seasonally adjusted unemployment rate in January was 5.7 percent, unchanged from the previous month and matching the national unemployment rate. There were 551,000 jobless Floridians out of a labor force of 9,698,000.
Other strongly encouraging signs for Flagler's labor picture: the labor force in January grew to 43,008, an increase of 395 over the previous month, and an increase of 606 over the year. The larger pool of workers also led to an increase of 202 in unemployed people in the county in January, but the number of people with jobs also increased by 193. and by just over 1,000 over the year, a significant increase.
Statewide, sectors gaining jobs included construction, services, professional and business services, waste management and administrative services, leisure and hospitality, and education and health. Local government gained slightly, but state and federal government jobs were lost in January.
As always in March, this is the first of two state unemployment reports, with the second to be released on March 27, showing results for February unemployment. The state's labor department, which refers to itself as the Department of Economic Opportunity, noted today that every March, the U.S. Department of Labor's Bureau of Labor Statistics and the Florida Department of Economic Opportunity release January employment and unemployment estimates as well as revised historical data. Today's report is the result of that annual process, which is known as 'benchmarking.' Benchmark revisions are a standard part of the estimation process and take place this same time every year in each state nationwide."