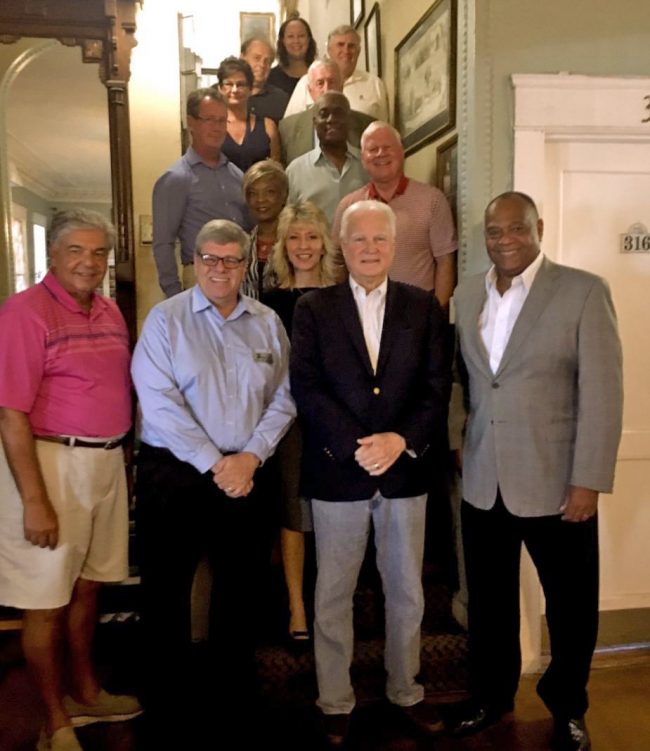 The first Tiger Bay Club was founded in Miami in 1964. Many such clubs have since been founded across Florida, in most of its larger cities and some of its smaller ones as a civic, non-partisan forum unafraid to discuss political and social issues and provide a speaking platform for politicians, cultural figures and other newsmakers through the club's monthly meetings. Clubs are civically engaged, but they do not endorse political candidates.
Flagler County now has a Tiger Bay Club of its own. On Aug. 23, the Flagler Tiger Bay Club will hold its inaugural event at the Palm Coast Community Center–a 6 p.m. wine tasting.
The Flagler club formed last month. To ensure the stability of its non-partisanship, its board of directors is made up equally of Democrats, Republicans and independents.  No one party has control of executive leadership or the board. The Flagler board includes John Birney, John Brady, Cindy Dalecki, Greg Davis, Frank DeAngelo, Rebecca DeLorenzo, Ed Fuller, Awilda Hamilton, Howard Holley, Mark Langello, Don Madden, Cheri D. Orr, Jake Scully, Lea Stokes, Helga van Eckert and Gary Walsh.
"There are very active Tiger Bay Clubs in surrounding areas such as Daytona Beach and Jacksonville, and we felt the time was right to launch a club in Flagler County," Greg Davis, one of the club's co-chairs and founding members, was quoted as saying in a release issued by Dalecki this afternoon (Dalecki is another founding member). "The response has been quite positive, we have already received over 150 people expressing interest in joining as founding members."
The group's goal is to bring state and national speakers to the club, said member and co-founder Don Madden. Tiger Bay clubs tend to get significant attention in election cycles, when political candidates make their pilgrimage from club to club. The club's goal is to have 180 members by the end of August. A one-year membership costs $350, plus a one-time $100 registration fee. The club is also seeking sponsors.
Flagler Tiger Bay meets monthly. Most meetings are for members and their guests only. Typically, meetings are one hour over lunch with a speaker or a panel discussion on politics, civic issues and related matters. To find out more about the club or register for the inaugural event, visit its webpage.