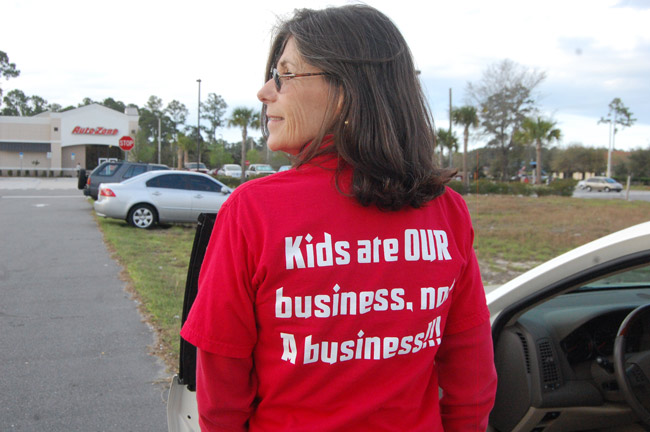 I am a mother of two, a teacher, and the President of Flagler County Educators Association (FCEA).  More and more in the news media I am seeing articles and letters to the editor that have addressed high stakes testing and a few misnomers about unions.  Many of these recent articles and letters miss the mark and peddle half-truths on a number of key points.  As a teacher, I believe that knowledge and full understanding are empowering.  To that point, let me help fill in the rest of the story.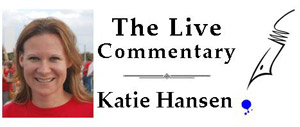 I have frequently said at school board meetings and in the media that high-stakes tests are an unnecessary stress for our students.   Teachers do not believe that one test on one day, less than 75 percent of the way through the school year, is an accurate measure of a student's performance.  Don't misinterpret my statements: I'm not saying that educators should not be held accountable. I just don't believe that the current method of "accountability" is accurate or appropriate.  The Florida Comprehensive Assessment Test (FCAT) is plagued with issues and errors, which you can easily find documented on numerous websites that research the validity of FCAT tests and other high-stakes tests.
Beyond errors and issues with the test itself is the time teachers and students must devote to testing.  While there is a place for some testing, students are not going to improve simply because we test them more.  The FCAT test itself can take up to eight hours or more to administer, taking up as many as nine school days to complete, not to mention FAIR testing, End of Course exams, and the plethora of other tests that our students are required to take over the course of a single school year.  Wouldn't this time be better spent with teachers teaching and working with the students to deepen and strengthen their understanding of concepts?
Anti-union sentiments out there are plentiful.  I recently read an article that asserted three things that a union is "good for," including: keeping incompetent employees working, securing raises for people who don't deserve them, and raising money for Democrats.
Frankly, only a person who has never been a blue-collar worker where a union was involved would incorrectly assert those three "purposes."  While unions do not keep "incompetent" workers from being fired, unions do work to ensure that every member has due process.  If an administrator or member of management finds an employee to be "incompetent," then the union ensures that the process is followed through correctly.
Here in Flagler County, the teachers' union has played an active role in the creation and implementation of Teacher Success Plans.  These plans are used to assist and coach teachers that are struggling and to help them improve for the benefit of our students.  If an administrator finds a teacher to be incompetent and the teacher does not improve with coaching and assistance—and that administrator correctly follows the process—there is nothing the union can or will do to keep that teacher in the classroom.  Members of FCEA are teachers and parents. We don't want incompetent teachers in classrooms, teaching our past or future students, or our own children.
Unions negotiate salaries with management, and here in Flagler County we negotiate with the school district for salary steps or increases.  Any raise we agree to at the bargaining table must be approved by both the teachers and a majority of school board members. The agreed-upon raise is then awarded to all teachers, not just a select few, not just union members, let alone just to "those who don't deserve it" as I've seen it asserted.
The Flagler County School Board in a recent vote unanimously approved the agreement on teacher pay.  Think big picture though. The board employs nearly 1,700 employees.  It is the by far the largest employer in Flagler County. We support the local economy.  We keep small businesses in business.  We help ensure that many other workers keep their jobs, simply because we are spending our hard-earned money in Flagler County.  Suggesting that teachers and educational professionals don't deserve the salaries that the school board agrees to hurts not just our families, but also many, many more families and businesses throughout Flagler County.
As to the "purpose of a union"—that unions only contribute to the Democratic National Committee—I find myself once again wanting to do a bit of educating.  In the last two election cycles, the Florida Education Association (FEA), to which FCEA and other teacher unions across this state belong, contributed approximately $100,000 to republican candidates.
Contrary to the preconception that unions only support Democrats, unions prefer to align themselves with candidates that support the same educational issues that we do, regardless of which side of the aisle they are on.  And with Republicans being quoted as intending to raise and spend $1 billion (yes, with a b) on the 2012 elections, I'm not sure that any party or person should be pointing any fingers.
At the end of the day, I am proud to be a teacher and union member.  I know that I work hard to better the lives of my students, both in my role as teacher and as Union President.  I will continue to stand side-by-side with the other hard-working teachers and education professionals in Flagler County, my fellow union members, to continue to work to provide great public schools for every child in Flagler County.

Katie Hansen, a teacher at Indian Trails Middle School, is president of the Flagler County Educators Association. Reach her by email here.