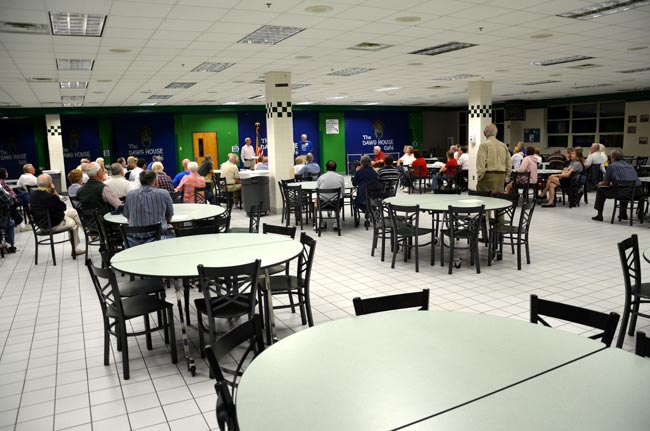 The Flagler County Tea Party Group is worried–even "scared," in the word of one of its members: the tea party is losing steam. It's lacking excitement. It's losing the interest of its former firebrands. It's looking at too many empty seats.
And there were quite a few of those at the tea party's monthly meeting this evening, held, as usual, at Flagler Palm Coast High School's Bulldog Café. Meetings once drew upwards of 300 people. Thursday's meeting (the first held on a Thursday, as opposed to Tuesday, so it didn't conflict with government meetings) drew fewer than 100 people (actually, 85, not counting a reporter). The turn-out was low despite an agenda designed to plan the critical months between now and the election in November, culminating in what party chairman Tom Lawrence described, with hope, as "a victory party" in December.
One after the other, members of the party stood up to lament the absence of excitement in their presidential choices ("we don't have a candidate," one member said), and the absence of urgency in an election year that has none of 2010's tea party surge. "We here have to get excited, we have to  step forward and say yes, I'm going to fight for my constitution," one member said, citing the email all members had received, urging them to bring a friend. Not many friends had showed up, he said.
"The apathy here is very, very bad, in my opinion," yet another member said, going as far as saying that the more the economy improves, the less interest there may be to bring out interest in tea party concerns, because matters are not hitting voters' pocket books as much. "I think the apathy we have right now is because we don't have a candidate running for president," one more member said. "Once we get a leader, I think you're going to see an outpouring of support." The hoped-for name on most lips: Rick Santorum.
Numbers are crucial to the tea party movement: if tea party meetings and rallies don't draw large numbers, the tea party's influence wanes on election day, and politicians, from federal to state to local elections, pay less attention. The next few months will tell whether the local tea party has hit a lull—as has its equivalents across the state and the nation—or whether it's now past its prime. On march 26, the local tea party will hold a rally on "Obamacare" in Palm Coast, in conjunction with similar rallies across the nation. On April 16, it'll hold its annual Tax Day rally. On July 19, it'll host its meet-and-greet for political candidates. The local tea party's meet-the-candidate evenings have tended to be the best attended, barring some debates.
Meanwhile, the group has to pay attention to its finances: it has $1,400 left in its treasury, but Lawrence is pushing for putting up another get-out-the-vote billboard on I-95, one similar to the billboard the group put up in 2010. That cost $4,100 for three months. It also costs the group about $750 a year in insurance and rental fees (for the monthly gatherings at Bull Dog Café). The group is looking for money. Lawrence urged his members to contribute.
He then introduced Casey Ginsburg, an emissary from the conservative group called American Majority, to make a pitch that could net about $600. American Majority joined Nascar Nation to conduct mass registrations. It does so with "volunteers." The word is in quote marks because the volunteers are, in effect, paid, if at a remove: Case proposed to the local tea party that if it could rustle up 25 such "volunteers" who'd be willing to spend at least four hours registering people going to the races in Daytona Beach over the next week or so, each volunteer could net the tea party group $25, for a total of $625. Ginsburg described American Majority as a non-partisan organization, though it is, of course, nothing of the sort, even by her own words: "If we can increase turnout in Florida 10 percent, what does that mean? We win the election." She explained the values behind the "we": "We are so conservative we don't even take corporate funds. We are funded by successful businessmen," she said, though in reality the group is one of the tea party's more visible and powerful organizations. Several people signed up for the volunteering drive.
Officially, the local tea party group is sticking by its stated policy of not endorsing. But public sentiment voiced at the meeting made clear, as it has in the past, to what extent the policy is at odds with practice: there is no question that the group is looking for candidates to back—and that it is in search of those candidates, if only to revive the excitement that fueled it two years ago. Still, Lawrence batted down suggestions that the local group start backing individual politicians more overtly. "If we start picking local candidates, we're just going to get mad at each other," he said.
Tea party meetings preserve the feel of town hall meetings where discussion can be free-wheeling, and far less rigidly controlled than at more formal party meetings. At various points, discussions veered in various directions, such as when Ted St. Pierre got up to speak about his recent appearance before the Flagler County School Board to complain about images of the Statue of Liberty and the American flag, drawn by students at FPC, he and other veterans found offensive. That launched others into questioning the state of education, of history and the teaching of the Constitution being out the window."
St. Pierre had other complaints about the school board, prompting Lawrence to ask him if he'd volunteer to be the group's monitor of the school board. The previous monitor was Bill McGuire, now a council member in Palm Coast. St. Pierre accepted, as long as the assignment did not interfere with his other one, he said: he chairs Rick Santorum's local committee.