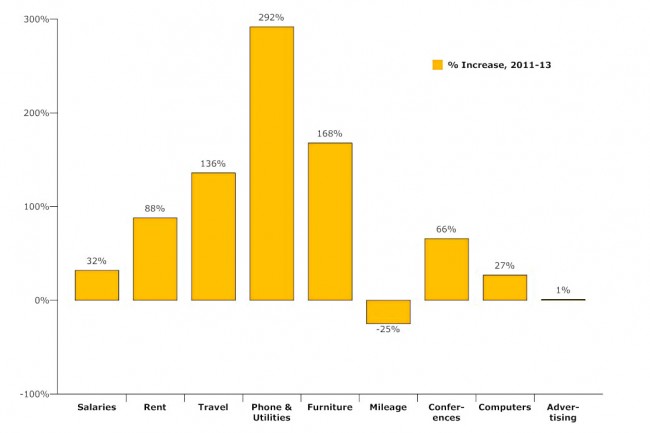 A divided Flagler County Commission approved the county's Tourist Development Council's $900,000 marketing budget for 2013, with a 3-2 vote Wednesday. It's a $100,000 increase over the current year. One commissioner strongly objected to a sharp increase in the tourism division's staff and incidental costs, such as a doubling in rent costs and a tripling in furniture costs. Another objected to the council's decision to start branding Palm Coast on par with Flagler's beaches in its marketing campaigns, even though the majority of visitors to Flagler are here for the beaches.
"There were several startling comparisons that surprised me," Petersons aid. "For example utility expense went up 500 percent. Rent went up 72 percent. Today's economy, one wonders why a rent increase would increase by that extent. Right down the line, every single item: over the last two years the budget has increased by almost 50 percent. It seems to me that we should workshop this item. I do not understand why we have not workshopped it as we do all other items."
"Looking at this it looks like if we give somebody some money or we give a governmental unit money, they'll spend it all, just so that they don't have to return any or allocate it to some other purpose. My recommendation is we pull this item and workshop it within the next 30 days."
Milissa Holland, who chairs the TDC and has had a direct hand in developing its policies and directions, rebuffed his objections, saying commissioners had spent time asking questions, and getting answers, from Georgia Turner, the executive director of the county's tourism operations, who works under the umbrella of the Flagler County Chamber of Commerce. Holland spoke of the three-year strategic plan the TDC is about to kick off, with a focus on filling the hotels in the off-season through targeted sporting events that bring people to the county.
"These initiatives that we have put together are going to take a new course," Holland said, with clear objectives and outcomes. "I can assure you, commissioner Peterson, we've had money that's been left on the table from our tourism entity year after year, certainly since I've served on the TDC as well as on this board, and they are very mindful of these dollars and they don't spend just to spend. I don't think there's an entity that's been more clear on how they spend money line item by line item by line item, contractually."
Peterson didn't dispute the investment in tourism, nor the return on investment (including sizeable increases in hotel stays locally), but he said the successes Holland outlined had nothing to do with increases in rent, utilities, phone costs or additional costs in furniture. "If this was a department of the county we would have gone over this budget in more detail to authorize or to vote a 50 percent increase in these particular staff type of expenditures," Peterson said. "I think we're doing a disservice to stakeholders because money that isn't spent on some of these items or isn't needed to be spent can then be used for the long list of items that you've outlined that would in fact be beneficial to the stakeholders and to the residents."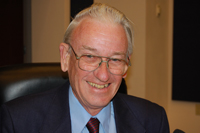 One striking difference between the 2013 budget and the 2012 budget: a 15 percent decrease in funding for advertising and public relations—from $362,000 in the current year to $308,500. The TDC focuses heavily on advertising (out of county and out of state) to attract visitors to the county, and does so through various media.
Some of the amount in actual dollars no longer spent on marketing the county correlates closely with the increased spending on the more incidental items Peterson was pointing out—the doubling in rent costs, from $7,680 in 2011 to $14,440, the near tripling in furniture costs ($3,500 in 2011, going to $9,500 next year, and the equally substantial increase in phone costs, from $$1,440 to $5,000), along with the most substantial increase of all, in actual dollars: salaries, which stood at $151,000 in 2011 and will rise to $200,000 next year.
The TDC is adding a position, a $35,000-a-year product development manager that has yet to be filled. That brings the tourism division's staffing to five, compared with a staff of three just two years ago. It's headed by Georgia Turner ($65,000 a year, no different than the salary was two years ago), with Amy Lukasik as its tourism marketing manager ($41,200) and Jeanine Volpe as its administrative assistant ($25,000). The council this year hired a part-timer, Thomas Rominger, to staff the Flagler Beach Historical Museum.
"I personally met with the staff at the TDC and we went over a lot of concerns that I had," Hanns said on the tourism budget. "Many of them were questions that I had that juts needed an answer and I was very comfortable with what I received. The only thing I did not ask is about the rent increase."
The rent increase has to do with moving the TDC's offices to a suite adjacent to the chamber of commerce, as opposed to within the chamber's offices. The chamber is the TDC's landlord, which owns that strip of office-fronts on Airport Road, making it–for the chamber at least–a cozy arrangement with a government-backed renter guaranteed to make monthly payments, and stay a while.
"What I don't want to see," Commission Chairman Barbara Revels said, "next year I don't want to see the rent bounce up because they said oh, look, we let you stay there for a year at this price, and then we're locked in because we've paid for phones and we've paid for all these different things to be there."
Revels had another concern about the TDC's direction: in its rebranding moves, the tourism council has decided to rephrase its thematic focus. "The new name would be Palm Coast and the Flagler Beaches," Revels said. She objected, noting that the primary focus of tourists' attention is the beach, not Palm Coast. "Palm Coast doesn't have any beaches," she said. "I'm not necessarily convinced that rebranding in that name format is the only way we can go."
Holland said the rebranding was a concerted effort to market Palm Coast's hotels, including the Hammock Beach resort, which features Palm Coast's name prominently.
Tuesday evening, Frank Meeker, the Palm Coast City Council member and the city's representative on the TDC, resigned his seat on the tourism council in light of his run for a county commission seat. During a council meeting, Meeker nominated council member Bill McGuire to replace him. The council approved the nomination unanimously.
"You've got yourself a job, whether you like it or not," Palm Coast Mayor Jon Netts told McGuire.
"You said there's free food and booze," McGuire said.
"I did not," Netts said.
Meeker's absence from the council may be temporary: if he is elected to the county commission, that panel will have to name a replacement for Holland, who is leaving the commission and the council in November (she is running for a Florida House seat). If Meeker is nominated to the TDC, he would be its chairman, as the county commission's representative always is on that body.
The county's tourism dollars are drawn entirely from a 4 percent sales tax surcharge, or bed tax, levied on hotel and motel stays and all other short-term rentals in the county, so it is paid overwhelmingly by visitors. No property taxes go toward the budget, which is split three ways. The largest share of the roughly $1.4 million in annual revenue goes toward marketing and PR (that's the $900,000 budget the commission approved today). The rest goes to capital improvements that burnish the county's tourism locations, and to beach preservation.
A nine-member council—the Tourist Development Council—made up of government representatives from Flagler Beach, Palm Coast and the county and by private businesses in the tourism industry, oversees the funds and recommends how to spend them. The county commission ratifies, amends or rejects the recommendations.