Janet Valentine, the Flagler County School Superintendent, knew she had two tough proposals to sell the board. One was a contract worth $97,000, to improve reading skills for younger students. The other was a five-year, $534,000 contract for a tool that would primarily benefit administrators as they evaluate teachers in accordance with a new state requirements on what teachers to reward with extra pay, and what teachers to fire.
The board approved the first proposal on a 3-2 vote and rejected the second, also on a 3-2 vote, exposing the new reality the board is operating under since voters just two weeks ago rejected by a large margin a referendum that would have granted the district more money by taxing residents slightly more.
"I just find it amazing," School Board member Colleen Conklin said, that in that one meeting "we have two budget items in front of us tonight that's like $600,000. It kind of blows my mind. I don't understand that."
Valentine and her administrators did their best to separate the proposals from recent political implications of the vote, stressing all sorts of things that buffered the contracts from the tax pot that local voters focus on—the general fund, where their property tax revenue goes. They were successful up to a point.
A thin margin of board members approved the $97,000 proposal that will provide a stronger diagnostic and tracking tool for teachers and administrators in so-called Title I programs at the district's elementary schools (including Palm Harbor, the charter school, and two private schools that have federally backed remedial reading programs). Title I dollars come from the federal government and are spent on poorer, more at-risk students.
"With Title I dollars, we are very limited on how we can spend those, it has to be proven programs that we can purchase," Valentine said. "So I know sometimes these seem like wow, do we really need to spend dollars on that. But this is exactly the kind of thing that Title I is set up for, is to provide programs that are very specific to the students who may be struggling academically."
Tammy Yorke, the district's coordinator of federal programs, said that the money would be drawn from some $500,000 being rolled forward into next year's budget, as the district was frugal with its federal dollars this year.
It's the sort of program that in previous year would have had Conklin's near-blind support. Not this time. The item was never discussed during the harrowing, multi-meeting budget discussions in May, when the board was looking for numerous programs and areas to cut to fill a budget gap. But that's because the program is outside those funds, Valentine said. That didn't matter to Conklin, particularly since the district does have some diagnostic tools in place. They're not as refined.
"We have a budget issue," she said, "so I'm uncomfortable looking right now at a purchase on something that it seems like we've already got things that we might be able to utilize in diagnosing some of our kids in regards to instruction."
The vote resulted in that strange alignment: Board Chairman Andy Dance, Sue Dickinson and John Fischer approving, and Conklin and Trevor Tucker, the boar's traditional budget hawk, opposed.
Then came the bigger item: a $534,000, five-year contract with a San Francisco-based company called Teachscape. The proposal was to certify the district's 50-some principals and assistant principals as they train to evaluate teachers within the framework of a stricter, far more complicated state-required system the Legislature approved last spring.
The system sets up an arcane evaluation system that entails rewarding the highest performing teachers with merit play, while firing teachers who get two successive unsatisfactory evaluations. The system is intimidating in many respects, not least because its implementation is fraught with pitfalls, including liabilities: districts fear that it will lead to lawsuits. Principals and assistant principals fear it will alienate them from their staff. Teachers fear it will mistreat them and replace traditional observation and evaluation methods with intractable formulas.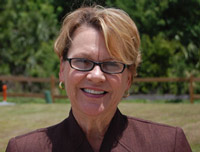 "I know when you're going to look at this, it's going to be a large item," Valentine said, referring to the enormous dollar amount—with not a single dollar directly affecting the classroom. "We're getting ready to move into a very high-stakes time for our teachers, and we want to make sure that when our principals evaluate those teachers, that again, they are highly trained and it's consistent from one principal to the next, from one assistant principal to the other. The only way you can really do that is through training."
The system would have certified principals in the evaluation method. "It just improves the integrity of the observation tool," the district's Vernon Orndorff said.
"You can't help but think we've got to have something in place because there's going to be, or one would expect that we're going to have situations that are going to get ugly," board member Sue Dickinson said. "If with all of the changes that are coming into play and everyone's salary is being attached to those evaluations, it's just a matter of time before something happens."
Again, Conklin asked if this item had been part of the recent budget discussions.
No, Valentine said, because the money is coming out of a federal grant in the initial year. She later said that the first year's cost would be defrayed by $45,000 from the state.
Politically, however, public perceptions are such that whatever the pot the money comes from, it's school, district money, therefore it's taxpayer money. And by any definition, that perception is correct: federal grants may be more distant, but they're still tax-funded. The fact that the money originates beyond local property or sales tax dollars does not diminish public sentiment that it is, dime for dime, public money.
Conklin two other objections: That the contract was for a company that alone appeared capable of providing the service, which Conklin had a hard time believing was the case. And the state had yet to be clearer about what services it would provide to help in the new evaluation process. "I feel like we're jumping the gun," Conklin said. "The State Board of Ed is going to have to come out with something to provide some kind of support to administrators who are now put in this position of basically implementing not only Common Core, but implementing the evaluation program. There is no way that the state Board of Education and the Florida Department of Education is not going to provide some kind of support or training."
It was then that Valentine mentioned the $45,000.
An initial motion to approve the contract failed, 3-2. Dance suggested that a board member float another motion, amending it to a one-year contract. (Valentine had explained that the five-year contract had a no-penalty exit clause at the end of the first year, but that the five-year deal locked in prices for that length.) Conklin made that motion. The one-year contract would have cost $107,700, with $45,000 of that paid for with the state grant, and the rest paid for with the federal Race to the Top grant.
Initially, that amended motion appeared to pass, 3-2, with Conklin switching her vote in favor.
But then she heard Dance's objection. Dance has long opposed the new evaluation system. He called the issue before the board "a microcosm of the entire problem with this performance-based analysis, in conjunction with the testing."
But by then the board had voted 3-2 to approve the one-year contract.
"I'm going to reconsider my motion because I'm not comfortable with it," Conklin said, though the motion had passed already. "I'm trying to compromise and I'm not going to do that. I'm not comfortable with it, so I'm going to stick with what my original intent was. I'm not sold that we need it, and I'm not sold that it's the right thing to do right now, so I withdraw my yes vote."
That raised a procedural issue and a question to Kristy Gavin, the board attorney.
"If you are asking to rescind the approval, Miss Conklin, correct?" Gavin asked.
"Yes," Conklin said.
"Because that is what has happened, and so you are wishing to rescind the approval that was just granted, we need to have a vote on rescinding the approval," Gavin said.
"OK, so the vote is, it is not approved, 3-2," Dance said. (Dance, Conklin and Tucker were opposed; Dickinson and Fischer were in favor.)
There never was a motion to rescind the earlier vote, or a vote on rescinding it. But the board's intent was clear. So was its post-referendum move. That doesn't mean the contract is dead. Valentine has found ways to revive and recast issues in more favorable terms in the past.