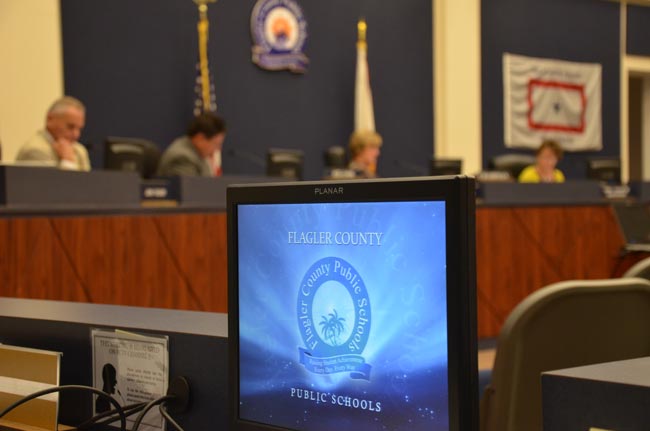 The Flagler County school district maintained its A rating for the fourth year in a row in 2011, on the strength of substantial improvements in standardized test results in some schools–particularly Rymfire, Wadsworth and Old Kings elementaries–and other schools maintaining their high achievement.
The grade is also a reflection of Janet Valentine's first full year as superintendent. "She was well prepared to take over and keep us rolling down the right path," School Board Chairman Sue Dickinson said. "Her time behind Bill gave her the information and the necessary plan that was in place before that she may have tweaked to her liking and continue to take us to where we want to be."
"We are very, very excited," Valentine said, interrupting the tail end of a school board meeting this morning, just after 10 a.m., to make the announcement. "I just want to congratulate everyone. I'm very proud of everyone."
Belle Terre Elementary lengthened its streak of A's to six years in a row, the longest in the district. Belle Terre has maintained that A since it opened. Also earning an A: Old Kings, Wadsworth, Rymfire, Buddy Taylor Middle School and Indian Trails Middle School. Rymfire achieved the largest gain, jumping from a C to an A. Wadsworth and Old Kings both improved from a B last year.
Bunnell Elementary maintained its B.
Charter schools' grades also figure into the district's overall grade. Charter schools did less well. Imagine School at Town Center dropped from an A to a C. Grades for Palm Harbor Academy and Heritage Academy are not in yet because they include a high school component, though the elementary grades that they have recorded project less than stellar school grades.
Dickinson was more critical of the fact that charter schools' grades are lumped with regular public schools' grades, potentially weighing them down. "I don't think that's fair," Dicknson said. "If we can't control them and they don't have to answer to us to our liking, then I don't think it's fair that their grades affect our grades, because they are under a totally different administration, and my main concern right now is Heritage, because they had an F last year. If they pull another F this year, we're going to have some real difficulties."
The charter schools' grades are not affecting the overall district grade significantly because enrollment in charter schools is still relatively small, though growing. Imagine is completing an expansion that will almost double its enrollment capacity.
Matanzas and Flagler Palm Coast High School's grades are also not in yet. Both scored B last year. But whatever their grade for this year, it won't affect the district's A rating, because the two high schools' FCAT components have already been calculated into the district's overall results, says Jim Devine, the district's testing coordinator.
"We have fantastic teachers in Flagler County, and we have fantastic support personnel to help us," Katie Hansen, president of the Flagler County Education Association, the teachers union, said, "and we do have good leadership here–and we do appreciate what the administrators have done."