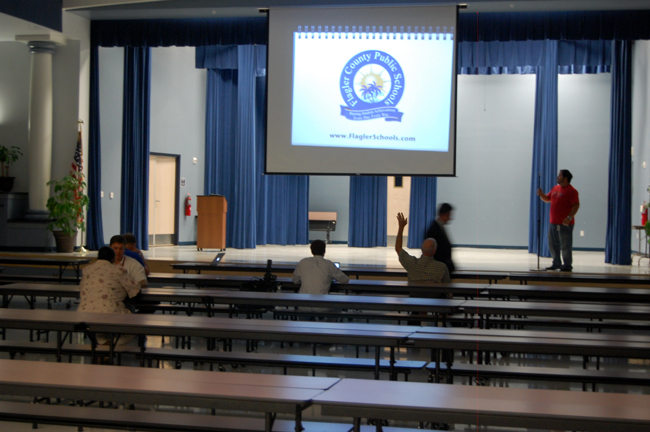 Facing the most serious reduction in state revenue since the economic crisis began in 2008, the Flagler County school district is preparing to cut $3.5 million out of its budget while using about $1 million from its reserves to blunt further, more grave effects from the reductions. The district's goal is to minimize staff reductions and protect academic and extra-curricular programs, particularly the larger programs. But Superintendent Janet Valentine says all options are—and have to be—considered, including reducing her own pay as part of a larger reduction in the number of days year-long employees would work.
In an interview Wednesday, Valentine cited reducing bus routes, cutting down by several days the working calendar of year-long employees such as administrators and service employees, and not filling vacant positions, which would be the equivalent of a hiring freeze.
Valentine said the district had been preparing for a $2.5 million cut until this week. Following the release of Gov. Rick Scott's budget this week, she said the district must now prepare for a $3.5 million cut out of a budget of around $100 million. Finance Director Tom Tant said the budget has already been reduced about $7.5 million since 2007.
"The real thing about the governor's budget is," Tant said, "he's reducing educating funding in Florida, per-child expenditure for education in the state of Florida is one of the lowest in the nation already. That's what people are missing. We're probably 48th or 49th—if it weren't for Mississippi we'd be bottom, and we're still getting reduced. So where are your priorities? I mean, you're letting your kids down. Is that the way we want Florida to be known as? I think that is the real issue."
Until there Legislature, which has been cool to Scott's budget, decides how far to take the cuts,, the district won't know precisely what it will lose. But even if state lawmakers left things as they are, Flagler would still be losing the millions of dollars it had received through federal aid. It is unlikely that legislators won't approve at least some additional cuts, including in the property tax that lawmakers set every year for school revenue.
"I don't really know how deep these cuts are going to have to go," Valentine said. Rather than reacting to cuts as they come, she's been leading a budget committee since last summer in preparation for further cuts, laying out options.  "We will continue to plan and be prepared for going as deep as we need to go to meet the limits of our budget next year."
But one principle is in play regarding non-core, after-school programs: "We really want to protect the things that we know service large groups of students, and large groups of students benefit from them. We could get to the point where those are cut," Valentine said.
Valentine insisted on two cautions: the district must still abide by constitutional class-size rules. That means cutting teachers isn't the sort of option it might have been in the past. "So you have to look at this in other ways rather than targeting 78 positions. You can't do it that way," Valentine said. There are about 100 paraprofessionals such as teacher aids, but they, too, are there because of requirements in exceptional student education programs, providing support to students with disabilities, and the like. "So your hands are really tied with this," the superintendent said.
And whatever options the district is considering, those are still, for now, just options: nothing has been decided, particularly when it comes to cutting employees' work days. Nevertheless, Valentine noted that Flagler is among the only counties where its year-round employees work the full 261 days. About 25 percent of the district's 1,700 employees work that year-round calendar. One possibility is to cut that by a few days, though the savings would not be huge: if the average salary of year-round employees is $40,000, cutting reducing the paid calendar by five days would save $334,000, or about $67,000 a day. ("I'd be right in there with them," Valentine said of taking a pay cut of her own should that be the route.)
Just last December, the district agreed to a new contract with its teacher and service employee unions, restoring annual salary increases that were skipped twice in the past three years. While the contract leaves room for the district to invoke emergency recalculations, those increases are not in jeopardy, Valentine said, though she expects the union and the district administration to cooperate on other cost-saving alternatives. By agreeing to that contract in December, the district strengthened its hand at the bargaining table when it comes to those alternatives. "What we anticipate is that our unions will be working with us to plan on how to meet these needs," Valentine said.
Voters in November agreed to extend a modest property surtax that adds $2 million to the district's revenue. The district has room to double that, but only through yet another referendum. That's not being discussed.
Like Florida's 66 other school districts, Flagler schools are facing a triple hit in the coming budget:
First, federal stimulus dollars that brought in $5.2 million in the past two years and prevented dozens of layoffs have run out.
Second, Scott is proposing an unprecedented cut in state and local education funding of $878 million ($1.75 billion when vanishing federal aid is included in the cuts). Flagler's reduction, in the governor's numbers, would be $4.5 million, though Tant says that number is inflated because Scott's figures for Flagler are based on a few hundred students less than the county actually had. The governor's budget would equate to a loss of $300 per student, or roughly $4 million for the district. That's the equivalent of 78 teachers.
Third, Flagler County's population has stopped growing. The school population declined by a few dozen students this year, the first decline in memory. It may decline again next year. Flat or declining population means flat or declining state aid, in addition to the proposed cuts based on this year's figures.
Almost all school employees (the exception is those in the deferred retirement option program, or DROP) face a severe financial hit of their own. Scott wants all public employees to start contributing 5 percent of their pay to the state retirement system they're a part of. (All other states require their employees to contribute a share, though public employees in most other states, particularly teachers and other school employees, are better paid than in Florida.) For a teacher making $40,000 a year, that's a $2,000 pay cut. Employees won't be getting that money back for paying more. Their retirement pay will be the same.
And all that is without taking in consideration Scott's other goal: to further dilute public education dollars by flowing them directly to charter schools, or into vouchers for private schools.
The district's reserves were at $8 million last year. They're at $7 million this year. The lowest they can go, Tant said, is $4 million. But there is room in the next couple of years to dip into them at the rate of about $1 million a year, and hope for the economy to have picked up by then. Meanwhile, more declines in property values are anticipated on top of the governor's wide-ranging budget cuts.
"It scares me," Valentine said, describing what she felt when she was hearing the governor deliver his budget message Monday. "It scares me for public education."